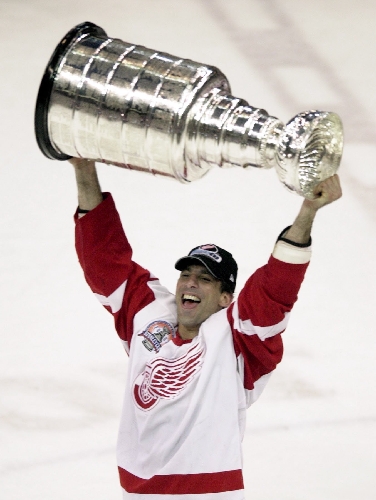 For most of his 18 years with ESPN, anchor Stuart Scott described special moments in sports with his signature line "as cool as the other side of the pillow."
What Scott did Friday was cooler than the catch phrase he coined.
On the 17th hole of the Michael Jordan Celebrity Invitational, he made a heart-warming offer to a 17-year-old fan.
Scott handed his club to the kid on what is considered Shadow Creek's most dramatic hole, a par 3 that overlooks a pond and a stunning waterfall.
Here's the deal, said Scott: hit the ball within 15 feet of hole and I'll donate $1,500 to your college fund.
The teenager didn't collect, but he won't soon forget Scott's generosity, nor will the handful of fans who witnessed the gesture.
There's a back story here: put in golf parlance, the popular anchor's health has been in and out of the rough a lot in the past decade.
Less than four years ago he underwent six months of chemotherapy after surgery for a cancerous appendix.
Five years before that a freak accident at a New York Jets mini-camp, where he was working on a special for ESPN, nearly cost him his vision in one eye.
He was hit in the eye by a football thrown from a football throwing machine. The accident and surgery left him with a lazy eye, a setback that would seriously jeopardize most television careers.
Scott survived it.
But earlier this year, he experienced another setback.
More chemo was necessary for an unspecified cancer, ESPN announced.
After his surgery three years ago, he told HuffingtonPost.com, "One of the coolest things about having cancer, and I know that sounds like an oxymoron, is meeting other people who've had to fight it."
THE SCENE AND HEARD
More on that leap in the lake Thursday by longtime NHL defenseman Chris Chelios. Turns out he told his caddy if he dropped the 45-foot putt he faced on the 18th green, he would jump in the water. He's a man of his word. He's also one of the most accommodating athletes I saw during four hours on the course Friday …
The 2011 NHL Awards will return to the Palms' Pearl Concert Theater for the third year in a row on June 22. Tickets are on sale at Ticketmaster.com, NHL.com/awardstickets and the Pearl box office. The awards show will be broadcast on Versus in the U.S. and CBC in Canada …
"Cool in Vegas," the KTNV-TV, Channel 13 show hosted by Molly Sullivan, is being canceled and will be replaced by "Access Hollywood," starting Friday. Between April 11-22, the station plans to produce a special Action News broadcast to fill the 7 p.m. time period …
Popcrunch.com has named two Las Vegas deejays to its "50 Hottest Women of Radio." Lauren Michaels, a member of Chet Buchanan and The Morning Zoo at KLUC-FM 98.5, was No. 9 and Mercedes of the Mark and Mercedes morning show at KMXB-FM 94.1 was ranked No. 28.
SIGHTINGS
"Gossip Girl" star Blake Lively, who was named the Breakthrough Performer of the Year at the CinemaCon this week at Caesars Palace, had one sweet celebration. She put in a room service order Friday at Serendipity 3 for six peanut butter frozen hot chocolates and four classic sundaes with peanut butter.
THE PUNCH LINE
"They found a bullet hole in an airplane after it landed. It sounds like Dick Cheney is hunting again." — David Letterman
Norm Clarke can be reached at (702) 383-0244 or norm@reviewjournal.com. Find additional sightings and more online at www.normclarke.com. Follow Norm on Twitter @Norm_Clarke.