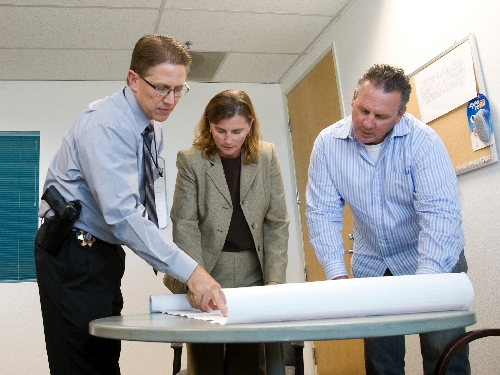 FBI agents knew from the moment they began investigating Dimitar Dimitrov that he was not a typical criminal.
In secretly recorded conversations, they overheard the Bulgarian-born Dimitrov threaten to cut off the ears of a former associate and use them as cigarette holders. He also suggested tying a witness to a tree, pouring gasoline over him and then standing nearby with cigarettes and a lighter.
Agents believe Dimitrov, a 58-year-old felon, is one of the leaders of a Bulgarian crime ring that defrauded local car dealers out of $1.6 million through an elaborate credit scheme and stole hundreds of thousands of dollars more from ATMs with the help of stolen PINs.
This is the new organized crime in Las Vegas, where running numbers and hustling high-interest loans on the street take a back seat to the art of the high-tech scam.
The new organized crime is close-knit and mobile with international connections, especially to mobsters in Eastern Europe and countries that made up the former Soviet Union.
Like the traditional Mafia that once ruled the streets of Las Vegas, these groups are capable of violence. But they would rather spend their time reaping the rewards of swiping stolen credit cards on the Strip or using their knowledge of technology to stay ahead of authorities on the computer-assisted crime circuit.
Targeting Eurasian syndicates is now the top priority of the FBI and other law enforcement agencies in the nation's war on organized crime.
To do so, authorities have established four joint task forces, in Las Vegas, New York City, Los Angeles and Miami.
The federal indictment of Dimitrov and 10 others in May is the first case brought by the Southern Nevada Eastern European Organized Crime Task Force. Their prosecution is ongoing.
"Our goal is to get the worst of the worst," said Tracy Dockery, supervisor of the FBI's Organized Crime Squad in Las Vegas. "I think we're going to have a lot of long-term investigations."
Helping Dockery shape the task force are two veteran Las Vegas police lieutenants, Dave Logue of the Criminal Intelligence Section, and Robert DuVall of the Financial Crimes Section.
Some agencies, including the Internal Revenue Service and U.S. Immigration Customs Enforcement, help on a part-time basis, and Dockery said she is extending formal invitations to those agencies and others to participate full time.
The stakes are high for authorities.
Logue said Eastern European crime syndicates steal tens of millions of dollars each year in Southern Nevada through "every kind of fraud imaginable.
"The common denominator in all of these scams is identity and credit theft," he said. "They dream up a scam and it kind of proliferates, and by the time we catch up, they're already full speed. They're very innovative. If there's a scam out there, they'll find it."
Dockery said this new breed of mobsters is adept at manipulating the nation's financial system.
"Every weakness they can exploit, they find it, and they figure out a way to exploit it until we take that weakness away," she said.
In the case of Dimitrov and company, prosecutors allege the crime ring sent straw buyers to local car dealers claiming to be high-salaried employees of phony companies to obtain financing for luxury vehicles. The buyers took possession of the cars before the dealers and their loan companies had fully verified the credit information.
Prosecutors allege the group also installed small scanning devices at local ATMs to steal personal bank information and PINs from customers using the machines. Then, after encoding the information onto blank plastic cards with magnetic strips, the group stole at least $700,0000 using ATMs around the valley.
One of the lures of this kind of crime is that it generally isn't discovered for quite a while, DuVall said.
"The person who commits this crime is anonymous sitting behind a computer," he said. "The only risk is maybe putting a device on an ATM and taking it off."
Michael LaPlante, who heads the FBI's Eurasian Organized Crime Unit in Washington, said the rise of Eastern European crime syndicates in this country coincided with the collapse of the Soviet Union in 1991. Among the wave of immigrants from the former Soviet Union were criminals taking advantage of their newfound freedoms, LaPlante said.
"They were used to conducting criminal activity in a very bureaucratic-laden, state-driven society, but when they came here they were able to operate freely. Our system is a very open society."
Crime groups from Russia, Bulgaria, Ukraine, Georgia, Albania and Armenia are among those operating in the United States, LaPlante said.
He said the FBI doesn't have a handle yet on the extent of the groups operating in this country, but agents know their numbers are growing.
Most of the syndicates find it hard to resist the "glitz and glamour" of Las Vegas, where cash flows freely every day, he said.
"Cash is the biggest reason why they're here," Logue added.
He recalled how an Armenian crime group recently sent crews to Las Vegas to hit the casinos with "stacks" of stolen credit and ATM cards.
"They went up and down the Strip getting cash advances," he said. "They were here for a few days and then split. Their take was hundreds of thousands of dollars for a couple of days."
Dockery said thieves can blend in easily on the Strip.
"Nobody thinks anything of somebody who walks into a casino with a credit card and pulls $20,000 off that credit card," she said. "Where else in this country can you do that other than in a casino? You can't go to New York City and walk into a business and say, 'I want to take $20,000 off my credit card,' without eyebrows being raised."
Eurasian crime groups present many challenges to law enforcement.
"The groups are fluid," Logue said. "They may be here today. They may be in Los Angeles tomorrow. They might be back East the next day. They don't operate in the same way we're used to seeing."
The groups also maintain interests outside the United States.
"They operate all over the world," Dockery said. "It makes it very hard for us to follow them."
Dimitrov, for example, was overheard on FBI wiretaps bragging that he had "crews" in France, Spain and Portugal and frequently made trips to Argentina, Brazil, Peru and Ecuador. Agents also overheard him talking about ties to crime figures in Bulgaria.
Authorities said they had a much easier time keeping tabs on the Mafia in the 1970s and 1980s, when it controlled loan-sharking and other street rackets and skimmed money from casinos.
"They were structured," Logue said. "There were soldiers and there were lieutenants, and they pretty much operated out of one area. They would travel, but you always knew where to find them."
Eurasian crime groups have "shot-callers" in the United States and in their native countries, and money earned from illicit activities here goes back to those countries, authorities said. But for the most part, the groups are more loosely structured than the Mafia.
Individual criminals also have the ability to insulate themselves from the overall activities of their respective organizations. Some specialize in identify theft, others in credit card fraud and still others in automobile theft. Generally, each won't know what the others are doing.
In many ways, authorities said, Eastern European crime groups are more brazen than traditional American syndicates because they know they can get away with bending the law more in this country.
"The freedoms we have here make our work a little tougher to do than somebody over in Eastern Europe who basically kicks in your door anytime they want to find out what you're doing," DuVall said.
In its heyday, Logue said, the Mafia would work with other ethnic crime families, but it was usually protective of its territory.
"These groups will work with anybody, anywhere," he said. "They'll align themselves with other groups and let those groups profit, as long as they are making their money."
Authorities say Eurasian crime syndicates are smart enough to understand that using violence attracts more attention to their activities, and they try to avoid it, unless they find it useful.
"These people come from countries where violence is pretty brutal," Logue said. "They'd think nothing of shooting you or beating you up."
The groups are adept at intimidating witnesses whose families often are known to the groups in their native countries, he said.
"They'll flat out tell them that if you cooperate (with authorities), we'll kill your family," he said.
Language is also a barrier. When conducting wiretaps, the FBI often has to find interpreters who know the language or dialect being spoken by the suspects. Many of the suspects speak multiple languages, making it even tougher to find enough interpreters.
The international tone of these cases also forces the FBI to work with law enforcement agencies in Eastern Europe. That sometimes involves diplomacy that can complicate the investigations. But it also gives the FBI and its law enforcement partners an opportunity to build relationships with their overseas counter­parts to gain more insight into the activities of the crime groups.
"We're learning how they operate," DuVall said. "We're learning how to go after them. Every time we have a success, we learn that much more."
Contact Jeff German at
jgerman@reviewjournal.com or 702-380-8135
or read more courts coverage at lvlegalnews.com.