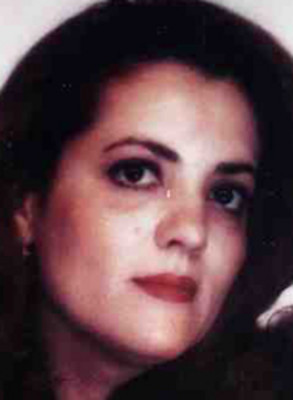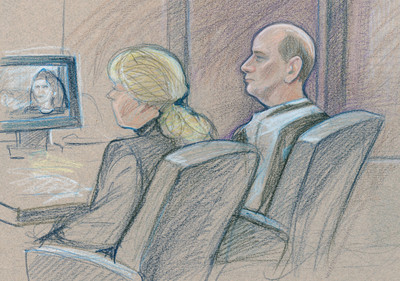 A Las Vegas judge found by "clear and convincing evidence" Friday that David Fitch killed his wife eight years ago, although the defendant has never been charged with murder and the woman's body has never been found.
The finding allowed U.S. District Judge James Mahan to depart from federal guidelines and sentence Fitch to nearly 22 years in prison for committing bank fraud and other crimes in a case that stems from the September 1999 disappearance of the Fitch's wife, Maria Bozi.
Watching the proceedings Friday was FBI Special Agent Henry Schlumpf, who has been investigating the case since shortly after authorities learned Bozi was missing. Schlumpf said the sentence "is commensurate with the crime," but he expressed no jubilance.
"Kind of the ultimate goal in any homicide investigation is to find the body and bring closure to the family, and we haven't done that yet," the agent said. "We'll always be looking."
Fitch, 49, recently completed an eight-year prison term for illegally possessing firearms and false identification documents in a related case. He has been held at the North Las Vegas Detention Center pending sentencing on the new charges.
Fitch's court-appointed attorney, Lisa Rasmussen, argued that Bozi's disappearance was considered by U.S. District Judge Kent Dawson at the previous sentencing and that her client should not be required to serve any additional time in the new case, which stemmed from the same "scheme of conduct."
Mahan said the record does not support the contention that Dawson considered the murder allegation in sentencing Fitch.
In granting prosecutors' requests for an upward departure Friday, Mahan said the following facts convinced him that Fitch killed Bozi:
• Fitch failed to report his wife missing.
• He told various stories about her whereabouts.
• He tried to sell her clothing and other personal effects, including her car.
• He married another woman without first seeking a divorce from Bozi.
• He had her checkbook and credit cards in his possession.
• He "raided" her accounts by using disguises and forgery.
Although federal guidelines suggested a sentence in the range of 41 to 51 months, Mahan chose to impose a 262-month sentence, which amounts to nearly 22 years. Assistant U.S. Attorney Timothy Vasquez had requested a 30-year term.
Mahan also ordered Fitch to pay a $75,000 fine. Rasmussen claimed her client is indigent, but the judge said Fitch has boasted about stashing money.
Authorities claim Fitch married Bozi, 46, and then killed her to steal her money and property.
"Everything Ms. Bozi had, the defendant took," Vasquez told Mahan.
Images of Bozi, including a photo taken at the Grand Canyon shortly before her disappearance, were displayed on computer monitors Friday in Mahan's courtroom. One of the monitors sat across from Fitch at the defense table.
Fitch read from a prepared, seven-page statement at the hearing. He repeatedly lashed out at Schlumpf, prosecutors and one of his former attorneys, Assistant Federal Public Defender Arthur Allen, but said little about Bozi.
The defendant said Allen persuaded him to plead guilty in the earlier case without the benefit of a plea bargain. Fitch said Allen erroneously told him he would face no further charges.
"If it wasn't for his advice, I wouldn't be here," Fitch said.
Contacted after the sentencing hearing, Allen said, "I've seen his critique of me and every other attorney who's represented him for a number of years. The courts so far have uniformly denied all his complaints as being groundless."
Fitch accused prosecutors of waiting to file the new case against him until after the death of his father.
He claimed his father spoke to Bozi by telephone after her disappearance.
"The only reason I'm not home right now is because my father died and was not able to testify in my defense," Fitch said.
He argued that authorities have no evidence showing that he harmed anyone.
"I'm not a violent person," he said.
Fitch pleaded guilty in July 2000 to multiple felony counts that involved possession of firearms, ammunition and false identification documents.
In July 2004, while Fitch was serving his eight-year sentence, he was indicted in the bank fraud case.
A jury convicted Fitch earlier this year of multiple felony counts of bank fraud, money laundering and unauthorized possession of a credit card. Bozi was the victim of most of the crimes.
Records show that Fitch, who was born in Arizona, also has 1992 convictions in Phoenix for manufacturing counterfeit currency and attempting to sell marijuana, both felonies.
Bozi, a native of Romania, married Fitch in April 1999 in England and moved with him to Southern Nevada. She purchased a mobile home in the Lake Mead National Recreation Area, where she was last seen around Labor Day that year.
Around the time of her disappearance, Bozi had more than $100,000 in her bank account, but Fitch removed nearly half of it before bank officials froze the account.
Fitch traveled to England in November 1999 under the name David Lee Krause and, while there in January 2000, married a Colombian woman, Patricia Molano Gutierrez. She was 30 at the time.
"The defendant viewed his short-lived marriage to Ms. Bozi as a means to acquire the money necessary to fund the life that he envisioned with Ms. Molano," prosecutors wrote in their sentencing memorandum.
When Henderson police stopped Fitch in February 2000 for speeding, he was driving Bozi's car and carrying a Utah driver's license bearing the name Krause. FBI agents later found a shotgun and rifle in his storage unit on Boulder Highway.
They also searched his fifth-wheel trailer, where they found books with such titles as "Kill Without Joy! The Complete How to Kill Book," "Hit Man: A Technical Manual for Independent Contractors," and "Dragon's Touch: Weaknesses of the Human Anatomy."
The FBI agents also found books explaining how to make silencers and change one's identity.
Records show that Fitch ordered chloroform, a toxic liquid used to anesthetize or kill, in July 1999.
"Although one might like to imagine that Maria Bozi somehow escaped from the defendant's plot, such wistful sentiment cannot be reconciled with the hard facts," prosecutors wrote in a court document that was filed Friday.
According to the document, the evidence "leaves no room for reasonable doubt as to Ms. Bozi's fate."
"Maria Bozi did not simply disappear leaving all of her worldly possessions behind," prosecutors wrote. "The circumstances and facts of this case lead to the inescapable conclusion that the defendant lured Maria Bozi to Nevada where he killed her for her modest wealth."
According to the document, Molano refused to testify at trial because of her fear of the defendant.
Prosecutors argued that trial evidence "and the defendant's own tell-tale letters to Patricia Molano expose a premeditated crime of extraordinary cruelty."
Rasmussen argued that Fitch has been subjected to "onerous conditions" since the beginning of his incarceration, although he had good behavior in prison.
"I understand everybody doesn't like Mr. Fitch," she said. "I understand that."
At the lawyer's request, Mahan recommended that prison officials place Fitch in a Minnesota facility that can provide the medical treatment he needs. Rasmussen said her client needs back surgery.
Rasmussen said she was disappointed by the sentence Mahan imposed on her client. She said Fitch seemed "shocked and surprised and numb."
"I just called his mom, and that was hard," Rasmussen said. "She feels obviously very badly for him."
The lawyer said Fitch planned to go live with his ailing mother in Texas if Mahan had freed him.
"I think that there are substantial appeal issues, and I'm sure that he will appeal them," Rasmussen said. She said another court-appointed lawyer will handle the appeal.
Clark County District Attorney David Roger said he doesn't plan to file a murder charge against Fitch, despite Mahan's comments Friday.
Clark County prosecutors will not pursue a murder charge until they have enough evidence to prove the case beyond a reasonable doubt, Roger said.
Contact reporter Carri Geer Thevenot at cgeer@reviewjournal.com or (702) 383-0264.