Ex-congressman takes lobbying job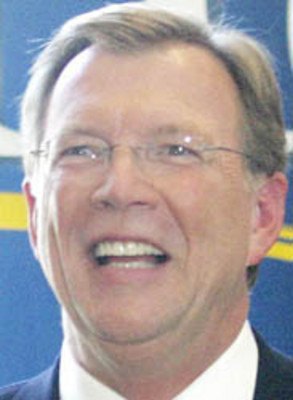 WASHINGTON — Former Nevada Congressman Jon Porter has taken a job with the lobbying unit of a Florida-based law firm, a move he said will take him out of the running for political office in 2010.
Porter confirmed he began work this week as director of public policy in the Washington office of Akerman Senterfitt, a firm of 500 attorneys and other professionals based in Orlando. The government affairs unit consists of 40 lawyers and consultants in Washington, Florida and New York.
Though he had been defeated in November for a fourth House term, Porter was among Republicans who were being mentioned to run for the Senate against incumbent Democrat Sen. Harry Reid.
Porter, 53, said Tuesday he has no plans now to run for the Senate or other office in 2010.
"Public service has been a big part of my life, and you never say never, but right now I am excited about this opportunity," he said, adding he will be active in fundraising and other party workings short of campaigning for office.
Reid was among well-wishers who have contacted Porter.
"Senator Reid spoke to him, congratulated him on his new job and wished him well," Reid spokesman Jon Summers said.
Porter represented Nevada's 3rd Congressional District from 2003 until he was defeated by Democrat Dina Titus in last fall's election. The district consists of Henderson, Boulder City, parts of Summerlin and North Las Vegas, and outlying portions of Clark County.
Akerman Senterfitt has a concentration of lobbying clients in Florida and several other states. Porter said the firm plans to expand its activities in Nevada, where its client list includes Nye County, Carson City, Station Casinos and the Truckee Carson Irrigation District. The firm's managing shareholder in Washington is Rick Spees, a one-time aide to former Sen. Paul Laxalt R-Nev.
Porter had been Boulder City mayor and a Nevada state senator before entering Congress. He advertised his background in local, state and federal government to prospective employers. In the House, he focused on tax and transportation issues, and he was a chairman of a government affairs subcommittee.
"Jon has extensive, current experience in critical government and economic issues that complement our business interests and strengths," Spees said in a statement. "He also possesses a unique knowledge of the state of Nevada and looks forward to representing Nevada clients in Washington."
Porter said he planned to keep his home in Henderson although he will spend more of his time in Washington, where he has a home on Capitol Hill.
As a former House member Porter is restricted from having any business contacts with Congress for one year under ethics rules.
He said he will "advise clients on policies and procedures and the impact that Washington and other local and state governments have on individuals."
Contact Stephens Washington Bureau Chief Steve Tetreault at stetreault@stephensmedia.com or 202-783-1763.