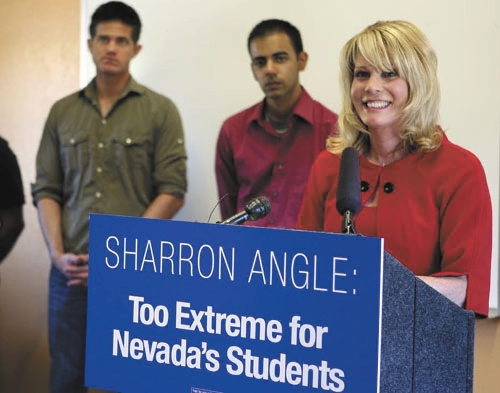 Nothing personal, but former Nevada first lady Dawn Gibbons said Wednesday that Sharron Angle, a fellow Republican whom she called "a friend," isn't getting her vote in the U.S. Senate race.
In her first campaign appearance for Sen. Harry Reid, Gibbons said the fact that she finished behind Angle in their 2006 race for Congress has nothing to do with her opposing Angle now and backing the Democratic incumbent. Both women lost to Rep. Dean Heller, who barely beat Angle.
Gibbons also denied she is opposing Angle to spite conservative Gov. Jim Gibbons and the GOP after the couple's bitter divorce amid unproven allegations he had affairs. She endorsed Reid last fall while battling her husband, who compared her to "an enraged ferret in a phone booth."
"I still consider her a friend," Gibbons said of Angle when asked by a reporter whether she had a "personal vendetta" against the Tea Party favorite during a news conference arranged by Reid's campaign.
"I think the world of both of them," she added. "But this is about the future of the state of Nevada. And we can't really afford to have someone that is so extreme and so uncompassionate and non-caring about our citizens. We need someone in the United States Senate that will stand up and fight for us."
There's no indication Angle, a staunch conservative, and Gibbons, a moderate, were ever friends. They often took opposite sides while serving together in the Nevada Assembly, including when Angle joined 15 Republicans in 2003 to try to block an $800 million tax hike that Gibbons voted for.
Gibbons might seem an odd surrogate to promote Reid's campaign, given the scandalous headlines the first couple's divorce proceedings created over the past year. But she gives Reid another chance to show that some moderate Republicans support him over Angle.
"I think that any way the Reid campaign can show fissures or cracks in the Republican front, it could help reduce the turnout or make it more difficult for Angle," said Mark Peplowski, a political science professor at the College of Southern Nevada. "Putting a Republican face out there who's been around politics for more than 10 years I don't think can in any way help Sharron Angle."
Gibbons refused to say whether she has voted for Reid in the past.
"That's my personal right," she said when asked whether she had backed him at the ballot box before. "I don't even remember who he ran against. And I don't think it matters."
She also refused to say whom she supports in the gubernatorial race between Sen. Reid's son, Rory, and Republican Brian Sandoval, who is running far ahead in the polls.
Gibbons presided over the news conference at the University of Nevada, Las Vegas to criticize Angle for her record on education and for suggesting the Education Department be closed.
"She wanted to kill the Millennium Scholarship program," Gibbons said, standing in front of several university students and graduates who won the scholarships. "What is Sharron Angle thinking?"
Both Angle and Gibbons joined the Assembly in unanimously approving the program in 1999 when it was created by the late Gov. Kenny Guinn. The money came from the government settlement of tobacco lawsuits. Many states used the funds to fight smoking or for health care.
In 2001, both Angle and Gibbons approved an update of the program with modified requirements for recipients of the scholarships, according to legislative records. The vote was 42-0.
But during a 2006 congressional primary debate on the Bill Manders radio show, the candidates were asked whether to keep the program or "lose it." Angle was the only one to answer "lose it," while Gibbons and Heller said to keep it. The candidates weren't given a chance to elaborate.
Angle campaign spokesman Jerry Stacy said Angle was among lawmakers who worried the scholarships could support some illegal immigrants and eat into the state budget.
"Mrs. Angle's concern developed later due to the potential of non-citizens having access to the scholarship funds and whether the taxpayers would have to take up the bill for the program if the revenue from the tobacco lawsuit fell short," Stacy said Wednesday in an e-mail statement.
The state has been picking up more of the tab in recent years, which could be a problem in the future as Nevada faces a potential $3 billion shortfall to fix in the 2011 legislative session.
Since 2000, the Millennium Scholarship fund has provided more than 60,000 students with money to attend college. When it started, it was funded only by Nevada's share of the Master Settlement Agreement with tobacco manufacturers. But in 2005, the fund needed a $35 million infusion from the Legislature and another $23 million from Nevada's unclaimed property fund from 2006 to 2008.
This summer, the Interim Finance Committee of the Legislature appropriated $4.2 million more to keep the scholarship solvent through 2011.
Contact Laura Myers at lmyers@reviewjournal.com or 702-387-2919.