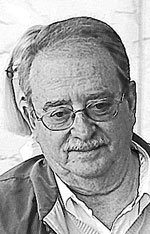 Former medical consultant Howard Awand and his wife were convicted late Thursday of willfully failing to pay $2.5 million in income taxes.
Because the taxes covered a four-year period from 2001 through 2004, each defendant was convicted of four counts. The charge is a misdemeanor, and each count carries a maximum prison term of one year.
"This is a case that does not involve any fraud," Los Angeles attorney Harland Braun said. "It's an unusual tax case because they declared all their income. There's no question that they did not pay their taxes on time."
Braun represents Awand, who is scheduled to go to trial Feb. 8 in a high-profile fraud case involving Las Vegas doctors and lawyers. The tax trial began Tuesday.
"I think it's pretty clear what this case is all about. It's about asserting leverage for the other case," Las Vegas attorney James Oronoz told the Review-Journal this week. He represents Awand's wife, Linda.
Federal prosecutors claimed the Awands maintained a lavish lifestyle during the years they failed to pay their taxes. Defense attorneys claimed the Awands had a history of paying their taxes late but always intended — and still intend — to pay the full amount they owe.
"The reason we lost the case is simply because the amounts were so great," Braun said.
From 2001 through 2005, according to evidence presented at trial, the Awands spent about $2.9 million on renovations of three homes, $1 million on antiques, $696,000 on real property, $215,000 on automobile purchases, $213,000 on art and furnishings, $87,000 on a birthday party for Howard Awand, and $60,000 on wine. They paid about $642,000 during that time toward their taxes.
Braun said the Awands' medical consulting business collapsed in 2005. He said they now live 900 miles apart, managing independent bed-and-breakfast facilities while they go through Chapter 11 bankruptcy proceedings. One of the inns is located in Vermont and the other is located in Indiana.
Howard Awand testified during the tax trial, but his wife did not.
During Braun's closing argument to the jury, he described the Awands' past actions as financial suicide.
"They could be rich people today just with the penalties and interest they're going to have to pay," the lawyer said.
He said the Awands are now working as "indentured servants" for the U.S. government.
"They will be destitute," the lawyer said. "The government will be paid."
In the fraud case, Howard Awand and personal injury attorney Noel Gage are accused of cheating clients out of honest services by protecting doctors from malpractice lawsuits and sharing kickbacks from legal settlements.
Spine surgeon Mark Kabins, a co-defendant in the fraud case, pleaded guilty in November to "misprision of felony." According to a statement released by U.S. Attorney Daniel Bogden after the plea, Kabins "acknowledged that he used Awand to corruptly influence Gage not to sue him, and that he concealed the crime that Awand and Gage thereafter committed."
Senior U.S. District Judge Justin Quackenbush is scheduled to sentence Kabins on Thursday.
U.S. District Judge Kent Dawson presided over the Awands' tax trial and scheduled their sentencing hearing for April 7. Attorneys for both defendants said they will ask for probation.
"If you put them in jail, no one gets paid," Oronoz said.
During closing arguments, Oronoz and Braun both urged jurors to set aside their personal feelings about the Awands and the way they handled their money.
"We don't condone the way they treated their tax responsibilities," the lawyer said.
The couple's actions may have been negligent, Oronoz argued, but they were not criminal. Braun asked jurors if they had ever heard of anyone going to prison for failing to pay a debt.
"We don't have debtors prisons," he said.
In tax cases, Braun told jurors, prosecutors must prove that the defendants knew they were committing a crime.
Assistant U.S. Attorney Steven Myhre argued that the Awands knew they had a legal duty to pay their taxes. He said prosecutors are not required to prove that the Awands knew what particular penalty they would face if they failed to pay.
"They thought they would get away with it," he said. "That's what the evidence establishes."
Contact reporter Carri Geer Thevenot at cgeer@reviewjournal.com or 702-384-8710.