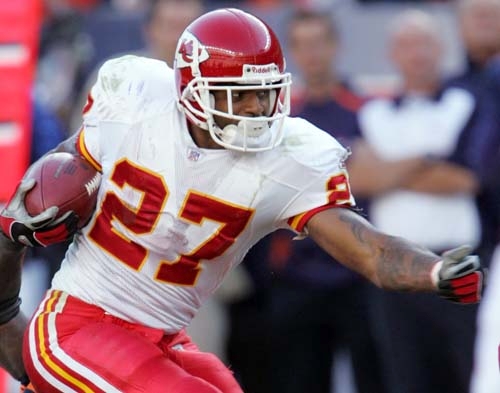 Former Kansas City Chiefs running back Larry Johnson was arrested Friday morning at the Bellagio after his ex-girlfriend accused him of beating and strangling her, Las Vegas police said.
Johnson, 32, was arrested after a fight with Melissa Emerson, also 32, about 2 a.m. inside his hotel room, police said. Emerson told police that she and her girlfriends were having drinks with Johnson when she accompanied him to his room to talk, according to a police report.
While they talked, Johnson suddenly "became enraged and began to beat her and throw her around the room," the report said. Emerson told police that she fought back and remembered Johnson's hands squeezing her neck, according to the report.
"If you are going to kill me, squeeze harder and just do it," she told him before blacking out, according to the report.
She woke up in the hallway wearing only underwear. She knocked on several nearby doors before someone answered and let her call security.
Bellagio security guards detained Johnson until police arrived. During the wait, Johnson told a security guard that Emerson would not press charges "same as last time," the report said.
He also told security that he would "rip your (expletive) vocal chords out," according to the report.
Police noted Emerson had multiple injuries to her face and bruising on her neck. Johnson, who had small scratches on his face, told officers that he never laid "a finger on her," the report said.
Johnson was being held on $15,000 bail at the Clark County Detention Center on one count of domestic battery with strangulation.
Johnson has been arrested several times since 2003 on charges involving assaults on women.
He was an All-American running back at Pennsylvania State University, where his father, Larry Johnson Sr., was a coach. He ran for more than 2,000 yards his senior year.
Johnson was a first-round NFL draft pick in 2003 and played professional football for 10 years, seven with the Chiefs. He was one of the top running backs in the league in 2005 and 2006 and was selected to the Pro Bowl both years.
Johnson was criticized for being angry and sullen. He was benched for three games by coach Herman Edwards for violating team rules in 2008 and suspended another game by the league. The next year, Johnson ran afoul of Chiefs' management for criticizing his new coach, Todd Haley, and insulting fans, including using a gay slur, on Twitter. He was suspended and then released by the team.
Over the next three seasons, he played 10 games with the Cincinnati Bengals, Washington Redskins and Miami Dolphins. In his career, he ran for 6,223 yards on 1,427 carries, averaging 4.4 yards per carry, and caught 154 passes for 1,373 yards. He scored 61 touchdowns.
In July 2010, Johnson got in trouble for not completing 40 hours of court-ordered community service, according to the Kansas City Star. At the time he was on probation stemming from two convictions of disturbing the peace for incidents at Kansas City nightclubs in 2008. A judge gave him another opportunity to complete the community service.
In the first incident, a 26-year-old woman alleged Johnson shoved her on the side of her head while she was walking through a club, the Star reported. The second incident involved a 24-year-old woman who alleged Johnson spit a drink in her face at another club.