Ex-weatherman has tough journey
November 28, 2011 - 2:00 am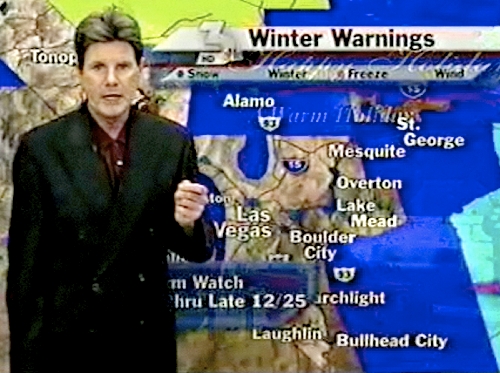 Former Channel 3 weatherman John Fredericks says he's bounced back after hitting rock bottom during a tailspin that left him broke and homeless.
He returned to Las Vegas last month after a sentimental journey to Montana that ended with Fredericks sleeping in the streets for three weeks.
For 12 years, Fredericks and his golden retriever, Jordan, were fixtures on NBC affiliate KVBC-TV (now KSNV).
When Jordan died in August 2007, Fredericks struggled with depression and alcoholism.
During Christmas week 2008, he left the business shortly after his replacement dog, LJ (for Little Jordan), was banned from the station.
His departure was explained as a mutual decision based on Fredericks' interest in writing a book about Jordan.
A year later, he came under police scrutiny when a woman went public with harassing voice mails from Fredericks.
"I left this woman some despicable messages on voice mail while I was in an alcoholic blackout," he said Sunday. "I have nobody else to blame but myself."
Hoping he could find work, he left for Missoula, Mont., in August with LJ.
He had read the best-selling book "A River Runs Through It" and visited Missoula in 2003 with Jordan.
"I fell in love with the place," he said. "Thought that's where I'd go if I retired."
But jobs were scarce and he ended up with a $9-an-hour job cleaning 150 cat litter boxes every morning.
The owner allowed him to stay in a trailer. He slept in a sleeping bag, existing without water or heat.
"I learned how to shave and shower in bathrooms," he said.
He went from making a six-figure salary, he said, to pawning a camera and Blu-ray player to feed his dog.
He rode a mo-ped to work after teaching LJ how to ride on the floorboards.
One day, while sleeping on the courthouse lawn with LJ's leash wrapped around his wrist, he awoke to find the dog gone.
He was missing for two days before a chance meeting led a stranger to say that a missing dog had showed up on a Craigslist ad. It was LJ.
Shaken up by two scooter accidents on ice with LJ, Fredericks decided it was time "to go home."
He returned to Las Vegas on Oct. 22 to find that his small home had been gutted by squatters.
He lived in it for a month before a good Samaritan paid to get the house in working order, with heat, water and electricity.
Someone brought groceries over the weekend.
"I know I'll never work in broadcasting here again due to my stupidity," he said. "But everybody tells me this is a city of second chances."
SIGHTINGS
Star chef Mario Batali, with his family at Louie Anderson's show (Palace Station) on Saturday. … Actor Donald Sutherland, in the crowd at the X Burlesque show Saturday at the Flamingo. … Paul Walker from the "Fast and the Furious," dining at Hachi at Red Rock Resort on Saturday. … Brad Garrett and family, taking in Penn & Teller (Rio) Saturday night. … Orlando Magic center Dwight Howard, dining with friends on Friday at Joe's Stone Crab (Forum Shops at Caesars). … Actress Eva Longoria, dining with her family Friday night at Spago (Caesars Palace).
THE PUNCH LINE
"Larry, if you were any less in demand right now, your face would be on Greek currency." — Colin Quinn, at last week's Friars Club testimonial dinner for former CNN broadcaster Larry King
Norm Clarke can be reached at 702-383-0244 or norm@reviewjournal.com. Find additional sightings and more online at www.normclarke.com. Follow Norm on Twitter @Norm_Clarke.