Expect Friday fireworks when Las Vegas and Green Valley meet
October 10, 2013 - 10:47 pm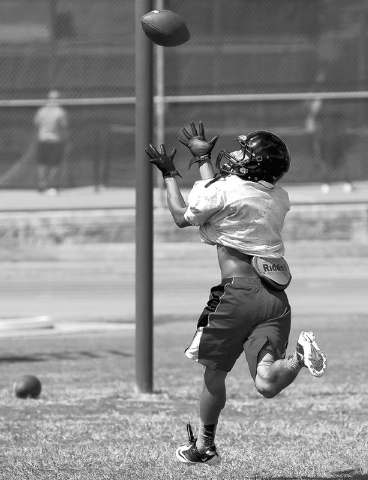 Las Vegas High's Tristan Gordon knows exactly what kind of football game he expects to see on Friday at Green Valley.
"It's an offensive battle this week," the senior defensive tackle said.
Both defenses figure to be tested early and often as two up-tempo, spread offenses clash at 7 p.m. Friday.
The host Gators (3-2, 1-0 Northeast League) average 37 points and 459.8 yards of offense. The Wildcats (3-2, 1-0) average 44.6 points and 438.4 yards.
"I definitely feel that we're going to be able to move the ball on their defense," said Gordon, who also plays offensive guard. "It's just a matter of our defense being able to step up to their offense, too."
Eighth-ranked Las Vegas faced an entirely different test last week against Arbor View, one of the area's top ball-control offenses and a team that rarely throws the ball. But coach James Thurman said the overall task is similar.
"The philosophy still stays the same," Thurman said. "You want to try to get them off the field and try to get our offense on the field."
Seventh-ranked Green Valley has shown strong balance, led by quarterback Christian Lopez. Lopez has completed 65.6 percent of his passes for 1,299 yards and 13 touchdowns and has run for four scores this season.
"They run the ball well, they throw it really well," Thurman said. "The quarterback's a dual threat. He can take off and run or throw. So it's a challenge. They've got a ton of offense to try to stop."
Albert Lake (360 rushing yards, 3 TDs) and Larry Norman (342 rushing yards, 2 TDs) are solid weapons in the backfield, and Markus Varner (30 catches, 429 yards, 4 TDs) and Kyler Chavez (25 catches, 303 yards, 3 TDs) are among the area's receiving leaders.
"They run and throw evenly," said Las Vegas junior linebacker Jacob Littlefield, who leads the Wildcats with 52 tackles. "We're trying to contain the quarterback and keep everything inside the tackle box."
Las Vegas has been no slouch offensively. Running back Andrew Moreland is the area's second-leading Division I rusher with 705 yards and nine TDs. Receiver Aaron Zanin-Banks leads the area in receptions with 32 for 521 yards and six scores. He's been the top target for junior quarterback Trevor Swenson, who has thrown for 1,136 yards and 11 TDs.
But the key might be hanging onto the ball. Thurman said turnovers cost the Wildcats last week in a 36-22 loss to Arbor View.
"We had two turnovers in the red zone last week," Thurman said. "We're just not taking care of the ball in crucial situations. We've got to amp up the focus there in the red zone."
Thurman noted the team had turned over the ball 11 times in five games.
"That's too damn many," he said.
But Littlefield said the team also has forced 11 turnovers this season, and he hopes the team can come out ahead in turnover margin this week.
"We've been focusing a lot on takeaways, takeaways, takeaways," Littlefield said.
"The turnover battle's going to be big."
And Thurman hopes his team gets a little bit of extra motivation from playing a homecoming game at Green Valley.
"Hopefully our kids respond well to being someone else's homecoming," Thurman said. "That's something that hasn't happened to us in a while."
Contact prep sports editor Damon Seiters at (702) 380-4587 or dseiters@reviewjournal.com. Follow @DamonSeiters on Twitter.