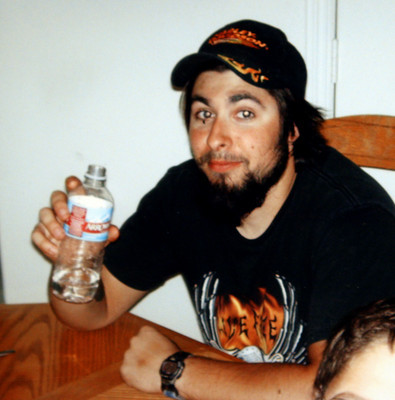 His tour in Afghanistan cut short by bullet wounds, Derek Bilodeau became a danger to himself and others when he came back to Las Vegas in fall 2007, his family said.
"He had blackouts, he couldn't sleep, he'd take his motorcycle out and ride it all night," his stepfather, Mick Florek, said. "He'd go down to the Strip and try to pick fights."
Bilodeau's medals for valor did not help his mood or outlook. Neither did once-a-week counseling for post-traumatic stress disorder at a local clinic run by the U.S. Department of Veterans Affairs or the painkillers and antidepressants he was prescribed there. He gobbled up those quickly, leaving him alone again with a bottle of booze and memories of six grueling months at war.
"He wanted to go to college, but he couldn't concentrate on anything," said his mother, Debbie Florek. "His mind was so far gone."
Bilodeau, a specialist in the Army's 10th Mountain Light Infantry, was wounded during a firefight in the remote Afghan province of Paktika in the summer of 2006. One bullet went through his arm. Another got lodged near his liver. A few weeks before the incident, the Army said, he had saved the lives of fellow unit members under attack and trapped in a Humvee. That all happened shortly after he turned 21.
Four months ago, Bilodeau got a letter from the Army telling him he was due for a medical evaluation that could affect his disability benefits and even lead to a recall to active duty.
Bilodeau tore up the letter and over the next weeks sank into a deep depression, his family said.
On Sept. 1, the 23-year-old shot himself twice in the head in the living room of his Las Vegas apartment.
What Taliban insurgents couldn't do, he did himself.
In addition to dozens of soldiers with Nevada ties killed in the current wars, at least three have killed themselves here or overseas. Another's drug overdose at a California hospital helped prompt federal legislation to help veterans with post-traumatic stress disorder.
The federal government does not keep complete data on veteran suicides or suicide attempts, but mental health officials are aware of the problem.
A report two years ago by the inspector general's office of the VA found that as many as 5,000 veterans of all eras commit suicide each year. The VA said 263 veterans of Iraq and Afghanistan died of suicide between 2001 and 2006, but the agency could not provide the Review-Journal with more current figures.
At times, the VA appeared to have tried to hide evidence of a crisis.
At a congressional hearing in May, Rep. Bob Filner, D-Calif., read an internal e-mail from Dr. Ira Katz, chief of mental health at the VA: "Shh! — Our suicide prevention coordinators are identifying about 1,000 suicide attempts per month among the veterans we see in our medical facilities. Is this something we should (carefully) address ourselves in some sort of release before someone stumbles on it?"
With an estimated 300,000 veterans of the Iraq and Afghanistan wars suffering from PTSD and depression, the nation should brace for a spike in suicides, experts said.
Dr. Thomas Insel, director of the National Institute of Mental Health, told reporters in February that suicides among Iraq and Afghanistan veterans could exceed the number of combat deaths in those wars.
Suicides of active-duty soldiers and Marines provide a glimpse into the growing problem.
Three-quarters of the Army's 172 suicides last year involved deployed soldiers or soldiers coming off a deployment. This year, according to the Army, the suicide rate is on pace to exceed last year's record number.
The Army recently started a five-year, $50 million study of suicidal behavior.
One of the Army's suicide victims last year was Travis Virgadamo, a 19-year-old Army specialist from Pahrump. In August 2007, he shot himself in the head while deployed in Iraq.
Virgadamo's family told the Review-Journal last year that he was on suicide watch before ever going to Iraq. Soldiers on suicide watch are required to see a mental health physician and are given an escort to monitor their behavior.
The Marine Corps, which had 33 confirmed or possible suicides last year, is also on pace for more in 2008.
The suicide rates in both branches could exceed the civilian rate this year, studies have shown.
Linda Vavricka of Crystal said the military and government are not doing enough to address PTSD-related suicides. Her son, Bobby Winter, a former Marine who served in Afghanistan, shot and killed himself and his girlfriend in Las Vegas in 2005. He was 25.
She said: "Bobby's not the issue. He's just another statistic, but statistics are going to keep happening if they don't get this under control."
Her son never made it to a VA facility for counseling he sorely needed, Vavricka said.
"He was going to go on antidepressants and maybe talk to someone," she said. "Unfortunately, he blew before he got there. It's bad enough when they take themselves out, but when they start taking other people out, it's a lot worse."
Debbie Florek wonders why her son did not get more attention for his mental health problems.
"Why wasn't he sitting in a VA hospital, especially if he's showing signs of being suicidal?" she asked. "I feel I have the right to know."
VA officials said the agency's facilities are equipped to handle mental health emergencies.
"We've added over 4,000 mental health staff in the last three years and have ensured we have PTSD specialists," said Dr. Antonette Zeiss, deputy chief of VA mental health services. "People are pretty much able to get in when they want for initial care and have treatment implemented."
Suicide prevention efforts are perhaps more challenging in Nevada, said Dr. Ramu Komanduri, chief of staff for the VA Southern Nevada Healthcare System.
"We live in a community that has an extraordinarily high rate of suicide because of many factors," he said.
Another problem is the state's documented shortage of mental health services, leaving few options to veterans who seek treatment outside the VA, he said.
Rep. Shelley Berkley, D-Las Vegas, said a new federal law will mean fewer mothers such as Florek and Vavricka will wonder why their children killed themselves.
The law is named in honor of Justin Bailey, an Iraq veteran from Las Vegas who overdosed on prescription drugs in January 2007 while being treated for PTSD at a VA hospital in Los Angeles.
Its provisions include setting a standard minimum level of care for substance use disorder and improving treatment for PTSD, measures seen as essential in reducing risk of suicide.
Another piece of legislation last year directed the VA to create a comprehensive program to address the growing rate of suicide among returning combat veterans.
"We're not going to be able to do it on the cheap," Berkley said. "But when these men and women signed up to go to war, we made promises that we have an obligation to fulfill."
Other bills introduced last year called on the VA to track the number of veterans who commit suicide each year and sought to require the Pentagon to start suicide prevention programs. But both bills stalled.
Contact reporter Alan Maimon at amaimon @reviewjournal.com or 702-383-0404.
ON THE WEB
Online interactive