Experts: Officers acted appropriately in downtown shootout
January 10, 2010 - 10:00 pm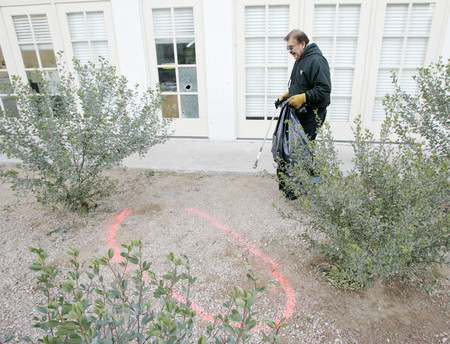 As their colleague lay dying on the ground, six deputy U.S. marshals and court security officers chased after the gunman who had just ambushed them inside the federal courthouse.
More than a minute later, the running gunbattle was over, and Johnny Lee Wicks lay dead among the bushes beside the Historic Fifth Street School, his 12-gauge shotgun near his side.
Behind him the building's wall and windows were peppered with nearly three dozen bullet holes, and a bullet had shattered a glass door at a Nevada State Bank branch about 200 yards away.
Six officers fired 81 shots trying to stop Wicks, who was hit in the stomach and the head.
To experts on police use of deadly force, the officers did what they had to do to stop a dangerous gunman while balancing the safety of innocent people in the area.
"This person needs to be stopped before he can kill anybody else," said David Klinger, a criminal justice professor at the University of Missouri-St. Louis and a former Los Angeles police officer. "Everybody needs to come to the gunfight … and everybody needs to shoot to put this guy down."
Wicks, a 66-year-old angry at the federal government for a cut in his disability payment, walked into the Lloyd George U.S. Courthouse on Monday morning and opened fire, killing court security officer Stan Cooper, a 72-year-old retired Las Vegas cop, and wounding a deputy U.S. marshal.
Return gunfire from deputy marshals and security officers forced Wicks from the building, and the gunfight spilled across Las Vegas Boulevard, where Wicks was shot and killed.
No one else was injured.
Law enforcement officers are universally trained to consider what is behind the suspect before squeezing the trigger, and they are responsible for every round they fire, Klinger said. But that doesn't mean they are perfect, and there are rare cases of police bullets wounding or killing innocent people.
"Police officers, like everybody else, are human beings, and not every round they shoot is going to hit what they're aiming at," Klinger said.
An officer's decision to shoot is also influenced by other factors, such as the suspect's actions and history, he said. For example, a gunman who just shot someone will not receive the same level of restraint as an apparent mentally ill person waving a gun, he said.
Klinger, who wrote "Into the Kill Zone," a book about police shootings from the cops' perspective, said there wasn't enough information about Monday's shootout to determine whether the officers all acted appropriately. Every decision to pull the trigger must be judged on its own, and the officers might have been considering their backgrounds on every shot, he said.
"The bottom line is you keep shooting until this guy stops being a threat," Klinger said.
Michael Rayburn, a former police officer who specializes in realistic firearms training and tactics, said the number of gunshots fired by authorities wasn't unexpected considering the length of the incident, the distance it covered and other factors.
"That's not a lot when you look at a running gunbattle," Rayburn said.
Many popular police handguns carry 15 rounds in the magazine, which can be fired in about four seconds, he said.
"Just imagine, if you're scared and somebody's trying to kill you, how fast you're going to pull that trigger," said Rayburn, owner of Rayburn Law Enforcement Training in Saratoga Springs, N.Y.
The officers were under a lot of stress, running, finding cover to avoid getting shot and probably experiencing physiological changes because of their bodies' fight-or-flight response, which can trigger tunnel vision and deterioration of fine-motor skills, Rayburn said. Those all can affect shooting accuracy, he said.
In general, the accuracy rate in officer-involved shootings is between 14 percent and 18 percent, and most of those encounters happen in a matter of seconds and within a distance of 10 feet, he said.
Performance in run-and-gun situations can be improved if officers are trained for them, but many agencies across the country still use only stand-still target shooting on a range, he said.
David Turk, a spokesman for the U.S. Marshals Service, would not give specifics about deputy marshals' weapons training but did say it includes situational training.
Court security officers are hired by a federal contractor, AKAL Security. Although most have law enforcement experience, they go through training at the Marshals Service academy that includes weapons qualification, Marshals Service spokeswoman Nikki Credic said.
The Metropolitan Police Department uses the type of training Rayburn referenced, real-life scenarios with officers shooting real weapons with Simunition cartridges that use paintball-type projectiles instead of bullets.
As for Monday's shootout, Rayburn said the deputy marshals and court security officers were reacting to the situation that Wicks put them in, and they did what was necessary to protect the public.
"You can Monday morning quarterback and say, 'Oh my God, 81 shots.' But what if the guy got away and killed some kids. Then it would have been, 'Why didn't they stop that guy?'" Rayburn said. "Unfortunately, it's a no-win situation."
Contact reporter Brian Haynes at bhaynes@reviewjournal.com or 702-383-0281.