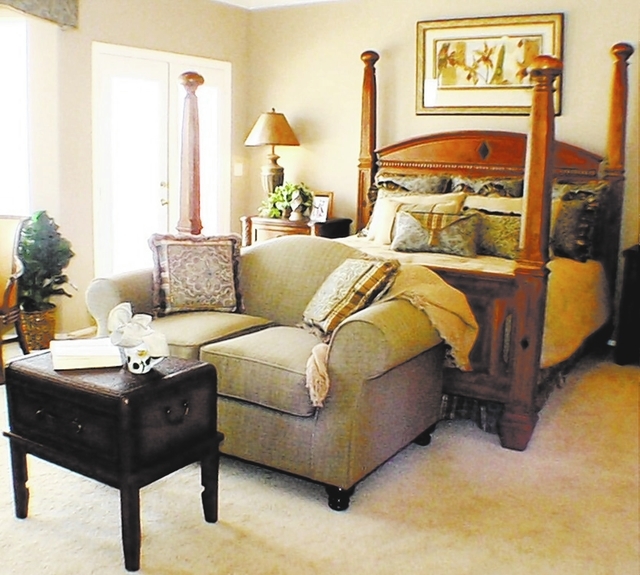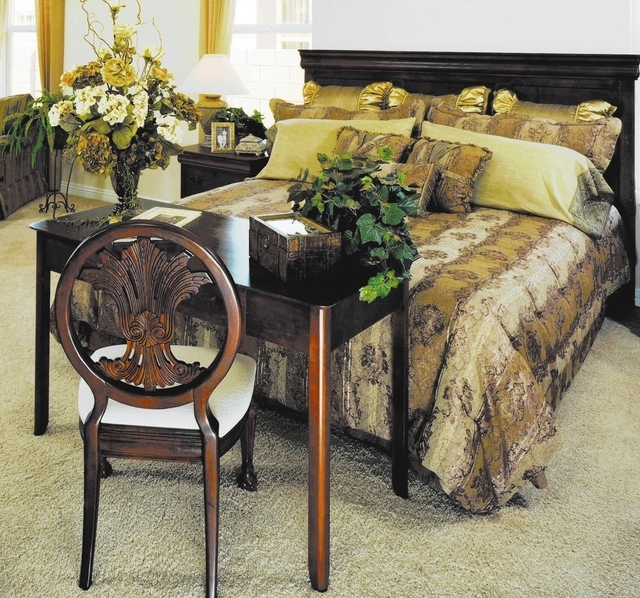 DEAR GAIL: We have a very long and narrow bedroom, and have at least seven feet of wasted space at the end of our bed. We don't know what to put there and, with nothing, it makes the room feel empty. What are some things that we could do? Carol C.
DEAR CAROL: How wonderful to have the extra space and yes there are a couple different things that you can use at the end of your bed. Since you mentioned that your room was long and narrow, I'm going to assume that first, you have the bed in the only position available to you in the room. Just take a second look and confirm that there isn't another wall that the bed could go on to change the open space available to you in the room. With your bed properly arranged, let's look at some of your options.
If you like to watch TV in bed, a luxury item that you might want to consider is a remote control television cabinet. The TV is stored inside and functions as a bench or cabinet when not in use, then "WALLA" with the touch of a button, the TV rises up out of the cabinet. They are a bit pricey, so you might want to check one of the hotel consignment stores where you can get it for a fraction of the cost.
One item that always works well at the end of the bed is a bench. You can have an oversized bench made that you can use to sit on when getting dressed, as well as a place for your comforter and pillows at night. If you have it made, I would make it dual-functioning for storing extra linens, change of season bedding or even winter and summer clothes. Trucks are also great storage pieces. On your day off, have some fun searching the antique stores for something unique with character.
You can decorate the foot of your bed into an extended lounging area with a pair of upholstered chairs and a small table. Add an accent lamp and you're ready to cozy up with a cup of coffee and your favorite book.
Watch the height of the lamp so that it doesn't look overpowering or odd at the end of the bed. I've also achieved this look with a loveseat and ottoman or small coffee table. With either option, make sure you give yourself enough room to get around the bed. Twenty four to thirty inches would be the minimum you'd want to keep the room feeling comfortable.
Do you need any extra desk areas? A decorative writing desk with a comfortable chair is a wonderful look at the end of the bed. I don't suggest that this is where you will be doing late night work as your bedroom should be your haven. Decorate with some of your favorite items and make this your area for sending cards and jotting notes to yourself.
Want another place to enjoy your morning coffee and paper? Use a small bistro set and treat yourself by sitting with your favorite china.
Have you also considered an oversized head and footboard? Many times we can't fit a wonderful sized bed in a room because there is not enough room, but you're fortunate enough to have that extra space.
Depending upon how high your bed is, look for a low decorative chest. You can use it for extra storage or dresser drawer space. Just make sure that if it is higher than your bed that the backside that you see is finished.
Along with all of these options, you can also add an area rug to the grouping that you create. It will bring it all together as well as add color and texture into your room.
Gail Mayhugh, owner of GMJ Interiors, is a professional interior designer and author of a book on the subject. Questions may be sent by email to: gail@gmjinteriors.com. Or, mail to: 7380 S. Eastern Ave., No. 124-272, Las Vegas, NV 89123. Her Web address is: www.GMJinteriors.com.