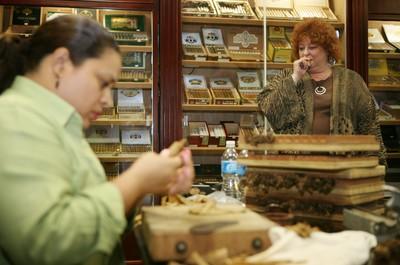 As Edga Ramaz worked in front of them, Paul Shubert passionately talked to Knance Phelps about marrying, about finding a love naked, about strippers.
So goes the conversation when an esteemed master cigar roller shows her stuff in Las Vegas.
Shubert, who was puffing cigars with Phelps on Saturday, really got into discussing the best way of blending, or marrying, traits and characteristics between cigar tobaccos. He wasn't bashful, either, about pontificating on how some cigars get packed into a box naked, or without cellophane wrappers.
And he wondered aloud how challenging it must be to live the life of strippers: cigar factory workers who strip leaves from the stems of tobacco plants.
For the 30 people on hand at the cigar rolling event at Hemingway's Fine Cigars near Cheyenne and U.S. Highway 95, it quickly became apparent that the English language as they knew it was going up in smoke. They also learned that cigar smokers have a distinct culture of their own.
"Some of my customers keep their own bottles of cognac here so when they buy new a cigar they can dip it in it and taste the cognac while they're smoking it," said Shubert, Hemingway's owner, who emphasized that the unlit end of the cigar is dipped in the cognac. "Cigar shops kind of take the place of the old barbershops. You can just relax and talk."
But it was more than conversation that drew aficionados on Saturday.
To Coy Jett, a 32-year-old electrician, watching Ramaz roll cigars was akin to watching Babe Ruth take his cuts at the plate.
"I'm in awe," said the man who took up cigar smoking because it mellows him out. "This is history in the making. Can you believe how she puts those leaves together? Look at those different kind of tobacco leaves. This is something that is done by hand, not by machine."
Some observers were so in awe of the work of Ramaz, 30, that they put $10 bills in a tip basket. And many, like Jett, paid $10 or more for a cigar rolled by Ramaz.
Ramaz is admired for her skill at blending tobaccos and her ability to make three turns with the tobacco leaf that will become the cigar's wrapper, without tearing it or leaving soft spots in the cigar.
When guests weren't smoking, they were eating fruit or drinking cocktails.
Ramaz, who moved to Las Vegas last year with her husband — their Lovo cigar store sits at the corner of Fremont Street and Las Vegas Boulevard — has been rolling cigars since she was 2 years old.
"My family took me to their factory, and I learned how," Ramaz said in halting English as she touched a damp tobacco leaf. Many of the cigars sold at her Las Vegas store are made at her family's factory in Nicaragua; others are rolled by Ramaz.
Her skill and notoriety has led to a long list of celebrity clients, including California Gov. Arnold Schwarzenegger and actor Sylvester Stallone.
The Ramaz family — 4-year-old Kielly also rolls stogies — now splits its time between California and Nevada.
Shubert beamed as Ramaz deftly rolled a cigar from leaves grown in Nicaragua out of seeds from Cuba, home to tobacco so revered that cigar aficionados hold the tiny communist country in the same high regard as Christians hold Bethlehem.
Yet since 1961, Americans haven't been able to buy Cuban cigars legally. That year, President John F. Kennedy signed a law prohibiting trade with Cuba in retaliation for Cuban nationalization of U.S. businesses.
"Someday this tragedy will be over," said Shubert, his evident sadness magnified by the way he hung his head, which was covered by a white Panama hat. "But what is made from the Cuban seeds I believe is just as good. Mrs. Ramaz makes a great cigar because she rolls it so tight. It is so clean."
Women on hand, all cigar smokers, were impressed particularly with the work of Ramaz.
"It seems like she makes something so difficult look so easy," said Phelps, a 47-year-old hotel manager of the Gold Spike casino.
Jett's wife, Kellie, said she took up smoking cigars after watching her husband smoke for 12 years.
"It's just something we can do together," she said. "It's something we can talk about. I like the kind that taste like chocolate truffles."
Phelps, 47, believes more women will start smoking cigars. "It was easy for me because my mother always smoked a pipe," she said. "But I think more women will start because men find women smoking cigars sexy."