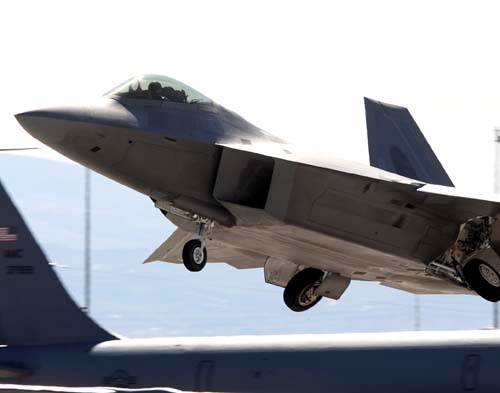 Pilots who fly stealthy F-22 Raptor jets at Nellis Air Force Base are among those at six bases who investigators think were exposed to toxins that made them lightheaded during flight.
That might be what happened to a captain killed when he lost control of his Raptor in Alaska in November, according to the Air Force Times, an independent military news outlet.
Particulates from hot oil, burned antifreeze and propane turned up in the blood of pilots from six out of seven Air Force bases where the Raptor is assigned, the newspaper reported in this week's editions. Carbon monoxide also might be a culprit but is difficult to detect because it leaves the blood quickly.
Pilots from Tyndall Air Force Base, Fla., didn't test positive for toxins, which means those from Nellis squadrons were in the positive group, according to expert sources cited by the Air Force Times and also reported by Stars and Stripes.
Calls for comment to Nellis and the Air Combat Command at Langley Air Force Base, Va., regarding the Nellis pilots were referred to the office of the secretary of the Air Force, which gave no immediate response.
The nation's fleet of 158 Raptor jets were put on stand-down May 3 after several pilots reported "hypoxia-like" symptoms, six months after Capt. Jeffrey Haney was killed when he lost control of his jet during a training exercise near Anchorage and never ejected.
"A skilled pilot, Haney sounded drunk on his last few radio calls, sources said, a typical sign of hypoxia," the Air Force Times reported. Hypoxia is a condition where the body is deprived of an adequate oxygen supply.
As opposed to grounding the fleet for a suspected mechanical defect, the stand-down is considered precautionary and voluntary.
There are 14 Raptors assigned to Nellis in the north Las Vegas Valley. They are flown by the 422nd Test and Evaluation Squadron and the 433rd Weapons Squadron.
Since January, the Raptor fleet has been restricted from flying above 25,000 feet because of concerns with the plane's oxygen supply system.
While investigators focused on the pilots' oxygen generation systems, they now think the toxin problem with pilots at Elmendorf Air Force Base is linked to starting the jets inside hangars in cold temperatures, according to the Air Force Times, which cited two unnamed sources.
According to Stars and Stripes, sources said the toxin problem might be resolved by simply starting the jets outside or, if it involves the warplane's exhaust system, adding scrubbers to the pilot's life-support equipment.
The radar-evading F-22s, twin-engine super cruisers with first-strike targeting, each cost roughly $140 million. The warplanes can carry air-to-air missiles and are capable of ground attack, too.
With its stealth design, the F-22 can evade radar and has advanced engines that allow it to fly at faster-than-sound speeds without using afterburners. The Raptor can cross the sprawling Nevada Test and Training Range's 12,000 square miles of airspace in seven minutes, flying at roughly 17 miles per minute.
The F-22 will work in tandem with the new F-35 Lighting II to replace the nation's aging fleet of F-16 Fighting Falcons and A-10 Thunderbolt attack jets, while offering radar-evading "black jet" capabilities that the F-117A Nighthawk provided before it was mothballed in 2008.
The first F-35, also known as the Joint Strike Fighter, is expected to arrive at Nellis in 2012.
Air Force officials announced last week that a total of 36 of the Lockheed Martin aircraft are slated to be based at Nellis through 2020 for testing and training.
Nellis Air Force Base received the first of an initial group of eight F-22 Raptors on Jan. 17, 2003. Those jets were flight tested and used to train a cadre of flight instructors.
They were grounded for two weeks after one crashed while taking off from Nellis on Dec. 20, 2004. The pilot, Maj. Robert Garland, successfully ejected.
Investigators blamed the crash on a power interruption of less than a second that led to a flight-control software glitch. The interruption occurred when the F-22's engines were shut down for maintenance and power to the aircraft was being supplied by an auxiliary ground unit.
Contact reporter Keith Rogers at krogers@reviewjournal.com or 702-383-0308.