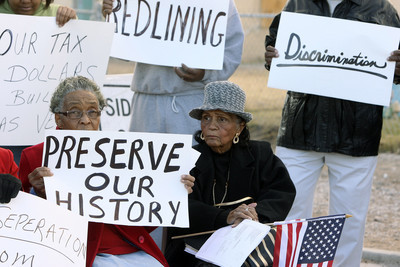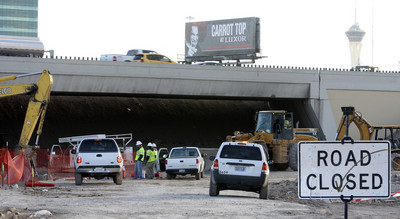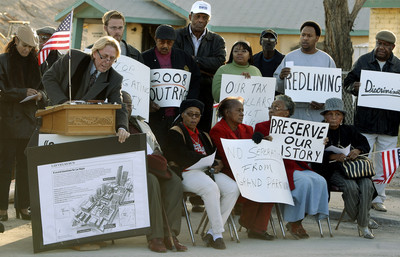 Folks from West Las Vegas once called F Street the gateway to their community.
A dirt wall on F Street near Bonanza Road now separates this historically black neighborhood from the rest of the city.
Outraged West Las Vegans said they believe the city has lowered an "Iron Curtain" over F Street, meant to segregate this community from downtown.
But the dirt wall also supports northbound Interstate 15 as it passes over F Street and is an integral part of the Nevada Department of Transportation's ongoing $240 million I-15 north widening project.
On Tuesday, residents Ora Bland and Estella Jimerson along with the local chapter of activist Al Sharpton's National Action Network filed a lawsuit in Clark County District Court seeking to shut down the project until officials agree to reopen F Street.
Redoing F Street midway through the three-year project could cost millions of dollars and mean continued congestion for the 170,000 motorists estimated to use this section of the interstate on a daily basis.
Besides, there are other access points to West Las Vegas, including D Street, which is only 1,000 feet away from F Street, transportation officials said.
Attorney Matthew Callister, who is representing Bland and Jimerson on a pro bono basis, called the permanent closure of F Street "the worst incident of race-based segregation" he had seen in Las Vegas.
Callister said the city and the Transportation Department must reopen F Street under I-15 or pay residents for any lost property value because of the closure.
He explained that closing F Street blocks emergency services from getting to West Las Vegas, denies residents access to government buildings and hampers redevelopment prospects for this often neglected part of the city.
The lawsuit contends the Transportation Department and the city did not adequately give residents an opportunity to comment on the project as required by law or inform them of plans to permanently close F Street.
Scott Magruder, a spokesman for the Transportation Department, said the state is confident that all the public meeting and public comment requirements for the widening project were met.
He added that permanently closing F Street was not the state's idea.
But when city officials asked for the permanent closure, the state obliged, Magruder said.
Las Vegas officials would not comment on the lawsuit or why city officials asked the Transportation Department to permanently close F Street, city public works spokeswoman Debbie Ackerman said.
Attempts to reach Ward 5 Councilman Ricki Barlow were unsuccessful. Barlow's office said the councilman was unavailable until Jan. 5.
Gene Collins, state chairman for the National Action Network, said Tuesday he remained puzzled about why city officials didn't want West Las Vegans to have access to downtown, Las Vegas City Hall, or the Clark County Government Center via F Street.
Collins said it seemed to him city officials were "purposely" trying to deny government access to black residents.
Collins said city officials told him months ago that the permanent closure was called for after a fatal mo-ped crash at F Street and Bonanza Road and complaints from one resident of the rumblings of construction trucks up and down F Street.
Collins did not find either explanation reasonable, he said.
And since residents have begun organizing against the closure, the city has been mum, Collins said.
Callister believes city officials wanted to "wall off" West Las Vegas, which has been considered a lower-income and high-crime area, from planned development at Union Park on Grand Central Parkway.
The $6 billion Union Park development calls for hotels and casinos, a performing arts center, professional office and residential buildings, as well as retail space.
Collins said a protest march is being planned for Jan. 7 and he plans on asking Sharpton, the head of the National Action Network, to lead it.
"He said if we need him, let him know and he would come," Collins said.
Meanwhile, the cost of redoing that section of the I-15 project could cost taxpayers millions of dollars extra, Magruder said.
The entire section of interstate probably would have to be reconfigured and realigned, he said.
But if the project is allowed to go forward, residents would find that an improved D Street, which is about 1,000 feet east of F Street, will act as a better gateway to West Las Vegas, Magruder said.
This is not the first legal threat to a Transportation Department road project.
The U.S. Highway 95 north widening project took nine months longer than expected because of a lawsuit by the Sierra Club that contended the state did not adequately consider health risks from air pollution. The suit was settled out of court, and state officials said the delay cost taxpayers an extra $20 million.
Callister said a judge will likely review the lawsuit in a couple of weeks.
Contact reporter Francis McCabe at fmccabe@reviewjournal.com or 702-387-2904.