Failing water well, rotten boardwalk are Red Rock Canyon headaches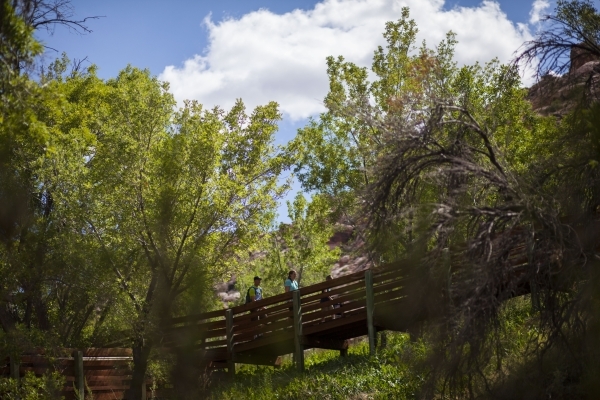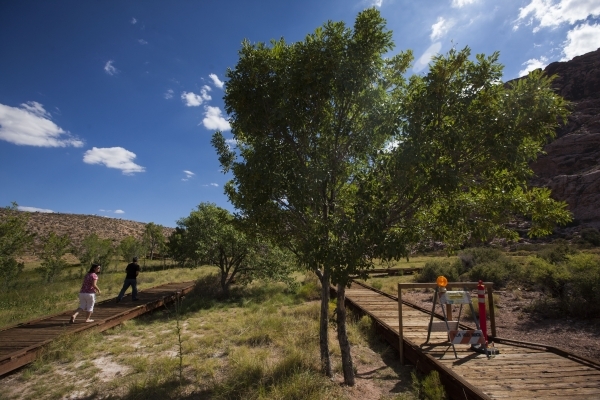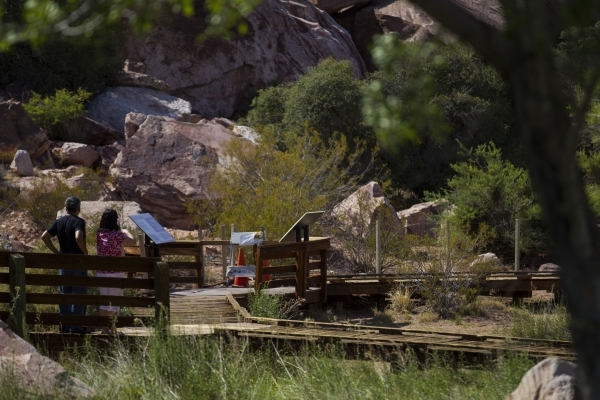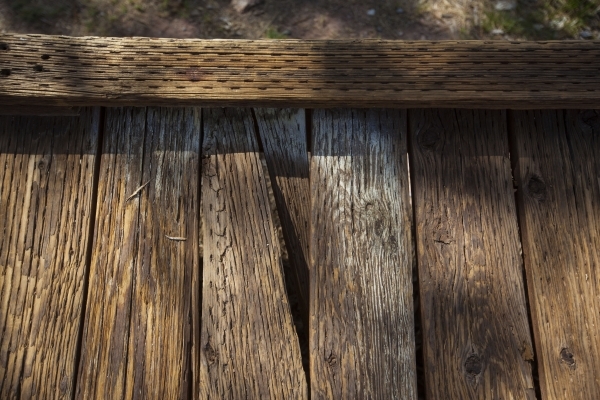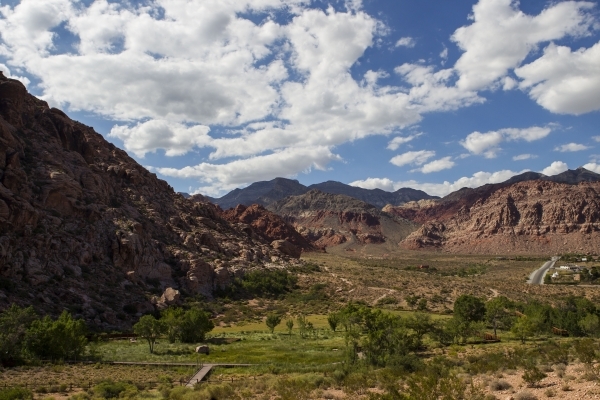 It's always a good idea to bring along water and watch your step during any trip to Red Rock Canyon.
That advice has taken on added significance lately, as federal officials wrestle with a crumbling boardwalk and a faulty water system at the popular National Conservation Area.
The Bureau of Land Management was forced to block off roughly a third of the half-mile boardwalk at Red Spring after a visitor fell through the deteriorating wood planks outside Red Rock Canyon's core fee area a few months ago.
BLM spokeswoman Kirsten Cannon said the entire boardwalk will be replaced with composite material next summer, but the existing wood could be repaired and the loop reopened before then thanks to a volunteer service project now being organized for National Public Lands Day on Sept. 26.
Meanwhile, the BLM continues to deal with the loss of a permanent water source at the Red Rock visitor center and administrative offices.
The agency has been trucking in water –€" a total of 30,000 gallons in three shipments per week — for use by staff and the public since a 33-year-old groundwater well failed in February.
Cannon said the bureau is about to go out to bid on repairing the well and replacing the pipeline connecting it to the visitor center. It's unclear when the work might be finished or how much it will cost because it might require a new, 550-foot-deep well and conveyance system designed for the roughly 1 million annual visitors Red Rock draws.
No cost estimates were available for the Red Spring boardwalk, though Cannon acknowledged that composite material is more expensive than the less-durable wood.
Josh Travers, supervisory outdoor recreation planner for the 198,000-acre conservation area, said the current boardwalk has "reached its lifespan."
The pressure-treated wood structure was built in 2005 and was expected to last about a decade. It will be replaced with a composite material known as Trex that's supposed to last about 20 years with only minimal maintenance.
A roughly 150-foot section of the boardwalk destroyed by an arsonist in 2006 has already been replaced with Trex. Cannon said the composite has performed as advertised over the past nine years.
The boardwalk that loops around a spring-fed alkali meadow was originally part of a larger project that cost roughly $1.7 million and included improvements to Calico Basin Road, construction of two restrooms and 10 picnic areas finished in 2010. The work was paid for through the the Southern Nevada Public Land Management Act, a 1998 law that directs profits from federal land auctions in the Las Vegas Valley to schools, parks, water infrastructure and conservation and recreation projects across the state.
This time around the BLM's deferred maintenance fund for Red Rock Canyon will be tapped.
The conservation area will see a great deal of construction activity in the coming years.
The BLM just finished collecting public input on its first major road upgrade at Red Rock in two decades.
Some of that work is already well underway with the construction of two bridges over the Sandstone and Red Rock washes and changes to the visitor center parking lot meant to improve traffic flow.
Future plans include expanding or improving 12 trailhead parking areas; repaving the entire 13-mile scenic loop; adding pavement to White Rock and Oak Creek roads; repairing the pavement on Moenkopi and Rocky Gap roads; and improving road signs throughout the conservation area.
The biggest proposed change involves constructing a new 2.4-mile return road that would allow motorists to leave the scenic loop at Sandstone Quarry and return directly to the visitor center.
If the bureau proceeds with the project, construction would likely begin in December and take about a year. No cost estimates are available yet because the scope of the work has not been finalized.
Any road improvements will be paid for with a mix of federal transportation funds and money from the Southern Nevada Public Land Management Act.
Contact Henry Brean at hbrean@reviewjournal.com or 702-383-0350. Find him on Twitter: @RefriedBrean.