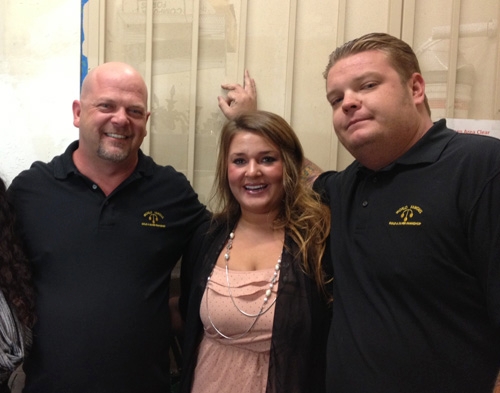 The wife of a fallen Army sniper came to Las Vegas this week on a mission to meet the "Pawn Stars."
She got her wish and more.
In a letter to the cast of the hit reality TV show, Jane Horton of Oklahoma asked whether she could visit the store and present them with a KIA bracelet and a photo of her husband, Spc. Christopher Horton.
She explained in the letter, "The last week I spent with Chris before he deployed we watched 'Pawn Stars' continually because it was one of his favorite shows."
Horton, 26, met Rick Harrison, son Corey and Corey's sidekick Austin "Chumlee" Russell, who all wore the KIA bracelets while filming an upcoming segment for the show.
"When I looked over and saw it on Rick's wrist, I almost burst into tears," Horton said via telephone from New York, after leaving Las Vegas on Wednesday.
"I didn't expect the treatment that they gave me. They had looked up Chris on the Internet and gave me a donation to his fund and an autographed book."
Horton's husband was among three Oklahoma National Guard soldiers killed Sept. 9, 2011, in Paktya, Afghanistan, when enemy forces attacked their unit with small arms fire.
They had met while working on New York City Mayor Michael Bloomberg's campaign in 2005 and were volunteers for Mitt Romney's presidential campaign in 2008.
She gave the bracelets to the "Pawn Stars" on the same day Romney, the Republican presidential nominee, wore one during the second presidential debate.
"We knew he was going to wear it,"  said Horton, who grew up in Cleveland.
"When I pass out Chris' bracelet, it's not only for him but all the fallen soldiers. America has never been so divided. One thing that brings us together is the reverence for the fallen service members.
"Maybe it's the one thing that will help bring this country together," she said.
THE SCENE AND HEARD
Barbra Streisand's new "Release Me" album debuted at No. 7 on the Billboard charts Wednesday, her 32nd top 10 album. Only the Rolling Stones (36) and Frank Sinatra (33) have more. The 44,000 sales extended her lead as the woman with the most top 10 albums. She's performing at the MGM Grand on Nov. 2.
SIGHTINGS 
Adam Richman, The Travel Channel's host of "Best Sandwich in America" and former host of "Man v. Food," posing with a massive hero sandwich during a photo op Wednesday in front of the fountains at Caesars Palace. He was being photographed for the upcoming inaugural Food University from Dec. 11-13 at Caesars Palace. At the end of the photo session, the huge hero sandwich was handed to a lucky tourist who asked if he could have it. … "Cake Boss" star Buddy Valastro, filming a segment for "The Next Great Baker" reality show, at the Little White Wedding Chapel on Tuesday. After the taping with the Rev. Charlotte Richards at Little White, Valastro and the show's two finalists cruised the Strip in the Rev. Jesse Garon's 1955 pink Cadillac and partied on champagne until 3:30 a.m. at Planet Hollywood's Gallery Nightclub. … Legendary U.S. Air Force pilot Chuck Yeager, at Joe's Stone Crab (Caesars Palace) on Sunday, celebrating the 65th anniversary of when he became the first pilot to break the sound barrier.
THE PUNCH LINE 
"It's not such a great day for Hulk Hogan. Sources now say he was involved in leaking his own sex tape. Faking the theft of a sex tape? This could give professional wrestling a bad name." – Craig Ferguson
Norm Clarke can be reached at 702-383-0244 or norm@reviewjournal.com. Find additional sightings and more online at www.normclarke.com. Follow Norm on Twitter @Norm_Clarke.