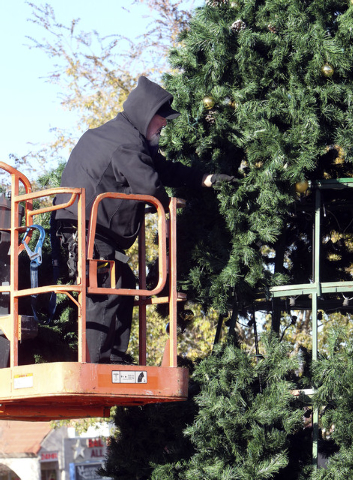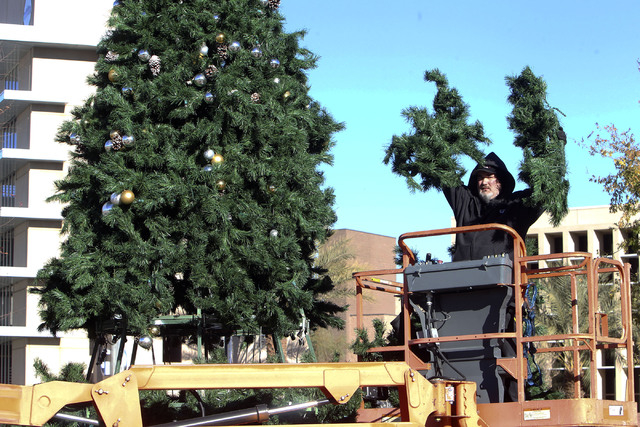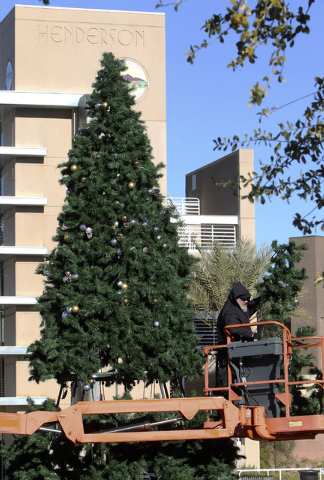 Hope you pulled out your jackets and scarves in anticipation of the cold front that blew through the valley Tuesday evening because it left chilly temperatures and wet streets behind.
But just wait.
Forecasters are predicting more snow to touch down in Las Vegas on Saturday, when the western part of the valley might see as much as 2 inches by nightfall.
On Tuesday, western parts of the valley were hit with what looked like hail but was actually snow pellets that fell in a skiff — snowfall mixed with rain — but didn't accumulate in town, according to Todd Lericos, a meteorologist with the National Weather Service.
The hard-freeze watch is in effect through Friday, and Saturday could bring snow to elevations as low as 2,500 feet. Lower parts of the valley like Henderson are below that elevation and shouldn't expect snow, but Summerlin sits at about 3,000 feet according to the weather service, so it and Red Rock could see precipitation.
Las Vegas saw a 17-degree dip in its temperatures as Tuesday's high of 62 degrees dropped to 37 overnight, followed by a high of 45 degrees on Wednesday. Just outside of town, Nevada Highway Patrol troopers required snow chains or four-wheel drive vehicles on mountain roads, trooper Jeremie Elliott said.
It rained steadily through the night, Lericos said, which was enough to make the roads slick.
The wind gusts as high as 70 mph in Red Rock Canyon on Tuesday evening died down as the cold front moved through around midnight.
The weather service said the drastic temperature change after weeks of warmer weather was caused by the cold front coming in from western Canada.
In Lincoln County, the temperatures plummeted. After a high temperature in the 60s on Tuesday, Wednesday's high failed to reach double digits.
Despite snowfall in the valley, Mount Charleston recorded only 2 inches of snow overnight on Tuesday, bringing its season total to 26 inches since October, according to the weather service.
Today, the county is opening nine warming stations throughout the valley to help the homeless and others with the cold weather.
Also, three overnight shelters will be available until late March for those looking to stay out of the cold.
Reno is preparing for its coldest weather in several years as temperatures are expected to dip as low as minus 5 degrees.
The storm dropped about a half-foot of snow on much of Northern Nevada on Tuesday.
Temperatures dropped below zero early Wednesday in many parts of White Pine County along the Utah line.
A day earlier, the Ely airport broke a 65-year-old record with more than a half foot of snow.
Other lows forecast for Thursday ranged from minus 11 at Truckee, Calif., and minus 6 at South Lake Tahoe, to minus 7 at Carson City and between minus 3 and minus 7 at Elko.
Las Vegas Review-Journal reporter Steven Slivka and The Associated Press contributed to this report. Contact reporter Annalise Porter at aporter@reviewjournal.com or 702-383-0391.