Fallon irrigation canal fails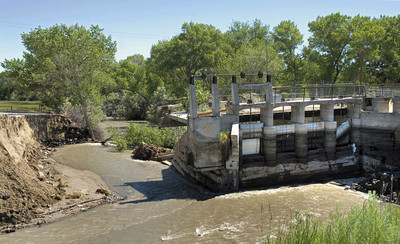 FALLON — A second breach in six months of a century-old irrigation system in northern Nevada washed out a road, damaged an access bridge and took out part of a spillway, authorities said Thursday.
There were no injuries and no homes were damaged after a large section of the V Line Canal near Fallon collapsed about 10:30 p.m. Wednesday, authorities said. The earthen channel takes water from the Carson River Diversion Dam below Lahontan Reservoir and delivers it to area farmers.
Mike Yohey, a grass seed farmer who lives along the canal, said he and his wife, Terry, were standing on the bank when it started to give way.
They had gone to investigate a clanging noise coming from a spillway when the canal "just exploded," he said.
"Never in your life do you think you'd see something like that."
Rushing water tore a 30-foot breach in the embankment and flowed into a wasteway, a separate channel that returns water from the canal into the Carson River.
The force of the water surge eroded about 60 feet of the wasteway, uprooting trees and washing away Yohey's driveway and two, commercial size propane tanks.
Yohey said a neighbor helped him retrieve the propane tanks, which were found two miles down stream.
"Who would have though I'd have my chest waders on to fish my propane tanks out of the river," he said. "Praise God for good neighbors because good neighbors are better than money in the bank."
The cause of the failure was under investigation, said Kenneth Parr, spokesman for the U.S. Bureau of Reclamation, which owns the 103-year-old Newlands Project operated by the Truckee-Carson Irrigation District.
David Overvold, irrigation district project manager, said the canal is a major water source for about 2,000 farmers and ranchers.
"It provides water to about half of the valley, so we need to get this fixed," Overvold said. "It's their livelihoods."
He hoped temporary repairs could be completed to allow water deliveries to resume in seven to 10 days.
Water was flowing in the canal at about 650 cubic feet per second, about a foot below the top of the roughly 15-foot-high levee when the breach occurred, officials said.
"It was flowing pretty fast," Churchill County Sheriff Rich Ingram said.
Emergency crews monitored river levels at bridge crossings through the night.
"The primary concern was the volume of water being put into the river," Ingram said.
Officials worried that trees, limbs and other debris being carried by the water would lodge under bridges and cause more flooding, Ingram said.
Parr said a small dike was placed about a mile upstream to dry the canal out so temporary repairs can be made.
"Then after that is done, it's important that we get water to the farmers as quickly as possible, at the same time maintaining safety in the area," he said.
The breach occurred at an area called the Lewis spillway, part of which broke off and washed away.
It's the second breach of the irrigation system in six months, though this one occurred in a sparsely populated rural farming area.
That wasn't the case on Jan. 5, when a section of the Truckee Canal in Fernley burst, flooding 600 homes.