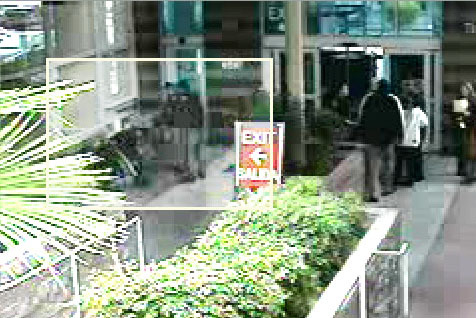 Being accused of excessive force isn't new to Family Court Marshal Brent Johnson.
This week, former Henderson resident Peter Peterson filed a lawsuit in federal court, alleging Johnson assaulted him after he passed through the metal detectors in Family Court on Feb. 27, 2012.
Peterson, 42, who now lives in Oklahoma City, alleges Johnson threw him head-first to the concrete floor, causing him to suffer serious facial fractures, head contusions and spinal injuries.
Two days after that altercation, which was captured on security video, a federal judge dismissed a similar case of alleged brutality involving Johnson after both sides reached an undisclosed settlement.
In that case, which occurred five years earlier, William Beaver accused Johnson of punching him and tackling him to the ground outside the main Family Court entrance, giving him a concussion and a hernia and aggravating his back problems.
Beaver, who was 66 at the time, now lives in Oregon.
In both incidents, witnesses said Johnson was the aggressor.
Beaver's lawyer, Robert Kossack, said Beaver received a "good settlement" in his federal lawsuit over the Nov. 21, 2007, courthouse altercation.
Johnson, who was hired at Family Court in December 2006, declined to comment on both cases.
In a sworn statement, Beaver said his problems started after Johnson discovered a pocket knife in Beaver's coin purse as he was passing through the metal detectors. Johnson informed Beaver that he could not bring the knife into the building, and Beaver promptly left to put the knife in his car.
When he returned, Beaver said) he asked Johnson, "Are there other changes a guy might need to know about?"
At that point, according to Beaver, Johnson swiftly walked up to him and in an "intimidating" voice asked, "You have a problem with security?"
Beaver said he politely replied that he did, and Johnson told him, "You can either exit the building or go to jail."
At that point, Beaver said, he started to walk out the door and made another remark about being confronted by the much larger and younger Johnson.
According to Beaver, the marshal followed him outside where he began striking him from behind and then tackled him to the cement. Johnson kneed Beaver in the groin and punched him in the back.
Beaver said he was then detained and transported to the Clark County Detention Center on an array of misdemeanor charges, including disorderly conduct. He spent several days at the detention center, but ended up never being formally charged in the altercation.
A witness, George W. Coleman, gave Kossack a sworn statement backing Beaver's version of the incident.
Five years later, Peterson attracted Johnson's attention at Family Court when he complained about security procedures while passing through the metal detectors.
Peterson alleges in his lawsuit that the marshal slammed him to the cement floor of the courthouse because he didn't like his attitude.
The suit says Peterson was shoved to the ground while his hands were handcuffed behind his back. But Johnson contends in a report of the incident that he was only in the process of handcuffing a resisting Peterson when Peterson's momentum caused them both to fall.
Witnesses also did not see Peterson's hands fully restrained, and it is hard to tell whether Peterson was handcuffed in a low-quality security video of the incident.
Johnson maintains in his report that Peterson became "confrontational" and tried to "incite" bystanders.
But three witnesses interviewed by a private investigator hired by Peterson's lawyers all backed Peterson's story.
All three said Peterson was not unruly or combative, and Johnson was more emotional.
Two of the witnesses were so traumatized by Johnson's actions, they called 911 requesting medical help for Peterson, according to investigator Robert Lawson.
In a 911 recording obtained by the Las Vegas Review-Journal, one of the witnesses tells operators Johnson had been harassing Peterson.
Another witness, Ben Parcutt, told the investigator Johnson slammed Peterson to the ground so hard that the ground shook beneath his feet.
"He felt that the marshal was totally out of control and used unnecessary force, as Mr. Peterson was not (resisting), but just responding to the marshal's aggressive attitude toward him," Lawson wrote.
Peterson was transported to the hospital and booked into the Clark County Detention Center on misdemeanor charges of disturbing the peace and resisting arrest. He picked up another charge while at the hospital after he threw an oxygen meter and hit a marshal in the head.
But as in Beaver's case, no formal charges stemming from the Family Court confrontation were ever filed against Peterson, and the charge stemming from the hospital altercation was dropped as part of a plea deal, his lawyers said.
The allegations now swirling around Johnson come as a federal grand jury is reviewing claims of excessive force and other misconduct by Family Court marshals.
Several excessive force incidents were reported in recent years during the tenure of Steve Rushfield, the former Family Court supervisor of the marshals. Allegations that incidents at the courthouse were covered up have also surfaced.
FBI agents recently carted boxes of files from the Regional Justice Center office of Ed May, the human resources manager for District Court. Agents are reported to have subpoenaed records from internal investigations of Family Court marshals over several years.
Court officials have consistently declined to comment on the grand jury investigation, as well as the allegations of excessive force and other misconduct.
On Wednesday, District Court spokeswoman Mary Ann Price said the administration "cannot comment on pending litigation."
Contact reporter Jeff German at jgerman@reviewjournal.com or 702-380-8135. Follow him on Twitter @JGermanRJ.
Click here to listen to the 911 call reporting the incident with Family Court marshals.