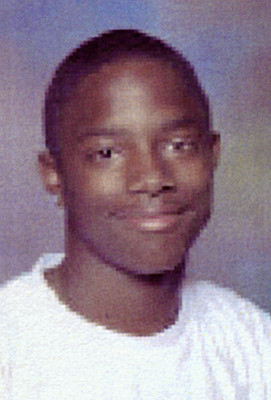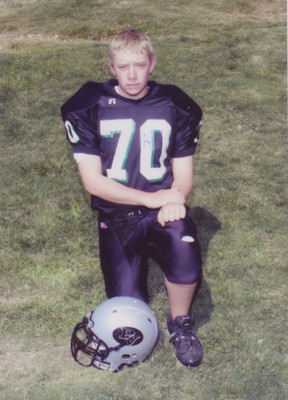 Palo Verde High School freshman Christopher Privett was slain Friday in a drive-by shooting with no apparent motive.
Gerald Q. Davison, a Palo Verde sophomore who reportedly shared a physical education class with Privett, now will be pressed for the reasons behind the shooting.
But members of Davison's family, speaking out for the first time Monday, have their own question: Did he do it?
"My sympathies go out to the family of the boy who was killed — that is so terrible — but I can't believe my brother did it," said Davison's 18-year-old sister, Alaya Brooks, who wants to study criminal justice in college. "There were supposedly so many kids in that car with him. Why aren't the police charging them with anything? I can't help but think they're saying he did it because the police made a deal with them."
Davison, a 16-year-old facing charges as the drive-by shooter, has been incarcerated at the Clark County Juvenile Detention Center since Saturday. He is awaiting his first juvenile court hearing involving one count of murder with a deadly weapon, three counts of attempted murder with a deadly weapon and four counts of firing a weapon from a moving vehicle.
"Everybody wants an answer that makes sense, and unfortunately we can't deliver on that right now," Las Vegas police Deputy Chief Ted Moody said Monday. "We might not ever be able to deliver on that."
Brooks, who lives with her brother and their mother in a condominium in northwest Las Vegas, said that on the day of Privett's death, Davison stayed home from school because he wasn't feeling well. Later in the day, she said, one of her brother's friends picked him up in a car.
"They said they were going to pick up some girls," Brooks said.
Visiting Brooks Monday night was her aunt, Sharonda Logan, and her cousin Angel Stevenson. Davison's mother, Shanna Morris, had left to visit Davison in the detention center.
Logan said her nephew always had a big smile on his face early in the morning when he got on the school bus with her children to ride to Palo Verde.
"He's never been involved in anything with a gun," she said. "He's gotten in trouble for curfew and missing too much school, but a lot kids have that problem. He's not in a gang."
Logan is suspicious of police not charging the others in the car. "Gerald doesn't even drive," she said. "How is it he just got pinpointed?"
Stevenson, 19, said that shooting at somebody "isn't something he would do."
Brooks said her brother "is too scared" to get involved with guns. He loves sports, particularly basketball and football, and has musical talent that includes singing and dancing, she said.
"I think we're going to find out there is more to this story," Brooks said. "I know my brother and what's happened here is not him."
Police have not formally named Davison as the suspect. But in the Palo Verde community, where residents and school-involved individuals remain shell-shocked by the violence, Davison's identity has become something of an open secret.
Davison was a relative newcomer to Palo Verde, enrolling there in the fall after leaving Cimarron-Memorial High School, sources said. Davison is pictured as a freshman in last year's Cimarron-Memorial High School yearbook. Prior to high school, Davison attended Becker Middle School.
All three schools are in the Northwest region of the Clark County School District.
According to police, the suspect who gunned down Privett was in a car with four other people — two female Palo Verde students and two young men who never attended the school. Witnesses reported seeing a hand holding a gun emerge from the vehicle's rear-passenger window. The weapon was aimed at the group and four shots were fired. One bullet fatally wounded the 15-year-old victim.
Privett was walking with a group of students leaving campus about 20 minutes after classes ended. Police believe that group of students was targeted by the gunman but don't know why. Detectives have found no gang connections among anyone involved.
Still, students returning to school after the three-day holiday weekend will be surrounded by an increased police presence in and around Palo Verde. Clark County school police spokesman Lt. Ken Young said the district force and Las Vegas police will be working together to provide the stepped-up coverage.
Superintendent Walt Rulffes said counselors will be available at Palo Verde to speak with students.
Keeping students safe is the district's top priority, Rulffes said, but factors such as gang activity, easy access to guns and television violence all contribute to making that task more difficult. "It's very difficult to provide absolute safety on public streets," he said.
School board member Terri Janison, whose daughter will attend Palo Verde next school year, said she's receiving calls from parents anxious about the safety of Palo Verde students.
"This is an incredible tragedy," Janison said. "We need to be there for our kids and make their lives as normal as possible from here on out."
Although much about the incident is still unclear, the fact that police have a suspect in custody did ease the concerns of one Palo Verde parent.
"When there is not someone out there on the loose, you can't help but feel better, " said Ryan Tuttle, a businessman who has two daughters at Palo Verde.
Tuttle still plans on taking precautions. It's possible he'll no longer allow his daughters to walk the quarter-mile from the bus stop to home.
"I may pick them up for a while," Tuttle said. "I'm going to talk to them more about this. We have to see how the whole family is feeling."
Valerie Abu-Alu, whose daughter was a classmate of Privett in honors biology, said she has always dropped her daughter off at the bus stop in the morning and her parents picked her up "most of the time." Now, she said, her parents probably will do that all the time.
"I think people see this as a random one-time incident that people hope will never happen again," she said.
There is no question, however, that parents are upset.
"Our community is grief stricken and shaken to the core to hear of such tragic news," she said. "No parents should ever have to go through this."
Review-Journal writers Antonio Planas and Brian Haynes contributed to this report.