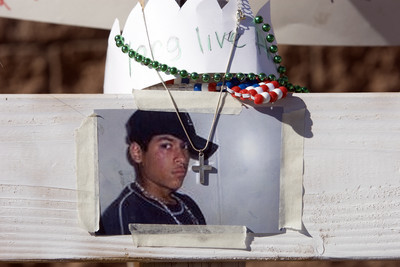 A paper crown penciled with "long live the king" marks the location on Alexander Road where North Las Vegas teen Keanu Davila was hit by a car and fatally injured Tuesday.
Friends and family united by their "mighty loss" gathered Wednesday afternoon around the makeshift memorial to share stories about the 16-year-old, who went by the nickname KiKi.
"He'd crack jokes, the stupidest ones, and still make you laugh," said Christina Tapia, who was Davila's friend.
Davila was riding a bike west on Alexander Road near Coleman Street at 12:23 p.m. when a car struck him from behind. Davila was thrown onto the hood of a Honda Civic and hit his head on the windshield. He was carried about 60 feet before he fell off the vehicle.
The driver of the car was an unidentified 58-year-old North Las Vegas man. North Las Vegas police did not return calls made Wednesday seeking the driver's name.
Davila was hit about a block from Cheyenne High School, where he was on the football and boxing teams. He was about to begin his junior year. Davila lived with his mother and siblings and aspired to become a professional boxer after he graduated, said Irving Davila, the teen's father.
"I was going to train him back in New York," Irving Davila said, pointing at memorial posters plastered with large photos of his son. "He was a clown. He was a good student."
North Las Vegas police said Keanu Davila was riding alongside three young relatives walking on the sidewalk when he was struck by the car. He was not wearing a helmet.
The teen died at University Medical Center shortly after the collision.
Police said the driver never used his brakes. The driver passed a breath test and was not arrested at the scene.
Police do not believe that drugs or alcohol played a role in the crash.
The driver told police that he was wiping sweat from his face when the accident occurred.
The Clark County district attorney's office will decide if vehicular manslaughter charges will be filed against the man.
Irving Davila, who lives in New York, said he found the driver's actions suspicious.
"Everyone on this planet is created equal," he said. "Why would he need to be wiping sweat from his head?"
Davila stood with his son's friends Wednesday and was overwhelmed by tears when mourners placed flowers, teddy bears and poster board messages at the site.
"Everyone here loves him, and I love them," he said. "My loss … it's mighty."
Tapia, who's known Davila for three years, said she had been at the memorial site since her friend died.
"He wanted to be a professional boxer or to start his own dance crew in New York," she said. "We had a lot of faith in him."
Contact reporter Maggie Lillis at mlillis@ reviewjournal.com or 702-383-0279.