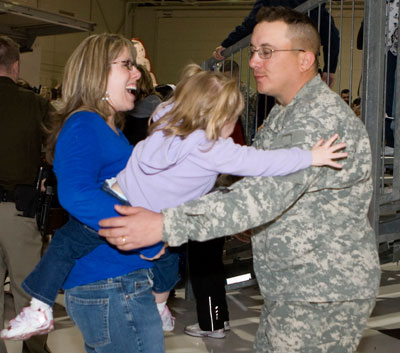 The "Rolling Thunder" has returned from another tour of war-torn Iraq.
To the cheers of family and friends, about 230 of the 300 Army Reserve soldiers from the Las Vegas-based 257th Transportation Company arrived tonight at Nellis Air Force Base after being deployed in Iraq and Kuwait.
The soldiers returned stateside last week to Camp Atterbury, Ind.
Since leaving in January 2008, they drove nearly 2 million miles in Heavy Equipment Transporters — powerful trucks with goose-neck trailers — to haul tanks, artillery and armored vehicles on dangerous Iraqi highways.
They sometimes found themselves in the cross hairs of militant riflemen and endured close encounters with roadside bombs but managed to evade all the attacks without injuries, said Army Reserve battalion commander Lt. Col. Glenn Bogdanski.
Erin Frederking of Henderson waited with her daughters, Grace, 2, and Lily, 1. Lily was 3 months old when her father, Sgt. Mike Frederking, left with the unit.
"It was pretty tough by myself," Erin Frederking said. "When they went on their missions, I was nervous and waited by the phone."
Under the command of Capt. Valeria Anderson, the transportation company's citizen-soldiers delivered 1,600 Mine Resistant Ambush Protected Vehicles, or state-of-the-art armored fighting vehicles, designed to protect soldiers from roadside bomb explosions.
Known as the "Rolling Thunder," the 257th was sent to support Operation Iraqi Freedom after the U.S.-led invasion in 2003. On that deployment, they spent 346 days in Iraq and Kuwait, traveling 2.25 million miles to move tanks and Bradley fighting vehicles around Iraq's battlefields.
The 257th soldiers are among 13,000 from 11 Western states assigned to the 63rd Regional Readiness Command headquartered in Los Alamitos, Calif.
Commander Maj. Gen. Bruce Casella said he believed the situation in Iraq has improved overall since the first deployment after the invasion. He said it would "probably be years" before the 257th is sent again on an overseas assignment.
Contact reporter Keith Rogers at krogers@reviewjournal.com or 702-383-0308.