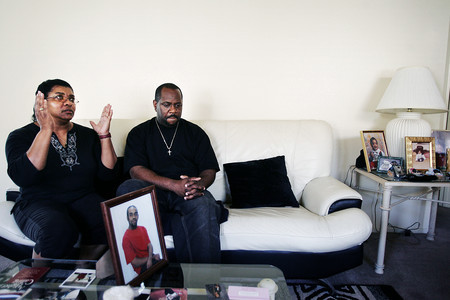 The leads ran dry.
Questions went unanswered.
Years passed.
But the family of Derek Coleman, gunned down in 2005 by an unknown assailant, still clings to the hope for justice.
It has been almost four years since Coleman, then 19, was slain in his car. The vehicle was parked near the Fantasia novelty store, which has since closed, near Circus Circus.
Police never learned who fired the fatal shot, and Coleman's family never found closure.
After his brother's death, James Coleman said, "If I heard anything on the news about a young kid dying, he was the first thing I thought of."
Coleman, 35, never lost faith that the person who killed his brother could be found. So while he and a Las Vegas police detective watched their sons scrimmage in basketball in March, Coleman decided to talk about his brother's case.
That conversation with Lt. Lew Roberts brought the case to the attention of the Metropolitan Police Department's cold-case detectives, who know that reopening an investigation like this one is an uphill struggle.
"Most of the cases we reopen come by way of a phone call from a loved one or a family member," Las Vegas police Detective Steve Popp said.
Cases from 2005 are right around the cut-off point for successful resolution, but Popp said, "We can take a fresh look."
Derek Coleman's murder book, a 5-inch thick, three-ring file containing all of the investigator's findings, landed on Detective Mike Blasko's desk this spring.
He said the case presents three major obstacles. The homicide happened on the Strip, a transient area where tourists are looking at the places around them, not the people. There also was little to nothing in the way of forensic potential, and a lot of time has passed since the shooting.
The events leading up to Coleman's slaying scream drug deal gone bad, Blasko said.
On the afternoon of July 17, 2005, Coleman and his girlfriend met a man at a gas station near the Stratosphere. After making a run to an unknown hotel, the couple went to another gas station near Circus Circus.
The man they met was described as black, 5 feet 8 inches tall and in his early 20s. He had cropped hair and a skinny goatee. A wallet on a chain was hanging out of his shorts pocket. He was seen wearing a white muscle shirt and white basketball shorts with either black or red trim.
He met the couple around 10:40 p.m. and got in the backseat of Coleman's car, a white 1995 Chevrolet Corsica.
The man then drew a handgun and tried to rob Coleman before shooting him in the back. The assailant fled on foot.
A few witnesses saw the man slide out of the car and run, but their accounts did not advance the case. Some of witnesses were tourists who saw the man walk north on Las Vegas Boulevard.
Popp said the Strip is a haven for criminals because it has masses of people out of their element. They're not paying attention and plan to leave town after a short stay. Locals typically don't spend much time there.
"The population is greater, the traffic is greater, and you have everyone who is a tourist looking at things on the Strip," he said. "Quite frequently, you could have a crime occur in a well-populated area and not a lot of people witness it.
"They aren't paying attention to what is going on next to them."
Coleman's girlfriend, identified by police only as Tabitha, was in the front seat of the car but could not detail the men's conversation or describe what happened. She told Coleman's family members that she pleaded with the man to not shoot.
Family members now want police to find Tabitha and review her statement.
"It was almost like she didn't want to deal with it," James Coleman said. "I know she was hurt because she really did love him."
Shirley Siebert said she dreamed of witnessing her son's life milestones and for him to explore the world.
"I wanted him to travel, leave Las Vegas," Siebert said.
She would tell him, "Let me miss you a minute and come back."
She said she feels guilt as well as grief.
"I felt guilty because I wasn't there to protect him," Siebert said. "I am his mother, I am supposed to be there."
Siebert raised three sons as a single mother in Las Vegas. She described her slain son as a funny kid who wanted to "do everything," dabbled in sports and attended Cheyenne High School.
He bounced around jobs and loved kids, especially his nephews and son, De'reck, who was 2 years old when his father was killed.
Siebert's last memories of her slain son are of him joking as he ate up all of the ribs she had just made the day he died. She said she put blessed oils on him before he left that afternoon, as she often did to bless him.
She said she has forgiven his killer. "I know who the final judge is."
Popp hopes talking about the case will yield new leads.
"You want to get the information back out to the public to try to jar somebody's memory," he said. "There is no other way around it."
Anyone with information regarding the Coleman case is encouraged to contact Las Vegas police at 828-3521 or Crime Stoppers at 385-5555.
Contact reporter Maggie Lillis at mlillis @reviewjournal.com or 702-383-0279.
Video