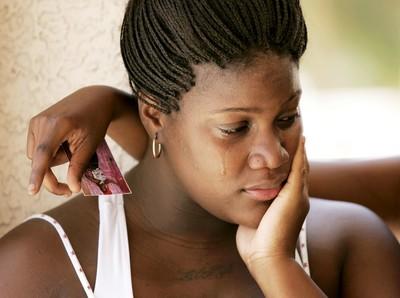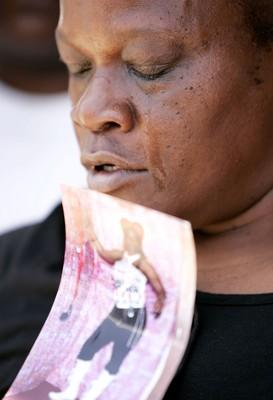 More than a dozen relatives of Denise Glasco had planned for months to come to Las Vegas this week to celebrate her 25th birthday.
They wound up coming to mourn her death.
Glasco, who family members said was four months pregnant, was shot and killed by Las Vegas police Tuesday morning near Martin Luther King and Lake Mead boulevards.
Police said Glasco was waving a knife in the street and had threatened a motorist and police before she was killed. Officers used pepper spray on her, blasted her multiple times with a bean bag shotgun and shocked her with a Taser before they shot her in the chest twice. She had her 3-year-old son with her during the events that led up to her fatal confrontation with police.
Speaking at the house where Glasco had been living about 100 yards from where she was shot, Glasco's relatives said police should have been able to handle the situation without killing the 24-year-old mother of three.
"She had a knife in one hand and a baby in another hand. How is she a threat to police officers with billy clubs, with guns on them, with Tasers and everything?" asked Ann Marlbrough, one of Glasco's cousins.
"They took my baby. They shot my baby for nothing," said Betty Fowler, Glasco's 55-year-old mother, who came to Las Vegas this week from Southern California.
Fowler and other relatives wept openly and asked why police shot her in the chest rather than in an arm or leg.
Sgt. John Loretto, a spokesman for the Las Vegas police, said officers are trained to aim for the "center mass" of a person's torso.
That is done to incapacitate the suspect and to try to reduce the chance that bullets go through a part of the body like a limb and then strike bystanders.
Police were called when Glasco pulled a knife on a customer at a Jack in the Box restaurant at Lake Mead and Martin Luther King about 8 a.m., witnesses and police said.
Officers found her in the parking lot of a nearby pharmacy. She had her son with her, and she was waving a knife, police said.
Police were able to snatch the boy away from her and then used the bean bag shotgun, a Taser and pepper spray on her. Officers shot her when she threatened a motorist with the knife and then came toward police, Las Vegas police Deputy Chief Ted Moody said.
When asked Tuesday why police hadn't just taken the knife from Glasco in the same way that they had grabbed the child, Moody said it's easier to take a large object such as a 3-year-old boy from a suspect than it is to take a smaller object such as a knife.
Police also said Glasco had appeared somewhat immune to the nonlethal force they had used, and she had either not responded to their questions and commands or responded in ways that escalated the situation.
Witnesses said she appeared to be on drugs and was screaming at police.
Several of her family members said Wednesday that Glasco wasn't known to use drugs. She was, however, "mentally challenged," they said.
They believed that Glasco may have become aggressive after her child was taken from her.
"My daughter wouldn't let anyone take her baby," Fowler said.
Authorities took her son to Child Haven, the county's temporary shelter for children. Family members said they will attend a hearing in family court today to get him out of the facility.
Glasco's two other children, ages 6 and 2, live in California with their father.
Glasco moved to Las Vegas from San Bernardino, Calif., in April to stay with family members living here, her relatives said.
Marlin Tribble, Glasco's brother who lives in Arizona, said the family is considering hiring a lawyer to sue the police department.
"We want the facts. We want an investigation," Tribble said.
A coroner's inquest will be conducted into the shooting, police said.
Tanganique Grissom said she was still in shock over the death and keeps expecting her cousin to show up at their house.
"I wish all this was one big joke," Grissom said.