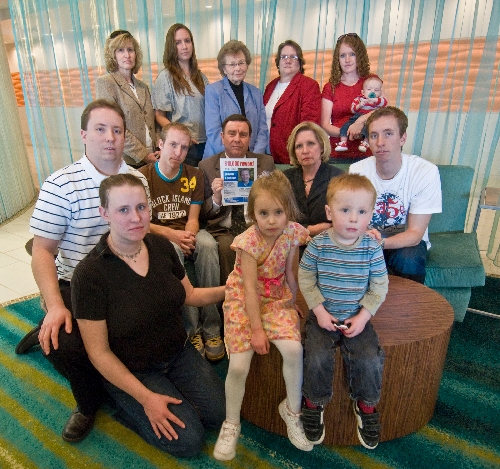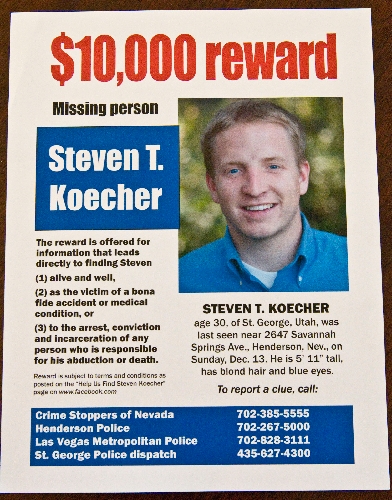 His parents aren't calling it a last-ditch effort — they'll continue to search for their son until he's found, they say — but they realize time is of the essence.
"It's been two months," said a somber yet optimistic Rolf Koecher, Steven Koecher's father, on the steps of the Henderson City Hall before a Friday morning family news conference. Dozens of family members, most of them from Utah, were in town to support efforts to find Steven, who went missing late last year.
"There's no smoking gun, and we've got hundreds of clues that tell us what it isn't, but not one that tells us what it is," Rolf Koecher said.
This disappearance is a difficult case for police, because Steven didn't tell anyone why he was traveling to Las Vegas, his father said.
Steven Koecher, a 30-year-old St. George, Utah, resident parked his car in a Sun City Anthem cul-de-sac about noon on Dec. 13.
Surveillance tapes from a neighborhood home captured footage of a man Henderson police believe to be Koecher walking away from the vehicle a short time later.
No one has seen or heard from him since.
Rolf and Deanne Koecher, Steven's mother, have been searching under every rock in the Las Vegas area, hoping to find some reason for their son's disappearance. So far, their leads have turned up dry.
They were back in Henderson on Friday, this time to offer a new incentive for Las Vegans who may know something: a $10,000 reward, offered to anyone who can provide information leading to his whereabouts, or the arrest and conviction of the person responsible for his abduction or death.
It is hoped the money will motivate someone with information to contact the family or police, the family says.
Phone records indicate he left Utah Dec. 12, a Saturday, and arrived early the next morning.
He told friends who asked about Sunday plans that he was in Las Vegas, but never gave a reason.
Use of his cell phone, e-mail and debit card stopped the day he went missing. His computer records don't detail any reasons for a trip to Las Vegas.
Rolf Koecher said it wouldn't be out of the ordinary for his son to take a trip without letting a family member know. "He would do what he wants to do."
The family has recently been able to rule out that their son left the country. They found his passport during a search of his home in St. George, and police told the family there is no record he purchased a plane or a bus ticket.
Rolf Koecher said a drug-sniffing dog searched his 2003 Chevy Cavalier and found no evidence he was using or transporting drugs.
Steven Koecher worked part time in a home-window cleaning business. He was looking for full-time work in St. George when he disappeared.
Rolf Koecher said his son may have been looking for a job.
Police said there are no signs of foul play. That isn't being ruled out, however.
"There's no evidence one way or another," Henderson police spokesman Todd Rasmussen said.
Deanne Koecher said she hopes her son is OK, and that he would hear about their search efforts and find a way to contact them. "We just would say we love you very much, and we want you to come home," she said.
Contact reporter Mike Blasky at mblasky@reviewjournal.com or 702-383-0283.