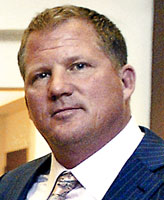 Karl Harding looked pale when National Park Service Ranger Eric Provencher saw him lying on the dock at Lake Mead Marina.
Harding had fallen while water-skiing behind a Terrible Herbst vessel going 80 mph — slower than the 25-year-old water-skiing champion had wanted.
The Welsh-born British citizen was the current European Men's Open Class skiing champion and ranked third in the world. He was in training to compete for Terrible's Motorsports in July's Catalina Ski Race in California, according to the incident report.
When Provencher first saw Harding it was about 5 p.m. on June 14, a perfect desert afternoon with a high of 104 at Lake Mead and not a cloud in the sky.
Harding's eyes appeared dilated and didn't respond to light.
Provencher tried talking to him. Nothing.
He inflicted pain on Harding. No response.
Standing over Harding was Ed Herbst, 46, chairman and CEO of Herbst Gaming. Blood covered Herbst's face and clothes. He was distraught, according to the report.
The Herbst family had brought Harding to the United States to compete for Terrible Herbst Motorsports.
Herbst had been driving the boat. He told investigators it was traveling west from Wishing Well Cove at 80 mph.
With Herbst in the boat was William Dunsmore, who was acting as the spotter.
Herbst explained to authorities that there had been waves created by another boat so he slowed, leaving slack in the rope pulling Harding.
"I think this is what caused him to fall," Herbst stated.
No charges are expected to be filed against Herbst, said Roxanne Dey, a spokeswoman for the Lake Mead National Recreation Area.
"This was a freak accident. He (Harding) fell at the wrong angle," she said.
Dunsmore told investigators that even at 80 mph Harding was gesturing to go faster.
Water-skiing competitors can travel at speeds over 100 mph.
Dunsmore and Herbst would not go faster than 80 mph, they told authorities.
Herbst's vessel was new and had only about four to six hours on the engine. It was the first day the boat had been used to pull skiers.
The boat "hit some bumps in the water … and he fell forward," said Dunsmore, who has more than 35 years of water-skiing experience. "One tumble and the ski came off. I have never seen anyone tumble like that."
Dunsmore yelled to Herbst that Harding was down and Herbst circled back.
"Karl was face down in the water with blood in the water," Herbst told investigators.
Herbst jumped into the lake and pulled Harding aboard.
Harding's neck wobbled. He was making gurgling noises.
Herbst took off Harding's helmet and goggles. He performed cardiopulmonary resuscitation. "I gave him breaths every 30 seconds … cleared his airway and sucked the blood like you are suppose to."
Both Herbst and Dunsmore believed Harding had broken his neck.
Dunsmore drove to Lake Mead Marina as Herbst continued to work on Harding. At the marina, emergency services was called.
Provencher was first to arrive.
The front of the vessel where Harding had been lying was covered with pools of blood, the incident report stated.
Blood was pouring from Harding's nose and ears, soaking the towel under his head. He was lying on the dock, still wearing his life jacket and wet suit.
Herbst was frantic and wanting to help, but Provencher ordered him to step aside, the report stated. Provencher had already asked for a medical helicopter and it was on its way.
He proceeded to try and save Harding. For almost 30 minutes Provencher performed CPR.
Medics from Mercy Air arrived and attempted to revive Harding. At 5:36 p.m., a doctor via cell phone ordered all efforts to resuscitate Harding to stop, the report stated.
The investigation began with questions of intoxication.
"We checked for alcohol and drugs, and it didn't play a part," Dey said.
Herbst told investigators that he had drunk alcohol earlier in the day. He voluntarily submitted to a Breathalyzer test, according to an incident report. The result was 0.00 percent blood alcohol content, the report stated.
Provencher made a note in the report that he did not believe Herbst or Dunsmore were intoxicated.
The 200 foot rope used to pull Harding was deemed safe.
The only violation authorities found was a missing Type 4 throwable flotation device.
While the speed of the vessel at the time may seem excessive, there is no speed limit for boats on the lake, Dey said.
There are no wake areas — usually close to shore, where swimmers abound — that boats must abide by. But the area where Harding was skiing was a deep part of the lake, Dey said.
The Clark County coroner's office ruled Harding died from multiple blunt force trauma and that his death was an accident.
Sean Higgins, general counsel for Terrible Herbst, refused to comment on the incident. Ed Herbst did not return several messages left with his secretary.
Meanwhile, Harding's family in the United Kingdom mourns.
According to British media reports, his family described Harding as the David Beckham of the water-skiing world.
He became interested in the sport at the age of 16 and was ranked the No. 1 water-skier in Britain for the past three years.
His family said Harding came to Las Vegas after being recruited by the Herbst family, which is involved in desert racing and powerboat racing among other outdoor sports.
The Herbsts sponsored Harding as he pursued the sport full time. He had recently returned from an event in New Zealand and was preparing for the race in California.
"They (the Herbsts) treated him like a king," Harding's father, Peter Harding, told the South Wales Echo. "He came out to Vegas because he wanted to be the best. We will all miss him terribly."