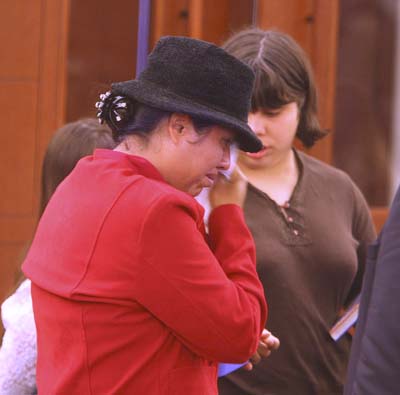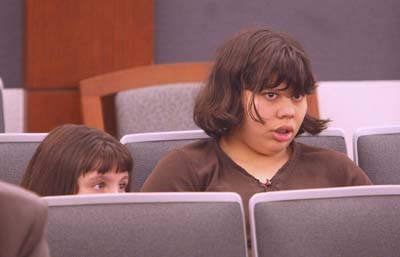 Robert Blue shuffled into a Las Vegas courtroom Tuesday and claimed to be a changed man, both physically and mentally.
Once more than 300 pounds, Blue has lost almost 100 pounds since he was jailed in January on charges stemming from chaining his daughter to a bed to keep her from overeating.
He said his bizarre behavior — keeping his 15-year-old daughter Briana captive in her bedroom and physically abusing his children — stemmed in part from health problems connected to his obesity.
With the weight off and his health improving, Blue said he now understands that corporal punishment is wrong. A rabbi who attended an earlier hearing to support Blue, who wears his hair and beard long, described the man as being "in the path toward orthodoxy."
"I haven't found the words to describe the remorse I feel," Blue told District Judge Valorie Vega.
In February, he pleaded guilty to one count of child abuse and neglect with substantial mental injury. The charge carries a prison sentence of between two to 20 years.
Vega took a hard-line position with Blue and sentenced him to 15 years behind bars. He'll be eligible for parole in five years.
"This was a very dysfunctional situation," Vega said.
Blue asked the judge for probation. The Nevada Division of Parole and Probation also recommended Blue be granted probation. Prosecutors asked the judge to sentence him to four to 10 years in prison.
Authorities accused Blue, 53, of shackling his daughter by her right ankle to her bed for two days to keep her from eating. He also kept a refrigerator chained and locked.
Blue was arrested and initially charged with four counts of child abuse and neglect with use of a deadly weapon and one count of false imprisonment.
Blue also has an 8-year-old daughter and a 14-year-old son. All the children are wards of the county but their mother now has physical custody of them.
On Tuesday, both daughters and mother Sylvia Blue attended the sentencing hearing. Sylvia Blue was the main breadwinner for the family. Briana Blue wept during the hearing. She had written a letter to the judge requesting leniency for her father.
The family declined to comment after the sentencing.
Chief Deputy District Attorney Lisa Luzaich told Vega that Blue had chained his daughter to the bed because he caught her sneaking vegetables to eat.
"He caught her eating peas and corn. Not Twinkies. Not Ho Hos. Peas and corn," Luzaich said. "A 300-pound person should not be chaining a child to a bed because of eating habits."
Blue told police that his eldest daughter fought competitively in martial arts and was beginning to compete in weight power lifting. Blue wanted her to weigh between 140 and 145 pounds to compete, according to a Las Vegas police report. At the time he chained her, she weighed about 165 pounds.
This wasn't the first time Blue caught the attention of authorities. Clark County Child Protective Services received two prior reports on the family.
In 2001, allegations surfaced that Blue was forcing his children to run unsupervised in the street during the hottest day of the year, the report stated. In 2005, Blue was accused of hitting his children with a stick hard enough to leave bruises.
Both allegations of abuse were unsubstantiated.
Blue admitted during the hearing that he had abused his children but said he had only done it for a few years, not long-term.
He said he suffered from various medical problems, such as diabetes and high blood pressure, at the time of the incident. He was also taking prescription pain killers and his mother had recently passed away.
All of this changed his behavior, he said.
"Everyone who knows me knows what kind of father I've been," he said. "Everyone who knows me knows that my children have not suffered until these recent few years of tragedy."
Contact reporter David Kihara at dkihara@reviewjournal.com or 702-380-1039.