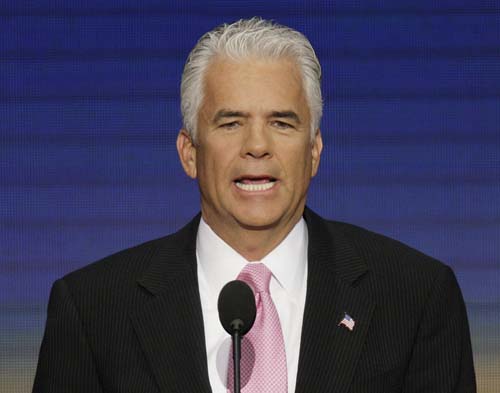 WASHINGTON — The FBI has begun contacting people connected to the John Ensign scandal, a sign the agency might be initiating a criminal investigation of the Nevada senator, sources confirmed this morning.
Agents have requested to meet with former Ensign aides in what appears to be a preliminary look at the matter involving the senator and Doug Hampton, a former administrative assistant who has accused Ensign of circumventing the law in an attempt to smooth over an affair he had with Hampton's wife.
The FBI queries to Ensign associates have come via phone calls and not personal visits, suggesting it is not an urgent matter for the agency at this point. There is little evidence so far that it has or might become a full investigation, sources said.
Still, the involvement of federal law enforcers deepens the hole in which Ensign finds himself after admitting in June that he had a nine-month affair in 2007-08 with Cindy Hampton, a friend of his wife and a former finance aide on his political committees.
Once a rising star in Republican circles, the Nevadan has taken a lower-profile in the Senate since he acknowledged the affair in a press conference last June.
The FBI's action follows on the heels of movement in a separate investigation being conducted by the Senate Ethics Committee. The committee last month issued subpoenas to several Ensign associates and people who worked in his office.
Among the reported recipients of Senate subpoenas were former chief of staff John Lopez and Mike Slanker, a longtime Ensign political consultant and former staff director at the National Republican Senatorial Committee.
Regarding the FBI probe, "Lopez has been contacted, and I expect others have been as well," a source said this morning. Lopez referred a query to his attorney. Slanker could not be immediately reached, nor could an attorney for Doug Hampton.
Robert Kelner, an attorney for Lopez, said: "John Lopez is well-known on Capitol Hill for integrity and professionalism. During his many years in public service, he complied with the law and worked hard for the people of Nevada."
Ensign has denied any legal or ethical wrongdoing, and has said he is confident that official inquiries will clear him.
"Senator Ensign believes he fully complied with all ethics laws and rules, and plans to cooperate with any official inquiries," spokeswoman Rebecca Fisher said.
Hampton, of Las Vegas, worked as administrative assistant, a top position in Ensign's Washington office but he left in May 2008, the same time his wife left Ensign's employ.
Doug Hampton has alleged they were dismissed because of the affair, which Ensign has said started in December 2007 and ended in August 2008.
Doug Hampton further has accused Ensign of circumventing federal law by arranging work for Hampton in possible violation of "revolving door" limits on lobbying by former Senate staff members.
Hampton has said Ensign was trying to smooth over their relationship and to help him recoup income after he left his Senate job, but the arrangements did not work out.
Questions also have surrounded a $96,000 check that Ensign's parents made out to the Hamptons in April 2008. An attorney for Ensign has characterized it as an expression of generosity after they learned of the affairs.
Hampton has described the payment as a severance, which could open up other legal issues for Ensign since the payment was not officially reported.
The executive director of the watchdog group that has filed official complaints against Ensign in the matter said she was not surprised.
"It is not surprising that the FBI is investigating because there is reason to believe Senator Ensign was involved in at least two felonies: conspiring to help former aide Doug Hampton violate the lobbying ban, and failing to report to the (Federal Election Commission) the $96,000 severance payment made to Cynthia Hampton," said Melanie Sloan of Citizens for Responsibility and Ethics in Washington.
"The fact that the FBI is investigating makes clear that no one — not even a powerful United States senator — is above the law," Sloan said. "It is time for him to resign."
Contact Stephens Washington Bureau Chief Steve Tetreault at stetreault@stephensmedia.com or 202-783-1760.