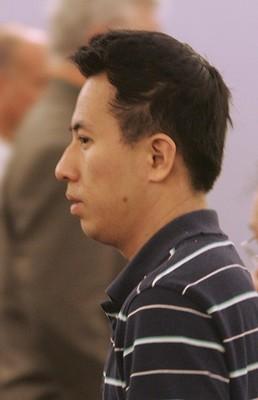 The FBI disputed Wednesday that women found in neighborhood brothels during raids on April 21 were victims of human trafficking.
Dave Staretz, chief division counsel for the FBI's Las Vegas field office, said none of the 25 women found during the Operation Doll House busts was a victim of human trafficking.
"As soon as this operation went down and all the prostitutes were interviewed, the FBI and Metro, on the ground as well, did not identify any human trafficking issues, that women were being held against their will in any way," Staretz said.
"They were all there voluntarily. They expressed they were happy with the money they were making."
Staretz's statements challenged earlier statements that the women had been forced into prostitution.
Also Wednesday, the first of six defendants arrested during the raids accepted a plea deal, his lawyer told a justice of the peace.
Soon after the busts, Lt. Dave Logue, who headed the investigation for the Metropolitan Police Department, told the Review-Journal: "Some (of the women) were brought here by force, and some were tricked into coming here with the promise of a good job."
Logue couldn't be reached late Wednesday. A Las Vegas police spokesman said Wednesday afternoon that he could not immediately respond to questions regarding Operation Doll House.
Lauren Hermosillo, a Salvation Army social worker who is helping the women, told the Review-Journal on May 3 that the women would be given special "T visas" to remain in the United States because "we don't deport victims."
Reached Wednesday, Hermosillo said she could not discuss the case.
Staretz said one of the prostitutes, who was a minor, was from Las Vegas.
"The rest were here apparently on tourist visas. They're all here legitimately," he said.
Staretz referred to immigration officials questions regarding the immigration status of the women, but said, "If they're here legally on tourist visas and they're not held against their will and they're voluntarily engaging in that activity, I don't believe that would warrant that type of visa."
It was unclear Wednesday whether the women, who are now in the care of the Salvation Army, would be charged with prostitution.
Terri Miller, program director for a new human trafficking task force in Southern Nevada, referred questions about the case to Logue.
Operation Doll House was the result of a two-year investigation by Las Vegas police and federal authorities into a prostitution ring with ties to Asia.
Police raided eight homes and apartments in the area of Arville Street and Spring Mountain Road. They arrested and booked Mouhua Liu, John Gregory Keyes, Xu Yane, Ping Sheng Chang, Yi Feng Ge and Christopher Raven Smith on various charges, including pandering and living off the earnings of prostitutes.
On Wednesday, Chang received a deal from district attorney's office, which has not yet filed charges against the others arrested in the raid.
"I will be talking to the U.S. attorney to determine which individuals will be prosecuted by the federal government and which ones will be handled by our office," Clark County District Attorney David Roger said.
As of Wednesday, no federal charges had been filed against any of the arrested suspects.
Chang, who is from Taiwan and currently out on $5,000 bail, will plead guilty to one count of attempted pandering, his lawyer, Kirk Kennedy, said.
A judge will decide later whether that will be a felony, which would carry a sentence of one to four years in prison, or a gross misdemeanor conviction, which would result in up to one year in jail.
According to the police report, Chang operated a brothel in an apartment at 4020 S. Arville St. Chang is accused of encouraging undercover officers to pay $150 to have sex with one of the prostitutes at the brothel.
Chang was charged with pandering, attempted pandering, living from the earnings of a prostitute and placing a person in a house of prostitution.
He told police he had been answering the door and arranging dates at illegal brothels for about a month, according to the report.
He said that he earned about $100 a day, along with free room and board and food and drinks, and that he worked from 9 a.m. to 3 a.m. seven days a week.
When police executed a search warrant on the apartment, they found two 44-year-old prostitutes, one of whom tried to escape by jumping out a second-story window. She was transported to University Medical Center to be treated for injuries to her hip and thigh that she received from the fall.