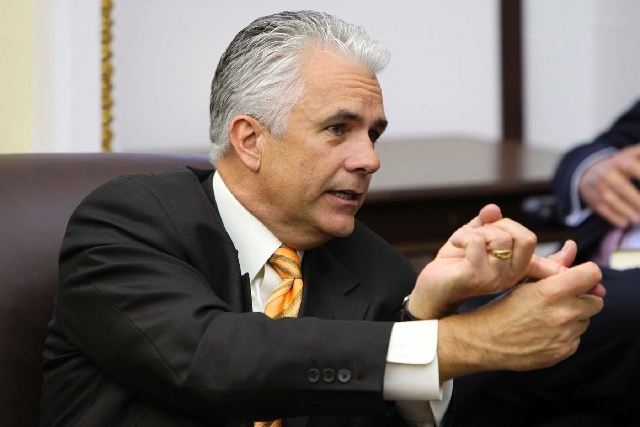 WASHINGTON — Former Nevada U.S. Sen. John Ensign and his parents have been fined a combined $54,000 in settling a case tied to the extramarital affair that drove Ensign from office in 2011, according to documents released Friday.
Ensign in April agreed to pay $32,000 to end proceedings that were brought by the Federal Election Commission. His parents, Mike and Sharon Ensign, agreed to pay $22,000, according to the case file made public by the agency.
The FEC previously had dismissed allegations that former Ensign campaign treasurer Cynthia Hampton and members of her family were improperly paid $96,000 when she left the senator's employment in April 2008. Ensign later acknowledged having an extramarital affair with Hampton.
But the agency reopened the case at the recommendation of the Senate Ethics Committee, which concluded a lengthy investigation in May 2011 with findings that Ensign might have broken laws. The Nevadan resigned a week before the committee's report was issued.
Ensign's attorney Chris Gober said Friday said the former senator, who has returned to practice as a veterinarian in Las Vegas, was glad to have the case behind him.
"Senator Ensign is focused on his veterinarian practice and the opening of Boca Park Animal Hospital, so this matter reached a point where it made more sense to negotiate a settlement and move on," Gober said.
"We are appreciative of the Commission's willingness to agree to a final resolution without further waste of resources, and we're happy to put this matter to rest once and for all."
In documents Friday, the FEC said it found reason to believe the $96,000, which was paid by Ensign's parents, amounted to an illegal campaign contribution that was never reported. In addition, the agency said the $96,000 violated limits on how much individuals can donate to a political campaign.
The election agency said it concluded that $72,000 of the $96,000 had been considered "severance" for Hampton to offset lost salary and health benefits. She also had been treasurer of Ensign's personal political action committee, the BattleBorn PAC.
The Ensigns contended in affidavits the $96,000 was a gift to the Hamptons, who had been close friends with the Ensign family. But the FEC's general counsel said the Senate investigation turned up evidence casting doubt on their credibility, including excerpts from Ensign's journal at the time.
Contact Stephens Washington Bureau Chief Steve Tetreault at stetreault@stephensmedia.com or 202-783-1760. Follow him on Twitter @STetreaultDC.