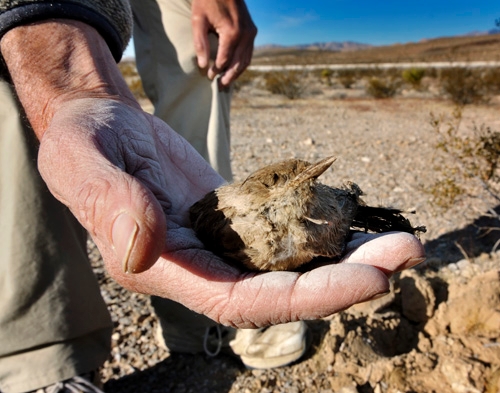 A national conservation group is calling on the federal government to end a little-known but widespread threat to birds, particularly in Nevada: the use of hollow plastic pipes to mark mining claims.
In a letter sent Wednesday to Bureau of Land Management Director Bob Abbey and U.S. Forest Service chief Tom Tidwell, the American Bird Conservancy demanded action to remove or cap such markers, which are blamed for trapping and killing perhaps millions of birds.
"Given the enormous scale of the issue, a comprehensive, long-term, federal solution is required," wrote Darin Schroeder, vice president of conservation advocacy for the Virginia-based environmental group. "Mining claimants need to be held accountable for their stakes through federal regulatory action that requires them to remove their hazardous markers or face fines under the Migratory Bird Treaty Act."
Federal land in Nevada is dotted with scores of plastic-pipe claim markers — as many as a million by some estimates. Their yawning, 4-inch mouths entice birds that like to nest in burrows and the hollow trunks of trees.
The birds go into the pipes but can't climb back out or spread their wings to fly. Trapped at the bottom, they slowly starve to death.
"We've got migrating birds that are dying in certainly the thousands, if not the millions, and so far really nothing is being done about it," said Robert Jones, spokesman for the American Bird Conservancy.
The problem has been documented — even legislated — in Nevada for decades, but the issue only recently gained national attention after a report by the Las Vegas Review-Journal.
The local offices of several federal agencies have worked to clean up pipe markers here and there, but "it's a Band-Aid when you need a tourniquet," Jones said.
"It will take more than an afternoon in the desert to take care of this problem. The government needs to do something serious about it," he said.
Claim holders started using PVC pipe because it is cheap, lightweight and bright white, making it easy to carry into remote areas and easy to spot from a distance.
Over the years, the Nevada Department of Wildlife has knocked down at least 10,000 plastic posts and logged about 3,000 dead birds, including starlings, woodpeckers, kestrels and Western screech owls.
A state biologist once pulled 32 bird carcasses from a single tube.
In Northern Nevada, where roughly 85 percent of the state's active mining claims lie, the most frequent victim of tube markers is the mountain bluebird, Nevada's state bird.
The pipes also pose a threat to lizards and some rodents.
Nevada lawmakers in 1993 outlawed the use of uncapped hollow pipes as mine markers, but the practice continued.
In 2009, state wildlife officials and Audubon Society members lobbied for legislation that gave claim holders two years to remove plastic pipe markers.
Since Nov. 1, it has been legal for anyone to pull a plastic tube from a mining claim on public land and lay it on the ground where they find it.
In its letter, the American Bird Conservancy notes that Nevada has a higher percentage of federal land and more mining claims than any other state, but pipe markers pose a threat to birds in 11 Western states and Alaska.
Jones said federal action is needed because the claim markers are on federal land and many of them have been abandoned by the people who originally staked them.
"It's not an incidental thing. People didn't just learn about this. It's been known about for 20 or 30 years," he said of the bird deaths. "The time is right to do something."
Contact reporter Henry Brean at hbrean@reviewjournal.com or 702-383-0350.