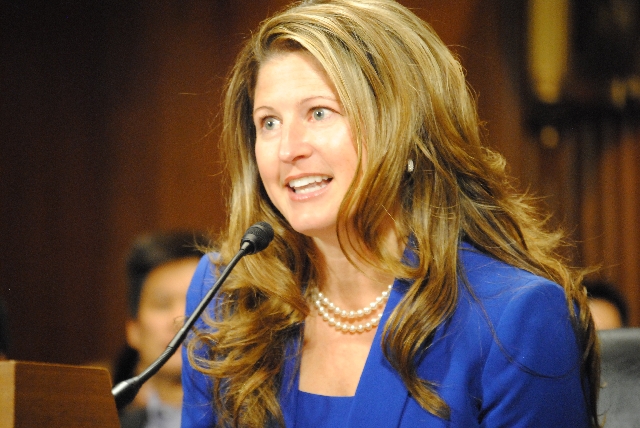 WASHINGTON — Las Vegas attorney Jennifer Dorsey said she was unaware that partners at her Las Vegas firm had given $150,000 to a political committee for Senate Democrats at the time she was being considered by party leader Sen. Harry Reid for a federal judgeship.
Dorsey said in writing the partners never told her they intended to donate to the Senate Majority PAC. She said she had no reason to believe the donations were made to help her obtain the post.
If confirmed, Dorsey pledged to apply the law "without regard for, or consideration of, any bias or influence," and said that she planned to recuse herself from matters involving her firm, Kemp, Jones & Coulthard, "for at least several years."
Dorsey's comments came in reply to written questions posed by Sen. Charles Grassley, R-Iowa, the ranking GOP member of the Senate Judiciary Committee. They were posted Monday evening to the committee's website.
The committee's Republican staff had discovered the contributions during a background check of the nominee, throwing a curve into her confirmation. As she was being vetted by Reid in spring 2012, founding partner Will Kemp gave $100,000 to the political action committee, and founding partner J. Randall Jones gave $50,000.
Kemp has said there was never a conversation connecting his contribution with Dorsey's nomination. Reid said Friday his selection of Dorsey was not influenced by money.
The Judiciary Committee added a vote on Dorsey to the agenda of its meeting scheduled for Thursday. Customarily, votes on nominations are postponed for another meeting to give senators additional time to review them.
It may become clear at Thursday's meeting how Republicans plan to react to the Dorsey nomination, said Carl Tobias, a law professor at Virginia's University of Richmond.
Because Grassley did not raise concerns publicly at Dorsey's confirmation hearing on April 24, "I'm guessing he may not be very concerned," Tobias said in an email. "Of course, he can still make it difficult for her by asking for more time to investigate, etc."
Because Democrats control the Judiciary Committee, "she is very likely to secure approval as Dems have a majority," Tobias said.
According to records, Dorsey had contributed $2,500 to Reid's personal campaign committee in March 2012, shortly after she expressed an interest to him about a judicial position. Reid returned the check a month later.
In her answers to Grassley, Dorsey, 42, said she attended a Reid fundraiser on March 2012 where the headliner was entertainer Carole King. The suggested donation to attend was $2,500.
When the check was returned to her, she was told it was because Reid's office was considering her for the judgeship.
Contact Stephens Washington Bureau Chief Steve Tetreault at stetreault@stephensmedia.com or 202-783-1760. Follow him on Twitter @STetreaultDC.