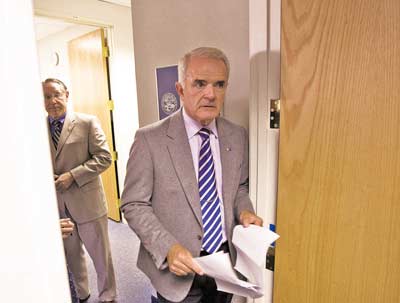 WASHINGTON — The Department of Justice has cleared Gov. Jim Gibbons and closed its investigation of allegations that the former congressman took unreported gifts from a friend in exchange for millions of dollars in federal contracts, the governor's defense attorney said.
Gibbons is expected to hold a news conference today to declare an end to the corruption probe that linked him to Reno defense contractor Warren Trepp. The investigation centered on allegations Gibbons improperly used his influence when he was a member of the House to obtain secret contracts for Trepp's firm.
"The prosecutors in the case confirmed what the governor has been saying for the past two years — that he did nothing wrong and there was no basis for any allegations against him," attorney Abbe Lowell said in a statement obtained over the weekend by the Review-Journal.
Lowell said he spoke Friday with Assistant U.S. Attorney Steven Durham, who was conducting the probe, "and was told the investigation of any allegations against governor Gibbons had been closed," according to the statement issued by the McDermott, Will & Emery law firm, where Lowell heads its White Collar Criminal Defense Group.
"I anticipated this would be the result," Gibbons said Sunday in a telephone interview with The Associated Press. "This is taking a little of the weight off my shoulders. I hope the public is starting to see that the partisan attacks and attacks of personal destruction against me are false."
Calls to Durham and the governor's spokesman, Ben Kieckhefer, were not returned.
Robert Olmer, a consultant for Gibbons, said Sunday that the vindication was a "huge relief."
"People can now form their own opinions and realize that the governor has been victimized," said Olmer, who also contends that the investigation has been driven by partisanship.
The Justice Department had been investigating whether Gibbons, who was a member of the House from 1997 through 2006, earmarked several millions of dollars in military contracts for Trepp's software company.
Software designer Dennis Montgomery, who used to work for Trepp's company, claimed Gibbons received a Caribbean cruise and campaign contributions from Trepp in exchange for the contracts.
But in September, Montgomery and Trepp agreed to a legal settlement. A few weeks later, Gibbons visited Washington and joined Lowell in a meeting with the FBI to seek a conclusion of the probe.
"It troubles me that the federal government has this capability of putting your life on hold and it never seems to move one way or the other, and I know I'm innocent; I know I did nothing, but I still have the federal government out there," Gibbons complained in a Washington interview conducted before that meeting.
Gibbons denied wrongdoing throughout the probe. He said he reimbursed Trepp for the cruise. Still, photos from the 2005 trip showing Gibbons wearing a goofy cloth napkin tied pirate-style around his head have dogged the Nevada governor, with critics citing it as evidence he is not to be taken seriously.
In an apparent reference to Montgomery, Lowell said in his statement: "The only persons who should be investigated or charged are those who made false allegations of wrongdoing and who tried to fuel this investigation for their own private purposes."
"They should be ashamed at the toll they have had on the Gibbons family and the people of Nevada should be proud to know that their governor is the hard working, honest and ethical man they elected in the first place," Lowell said.
Review-Journal writer Lisa Kim Bach and The Associated Press contributed to this report. Contact Stephens Washington Bureau reporter Tony Batt at tbatt @stephensmedia.com or 202-783-1760.