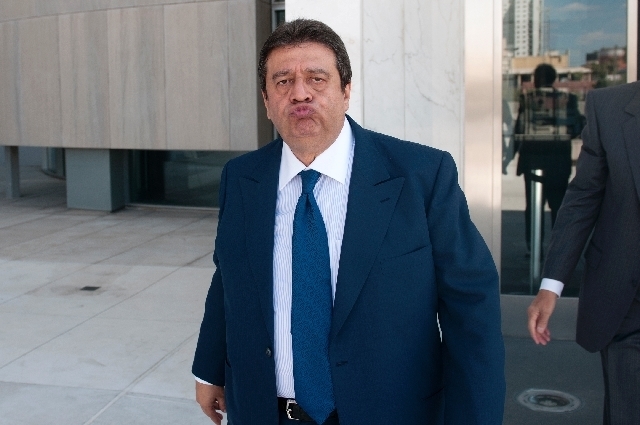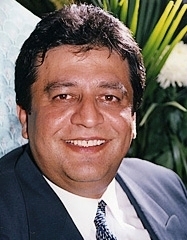 High-rolling Las Vegas businessman Ramon DeSage took another pounding Tuesday from federal authorities.
DeSage, 63, was charged in a new federal indictment adding dozens of felony counts in what prosecutors say was a massive scheme to defraud investors of roughly $190 million.
Two of his employees — Southern California accountant Peter Akaragian, 61, and Las Vegas bookkeeper Gary Parkinson, 43 — also were charged with DeSage in a scheme to help him use his luxury gifts supply business on the Strip to hide millions of dollars from the Internal Revenue Service.
DeSage, Akaragian and Parkinson all are facing one count of conspiracy to defraud the United States. DeSage also is facing 51 other counts, including 19 counts of wire fraud, 28 counts of money laundering and 4 counts of tax evasion.
All three men have been summoned to answer the charges on Feb. 19 before U.S. Magistrate Judge Nancy Koppe.
DeSage, also known internationally as Ramon Abi-Rached, has been under electronically monitored home detention since his arrest in June 2012 on a criminal complaint.
His lead defense lawyer, Richard Wright, declined comment late Tuesday.
This is the second superseding indictment in six months against DeSage, a Lebanese-born entrepreneur with both business and gambling ties to Las Vegas casinos.
The new indictment again accuses DeSage of failing to report to the IRS more than $87 million in income from 2006 to 2009. That comes out to roughly $31 million in owed taxes over the four years.
The indictment alleges DeSage and his two co-conspirators used "deceit, craft and trickery" to impede the IRS from collecting the taxes DeSage owed.
Among other things, DeSage and company made false entries in his business books that understated his gross receipts and turned personal expenses into business expenses, the indictment alleges.
He is accused of using his main Las Vegas company, Cadeau Express, and other companies to defraud his investors between 2005 and 2012.
Most of the money, $175 million, was used "for gambling purposes," the indictment alleges.
DeSage pocketed the money to repay earlier investors, maintain his wealthy lifestyle and cover millions of dollars in gambling losses at casinos along the Strip, some of which he supplies with high-end customer goods, the indictment alleges. Federal prosecutors originally accused DeSage of running a Ponzi scheme.
The indictment alleges millions of dollars were laundered through several casinos, including Wynn Las Vegas, Caesars Palace, Venetian, Planet Hollywood, Hard Rock and Green Valley Ranch Station. DeSage even is alleged to have sent $100,000 to his brothers in Lebanon.
Prosecutors are seeking to recover nearly $193 million from DeSage.
At the time of his original indictment in January 2013, DeSage was described on the Cadeau Express website as an international humanitarian and philanthropist who had rubbed elbows with American presidents and leaders of other countries.
He was said to have been born into a "prestigious family" in Lebanon, educated in France and once worked as an attache for UNESCO.
Cadeau Express was described as a "unique company that catered to hotels and casinos who roll out the red carpet for selective guests and high-end gamblers."
Assistant U.S. Attorney Gregory Damm, who is prosecuting the case, has said in court that DeSage owned a 40,000-square-foot palace in Lebanon and more than $10 million in real estate holdings.
The federal investigation into DeSage's alleged illicit activities, conducted by IRS-Criminal Investigation in Las Vegas, also has ensnared another one of his employees.
Following a two-day trial in February 2013, a federal jury convicted Tara Mazzeo, a personal assistant, of lying to IRS agents investigating DeSage.
Mazzeo, 36, who described DeSage as a generous mentor and friend, was found guilty of hiding from agents in July 2011 her financial ties to her boss. She was sentenced to five years of probation.