Feds compiled more than 200k documents on ex-Sen. Ensign
February 20, 2014 - 3:13 pm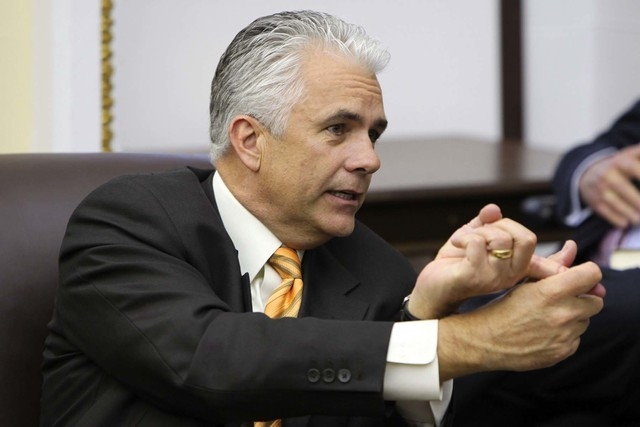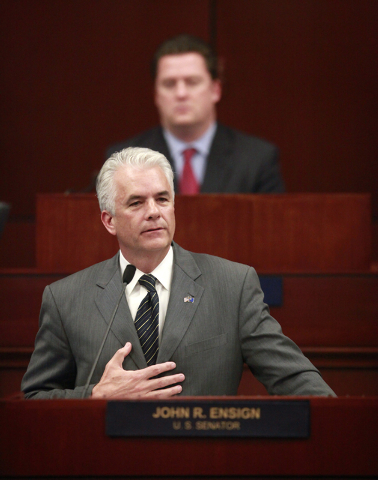 WASHINGTON — Federal agencies compiled more than 210,000 pages of documents during an investigation of former Sen. John Ensign of Nevada, according to court papers in a fight over whether they should be made public.
A federal judge has ordered the Department of Justice to keep moving forward to catalog and release documents in response to a lawsuit. In a ruling issued Feb. 14, U.S. District Judge John Bates rejected a government request to start by sampling only 1 percent of the cache.
To provide an understanding of what was gathered during the probe, the government "must begin to process and release documents," wrote Bates, a judge in the federal court of the District of Columbia.
The Feb. 14 order was the latest turn in a Freedom of Information Act lawsuit brought by Citizens for Responsibility and Ethics in Washington. The group has been seeking release of files in an effort to learn why the government did not pursue prosecution of Ensign, who resigned the Senate in May 2011 amid an ethics sandal.
Ensign, a Republican, returned to Las Vegas and re-established a veterinary practice that he had put aside during his political career.
The Department of Justice, the FBI and the Executive Office for U.S. Attorneys rejected CREW's initial request for documents, citing broad exemptions in the Freedom of Information Act.
CREW sued and Bates sided with the watchdog group. In a ruling in August he gave the agencies 60 days to produce a "Vaughn Index," an affidavit to describe each of the documents being withheld and why each one should not be made public.
The deadline was missed as the Department of Justice said it turned up "a very large volume of records" — 8,000 pages from the FBI, 86,000 from the Justice Department criminal division and 120,000 from the U.S. Attorneys Office.
In a December motion it asked the judge to establish "realistic procedures and deadlines that will permit the Criminal Division, (U.S. Attorneys Office), and the FBI to work their way through the Herculean task before them." Government lawyers estimated it could take a year or more to work through the trove.
The government asked permission to index a 1 percent sample of the documents to make the task more manageable. Bates rejected the request, saying it would allow the Justice Department to avoid reviewing all the documents and to pick and choose what to release.
Bates set March deadlines for the FBI and the Department of Justice to report on their progress in processing documents, and to release relevant ones on a monthly basis.
Ensign was investigated by federal authorities and by the Senate Ethics Committee on allegations that grew out of an extramarital affair he had with the wife of his top aide over eight months in 2007-08.
In a scathing report issued shortly after he left office, the Senate panel said it found evidence Ensign broke laws in trying to cover up the affair, including setting up his aide Doug Hampton as a lobbyist and helping him violate a one-year restriction on lobbying by former Senate staffers.
Hampton was charged with seven felony counts of violating the lobbying law. He pleaded guilty to a misdemeanor violation of the law in June 2012 and was given one year's probation.
Contact Stephens Washington Bureau Chief Steve Tetreault at 202-783-1760 or STetreault@stephensmedia.com. Follow him on Twitter @STetreaultDC.