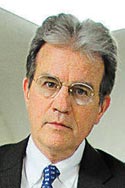 A Republican U.S. senator was all set to raise a ruckus about what appeared to be a federal agency sending workers to Las Vegas on the taxpayers' dime. But it turned out to be a false alarm.
Sen. Tom Coburn, R-Okla., demanded to know why the Federal Emergency Management Agency had scheduled a gathering for 220 employees here in May. Citing President Barack Obama's recent condemnation of spending government money on trips to Las Vegas, he wanted to know how much it was going to cost and why it was necessary.
"While Las Vegas, or any other location, does not deserve to be unfairly singled out, we cannot expect taxpayers to pick up the tab for any extravagant junket when less expensive alternatives exist," Coburn wrote Wednesday in a letter to the Department of Homeland Security, of which FEMA is part.
Coburn's accusation was based on a passing reference to such a conference in a news story in Federal Times, a publication for government employees. However, it turned out that the conference in question will bring together local employees of federal agencies to be trained by FEMA staffers.
The 200-plus participants will be Las Vegas federal employees being trained in disaster management by FEMA, part of that agency's mandate, said Kenneth LoBene, president of the Southern Nevada Federal Executive Association, who was the source for the information in Federal Times.
"There's no other place to do it," LoBene said.
Coburn spokesman John Hart said if that was the case, it was much more palatable than the idea of federally funded junkets to Sin City.
"If the conference is for local employees only, that would be a more appropriate use of taxpayer funds than flying Washington, D.C.-based employees, for instance, to Las Vegas when more affordable and accessible facilities are close by," Hart said Thursday.
At a town hall in Indiana last week, Obama scolded executives getting government money who would seek to spend public funds on frivolous expenses.
"You can't get corporate jets," the president said. "You can't go take a trip to Las Vegas or go down to the Super Bowl on the taxpayers' dime."
The comments kicked up a local brouhaha. Some Las Vegas officials saw them as a swipe at a city where conventions and tourism are not just big business, they're the biggest business, and a business that's hurting badly in the current recession.
Both Senate Majority Leader Harry Reid, D-Nev., and Sen. John Ensign, R-Nev., took to the floor of the Senate to defend the city. Reid said he had spoken to the president's staff and received assurances Obama didn't mean to criticize Las Vegas. Ensign was more critical of the "singling out" of a city he touted as convenient and affordable for business travel.
Mayor Oscar Goodman, for his part, took to the national media to demand an apology from Obama for the remarks that he claimed had hurt business in Las Vegas.
But Coburn didn't get the idea from Obama. A member of the Senate subcommittee on federal financial management and a prominent fiscal hawk, the Oklahoman, who is also a physician, has long had it in for government spending on conventions and travel.
"For many years, Dr. Coburn's been tracking how federal agencies spend tax dollars on trips," spokesman Hart said. "Whenever we see a trip to Las Vegas, it triggers warning bells that the purpose of the trip may involve more than just business."
Hart said Coburn is sympathetic to Las Vegas' dependence on convention travel, much of which is legitimate and economical. (For example, the Federal Times story mentions that federal employees can get a special rate at 24 participating Las Vegas hotels.)
Coburn sent the letter seeking more information because he wanted to make sure that a trip to Las Vegas was the best way for the agency to do its business.
"What we've found is that agencies often do not choose the most fiscally responsible route, they choose the route that takes advantage of their opportunity to travel at taxpayer expense," Hart said. "What we're trying to do in this time of economic crisis is to force agencies to spend taxpayer money wisely."
Geoff Freeman of the U.S. Travel Association said the whole mess over Obama's remarks showed that politicians across the board need to be more sensitive to the value of the travel industry.
"When companies use taxpayer dollars, they need to act differently. They need to be transparent and accountable in the way they are using those dollars," Freeman said. "But the rhetoric across the board has been unnecessary and has really created paralysis in the marketplace. We need to better understand who pays the price when travel declines."
Contact reporter Molly Ball at mball@reviewjournal.com or 702-387-2919.