Ferguson knew Palin when …
October 24, 2008 - 9:00 pm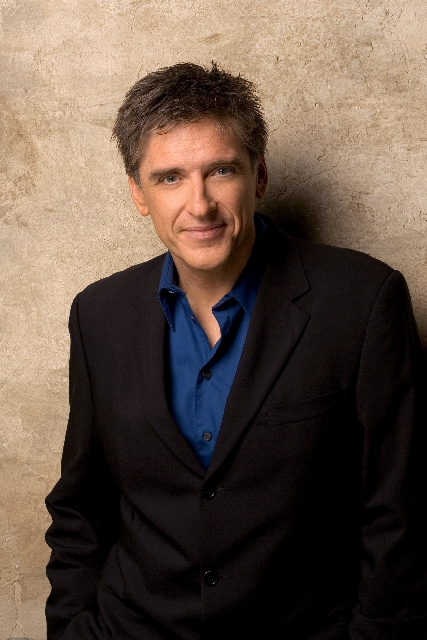 Last year, before Sarah Palin became John McCain's running mate, she asked Craig Ferguson if she could be a guest on his "Late Late Show."
He turned her down.
"I feel like such a fool," Ferguson says.
"She was, like: 'Please? Please?' I'm like, 'You're the governor of Alaska — no,' " says Ferguson, who performs tonight through Sunday at the MGM Grand.
"So then, she became the (Republican candidate for) vice president, and I asked her to be on the show, and she said, 'No. (Expletive) you,' " Ferguson says and laughs. "Well, she didn't say, '(Expletive) you.' It was done through diplomatic channels. But basically, it was, '(Expletive) you.' "
I talked to Ferguson Thursday, 20 minutes after he voted by absentee and sent it to Vermont, where he owns a home and is registered. He won't tell me who he voted for.
And he hasn't endorsed anyone in his funny and brilliant monologues, although he mocked McCain at length for canceling an appearance on "The Late Show," hosted by Ferguson's boss, David Letterman.
"Politics is one thing. But that's my (expletive) bread and butter right there. Don't diss Dave," Ferguson says, then jokes, "I'd like to think I would have had the same reaction had he dissed Jay (Leno), but I don't know if I would have."
Ferguson is from Scotland originally, but he became a U.S. citizen in January. It was very moving, he says. But the citizenship test asked only two questions, he jokes: " 'Do you love America?' 'Are you in al-Qaida?' 'Yes, no.' You're in."
Ferguson starts at 9 p.m.: ($69.85; 891-7777).
DEBBIE REYNOLDS AND MICHAEL JACKSON?
One of the funniest people in Las Vegas, Debbie Reynolds, performs at South Point tonight through Sunday. In today's Neon section, she tells me about Elizabeth Taylor, Paris Hilton, the ruby slippers from "The Wizard of Oz," her daughter Carrie Fisher and a back-and-forth with George Lucas.
What's not in the interview? One time, Michael Jackson called her out of the blue seeking very basic information. It went like this.
"I said, 'OK Michael, I can't teach you a dance step over the phone. What is it?'
"He said, 'You know that movie, it's with this woman named Norma Shearer? What was she like?'
"So I explained what she was like, and her whole life story.
"And he said, 'Well, thanks very much,' and that's the last I ever heard of him — oh, 10 years ago, 12 years ago — he doesn't call a lot."
In fact, she says in a beautiful sum-up, "I haven't met Michael Jackson. I spoke to him on the telephone one night when he called to find out who was in the movie he was watching. … I'm sort of his Ted Turner/TV/Robert Osborne Debbie-on-the-move. When you want information about old movie stars, you call Debbie. She knows all the gossip."
Reynolds goes on at 7:30 p.m.: ($45-$55; 797-8055).
Doug Elfman's column appears on Sundays, Mondays, Tuesdays and Fridays. Contact him at 702-383-0391 or delfman@reviewjournal.com. He blogs at reviewjournal.com/elfman.