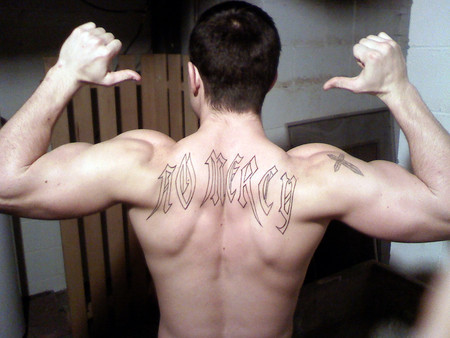 It was the hardest hit Chad Cochran says he has ever taken.
But it wasn't a punch or a kick that left the fledgling mixed martial arts fighter reeling, struggling to breathe.
A doctor's preliminary diagnosis, delivered calmly and with compassion, knocked him into a world of hurt.
"He was telling me as nicely as he could," the 23-year-old Cochran recalled recently, "that I had a disease that wouldn't let me fight anymore. And it was just too much for me to take."
The self-described macho man who could smile after a right cross to the jaw, wept.
The scene last March in St. Rose Dominican Hospital, Siena campus, also shook Dr. Anthony Nguyen of Comprehensive Cancer Centers of Nevada.
"In the work I do, I unfortunately have to deliver a lot of bad news," the oncologist said. "But this was very, very difficult. He's a young guy who worked to get into the best of shape, and he was weeping. He just broke down as he talked about how fighting was his life, his future."
Nguyen told Cochran all his tests seemed to indicate aplastic anemia. It's a rare and potentially fatal noncancerous condition in which the bone marrow inexplicably stops producing enough red and white blood cells to keep the body healthy. The result is an increased risk of infection and uncontrollable bleeding.
Because it is so rare — only three out of 1 million Americans acquire the disorder — Nguyen told Cochran he should go to UCLA for a definitive diagnosis.
In April, doctors at UCLA confirmed that the well-muscled, spirited fighter with dreams of Ultimate Fighting Championship stardom had aplastic anemia.
Exhaustion replaced energy; frequent infections replaced repeated workouts; hospital rooms replaced fighting cages; persistent vomiting replaced a healthy appetite; and weekly blood transfusions replaced weekly sparring bouts.
As he sat Wednesday in the small Henderson apartment he shares with his father and brother, Cochran said doctors told him new drug treatments or a bone marrow transplant could give him a chance at a normal life.
Their "normal," he conceded, does not appear to include his dream of fighting for a living.
Nguyen said he doubts Cochran could ever again regain the strength to fight, and he wonders aloud if it would be too dangerous. But the doctor admits he has read stories about people overcoming nearly impossible odds to do what they love. He said Cochran appears to have that kind of tenacity.
Today, whenever Cochran says he feels "close to decent," he goes to a Gold's Gym to pump some iron.
"Fighting is me. Training is me. It's hard to think about doing something else. I can't pump much now, but I dream good dreams when I'm lifting."
Cochran said he is "like hundreds of other guys" who come to Las Vegas every year with hopes of breaking into the UFC. He was 19 when he saw a mixed martial arts fight and was immediately drawn to the sport.
"It combines so many elements of fighting, and has weight classes so it doesn't matter how big you are," he said.
He trained while working full-time in machine shops or grocery stores. He had a 10-2 record fighting in Cincinnati and Tampa, Fla., as an amateur.
In 2008, he fought as a pro at Rupp Arena on the University of Kentucky campus as part of an Extreme Fighting Championships card.
Introduced with the nickname "The Animal" in that bout, he took on Bobby "The Jackhammer" Swackhamer. Twenty seconds into the round, he connected with a left and a right to Swackhamer's head, sending him staggering and unable to continue. But the bout was ruled a "no contest." Cochran said Swackhamer claimed he was scratched in the eye on the left jab.
Cochran came to Las Vegas in January of last year.
At 5-foot-7-inches tall, he has fought in weight classes from bantamweight to middleweight. Though he arrived in Las Vegas around 160 pounds, his disorder now makes it difficult for him to keep his weight above 130.
Almost immediately after he came to Las Vegas, Cochran began to feel extraordinarily tired. Then, a staph infection landed him in St. Rose for two months. That's where he met Nguyen.
Cochran said Nguyen and staffers at St. Rose have done everything they can to keep him alive.
"I didn't have Medicaid for a long time, and they've done all they could for me," said Cochran, who now receives about $600 a month in Social Security disability.
Nguyen sent Cochran to the National Institutes of Health in Maryland, where he had a professional relationship with a scientist who works with Dr. Neal Young, the world's leading researcher on aplastic anemia.
Cochran was placed on a drug regimen in hopes it would eventually help his bone marrow create blood cells. It didn't work, and his father feared it would kill him.
"He was shaking in the bed so hard from the effect of the drugs at NIH that the bed was moving all over," said Cochran's father, Terry, who largely supports his sons on a Social Security check. "I didn't think he'd make it."
When their drug treatment didn't work, NIH personnel hoped Cochran's brother Sean would be a match for a bone marrow transplant.
He wasn't.
New drug treatments at NIH still might work, said Cochran, who added he will head there again soon. Cochran is now on a number of medications for his condition.
It's also possible there might be a match for him in the national bone marrow registry.
"My problem with a transplant is that the only insurance I have is Medicaid in Nevada, and we don't do bone marrow transplants in this state," Cochran said. "And without insurance, places around the country we've contacted won't do a transplant."
Until some solution is found for his disease, Cochran knows he'll be a regular at St. Rose, both for weekly blood transfusions and for treatment for infections that his weakened immune system often can't fight off.
Cochran said he knows what he'll do when doctors and nurses leave his room.
"I'll do what I always do," he said. "I'll do as many push-ups and sit-ups as I can in bed. And dream about fighting in the UFC."
Contact reporter Paul Harasim at pharasim@reviewjournal.com or 702-387-2908.
View slide show and video
ON THE WEB: Chad Cochran's only pro fight