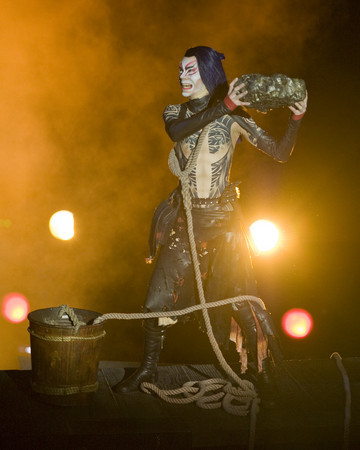 Merry Christmas and ho, ho, ho. On the concert and celebrity scene, it's slow, slow, slow. So it's a good weekend to check out the regular stuff in town.
If I were scheduling a Christmas weekend date around some of my favorite shows, dinners and massages, it might go like this:
• Raku Japanese restaurant is where some chefs go when their shifts are over. Celebrity chefs go there, too. After a decade in Vegas, it's currently my favorite restaurant here.
The food is ridiculously delicious. The service is maybe the sweetest I've ever encountered. It's off the Strip. And here's the strangest part: You open the menu and go, "Is this appetizer $1.50?" Yep.
Raku is tiny at seven tables and a handful of bar seats. So you really have to make reservations (367-3511) for dinner (they don't do lunch). They're closed Christmas but open Saturday.
It's easy enough to get to as a local or a tourist, at 5030 W. Spring Mountain Road, west of Decatur Boulevard.
• I've seen the story-driven Cirque du Soleil show "KA" three times at MGM. I'd see it again and again.
The thrilling stagecraft and performers are amazing, with their synchronized fight sequences. It's a surprisingly emotional show, and here's a sentence you don't see every day: This show has the most incredible finger-puppet segment ever!
"KA" puts on two shows tonight-Sunday. The official online page for "KA" claims it is sold out for the next week ($76-$176). But tickets are indeed available, so call the ticket line (796-9999).
• And the best, most affordable G-rated massage I've found is at Pure Foot & Spa, 5700 Spring Mountain Road. It's open day and night Saturday.
What I mean by G-rated is you keep your clothes on, like reflexology. For $38 an hour, or $28 for 45 minutes, very strong male and female masseuses work your back, arms and head as you sit on an ottoman, then do your feet. Heavenly.
By the way, Las Vegas Review-Journal critic Mike Weatherford gives "KA" an "A," and food critic Heidi Knapp-Rinella recommended Raku to me. So check out their other recommendations in today's Neon section.
WEEKEND PLANNER
Jerry Seinfeld Saturday-Sunday at Caesars ($83-$165) … B.B. King on Saturday at Terrible's in Primm ($44-$61) … Boyz II Men and Salt-n-Pepa Sunday at Terrible's in Primm ($33-$44) … Tony Orlando Saturday-Sunday at South Point ($40-$50).
Doug Elfman's column appears Sundays, Mondays, Tuesdays and Fridays. E-mail him at delfman@reviewjournal.com. He blogs at reviewjournal.com/elfman.