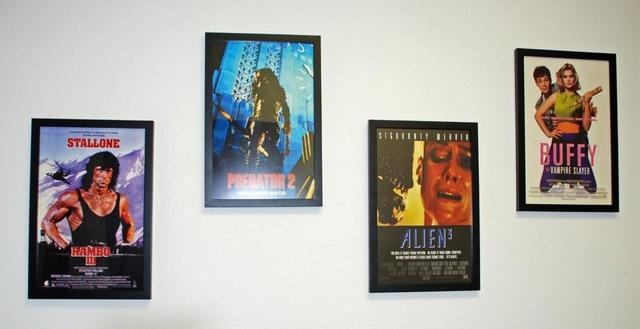 This year, Las Vegas entered the film and television education business with its first boutique school, the International Academy of Film and Television. The school is designed to educate students in the business of filmmaking and acting.
"We are ready for enrollment with our first classes scheduled to begin Nov. 11," said Suzanne Noel, the senior admissions director and the former director of admissions at the Art Institute of Las Vegas.
Building modifications are underway to accommodate cameras, sound equipment, lights and digital equipment.
"My life has been a preparation for starting a school like this," said Ron Herbes, campus director.
Herbes began working in the film industry when his father was director and vice president of facilities at 20th Century Fox Film Corp. in Ventura, Calif. Working at Fox, Universal Studios, Disney and other major Hollywood studios, Herbes lived and learned everything he could about acting, film and sound production.
His lessons in learning-by-doing are part of his philosophy for the school. Herbes was involved in every aspect of the film industry from editing to post-production supervision.
"I have been in the industry for 20 years, working on thousands of films and a number of television series," he said.
In 2001, Herbes moved to Las Vegas to teach audio and visual media to local studios and schools as a consultant. Rather than continue as an independent consultant, Herbes was hired by International Academy of Design and Technology to expand its audio program, which grew to be the largest audio training program in Nevada. Herbes was promoted to manager of community relations at that academy.
But he heard that a filmmaking and actor training school was planning entry into Las Vegas. Herbes called the International Academy of Film and Television on Aug. 26, interviewed Aug. 28 and started work Sept. 16.
The school was founded by Michael Gleissner in 2004 in the Philippines. After Gleissner's success with its Cebu island school, he started schools in Miami, Los Angeles and Hong Kong.
The school offers two- and four-term programs for filmmaking and acting. Depending on student interest and performance, the two term program leads to a certificate of completion and the four-term program leads to a diploma.
As the Las Vegas campus director, Herbes' plan, based on experience, is to recruit filmmakers and actors who are active in their professions to be teachers in the art and administration of filmmaking, screenwriting and acting. The design of classes is based on industry fundamentals. Herbes will hire active filmmakers and actors who have the time to teach classes based on the school's curriculum.
Herbes said acting and filmmaking are the arts of the movie and television industry. An aspiring actor or filmmaker needs enthusiasm and talent but training and contacts are the ingredients that create breaks. Classes with teachers who are actively working in the industry are inherently contact relevant. Herbes' management approach to the school synergistically reinforces career opportunities.
International Academy of Film and Television offers an opportunity for continuing education. Every industry opportunity is suffused with an element of "who-you-know" and Herbes' idea of attracting industry experts to teach offers industry contacts as well as education and experience.
The school will open its doors with four full-time employees, but will be staffed by part-time industry professionals based on their job experience and the curriculum. As the school grows, more full-time staff will be hired with emphasis on teachers who have learned their profession by working in the industry.
There are two 10-week terms in the certificate program and four 10-week terms in the diploma program. Each will have 140 classroom hours and 85 lab hours. Classes will range from screenwriting to filmmaking to financing, marketing and distribution. Lab hours will include on-job training such as acting exercises, film editing and sound production. The maximum students-to-teacher ratio is 12 to 1.
Classes will be held four days or evenings per week with an additional 8½ hours lab per week. The first two terms are the same for the certificate and diploma programs. The diploma program extends the training of the first two terms but adds documentary filmmaking, financing, marketing and distribution, career development and other advanced classes.
Filmmaking labs will include cameras, microphones, lighting instruments, lighting control equipment, cables, camera, lighting support hardware and computers. Acting labs will include costumes, wigs, makeup and props.
The school plans to have a lending library of filmmaking books, magazines and periodicals with the library open to students from 9 a.m. to 6 p.m. Monday-Friday, except for holidays. According to the school catalog, students "…will have access to 'The Filmmakers Series' DVD Collection. This is IAFT's customized instructional series featuring essential basic methods on screenwriting, directing and cinematography."
To receive a certificate of completion or diploma, a student must:
n Achieve a minimum cumulative average grade percentage of 70 percent.
n Attend 90 percent of course hours.
n Complete all courses.
n Pay tuition in full and be cleared of all financial obligations.
Graduates are offered job-placement help. According to the catalog, the school will maintain a "… current list of industry job openings and makes this information available to graduates."
There are no guarantees of job placement but networking is given a head start by the structure of Herbes' plan to use industry employees as teachers.
According to the 2013-14 catalog, the Las Vegas school is licensed by the state to "… operate as a private postsecondary institution."
The Veterans Affairs Department accredits the school and offers a limited number of grants for attendance. All prospective students must have a high school diploma or GED to apply.
Also, the new Las Vegas school will have a limited number of 50/50 scholarships. Noel provided a scholarship application package that explains there are three criteria for eligibility:
n A high level of motivation to train for a career in film or acting;
n Minimum GPA 2.50 from the last school graduated; and
n Household earnings are under $40,000 per year, and a need is determined.
Students will be interviewed by the admissions director to confirm interest. Tuition ranges from $3,990 to $12,990.
The International Academy of Film and Television is not the only school in Las Vegas that teaches the business of filmmaking and acting but it is the only school that specializes in those disciplines. University of Nevada, Las Vegas offers an undergraduate program in the film department. The undergraduate classes include English composition, literature, American history, mathematics, social science, computer science, foreign language, electives and, finally, film classes. It is a four-year program for a generalized education leading to a bachelor's degree.
There are also some acting schools in Las Vegas including John Armond's Actor's Studio and Craft Acting Studio, featuring comedian and Emmy Award-winner Brad Garrett as a coach. Armond offers class times from 6 to 8:30 p.m. Mondays for $125 a month and private lessons for $60 an hour.
Craft Acting Studio is taught by Adam Hill, an actor who has worked on and off Broadway. Classes are $175 a month for one class per week or $225 a month for two classes per week.
The International Academy of Film and Television offers a different approach to filmmaking and actor training. It is a boutique school with a singularly focused agenda.
The school, at 6363 S. Pecos Road, offers great potential for growth.
"I can see a studio lot being created in the available warehouses behind the school," Herbes said.
Timing could not be better. After some cheerleading from Mayor Carolyn Goodman and lobbying by actor Nicolas Cage, Gov. Brian Sandoval signed tax incentive legislation for the film and television industry to encourage filmmaking and movie production in Nevada.
According to a Las Vegas Review-Journal story on the legislation: "Beginning Jan. 1, productions that shoot at least 60 percent in-state can earn transferable tax credits of 15 percent to 19 percent of their qualified production expenses, including Nevada cast, crew, labor, gear, rentals, purchases and expenses."
Las Vegas seems primed for job growth in the film and television industry. The table is set with Herbes' promotion of International Academy of Film and Television and his recruitment of film and television personnel. With warehouse availability at its backdoor and tax incentives from the state, the plates, silverware, coffee cups and glasses are on the table. The question is whether the film and television industry is willing to dine.
Las Vegas has been a movie-making town since 1960. Frank Sinatra defined cool in "Ocean's 11." Nicolas Cage, in his Academy Award-winning performance in "Leaving Las Vegas," defined human tragedy in 1995. Steven Soderbergh, with "Oceans Thirteen," re-invented slick in 2007, and Zach Galifianakis rocked the house with comedy in 2009's "The Hangover."
Television shows in Las Vegas date to 1962 with something called "Teenbeat Club." Since then, popular productions such as "CSI: Crime Scene Investigation" have been set in Las Vegas. Not all scenes in these movies and television series were filmed in Las Vegas but with a school such as International Academy of Film and Television, a potential studio lot, an industry-experienced promoter and the state's support, a lot more jobs in the industry may come to Las Vegas.