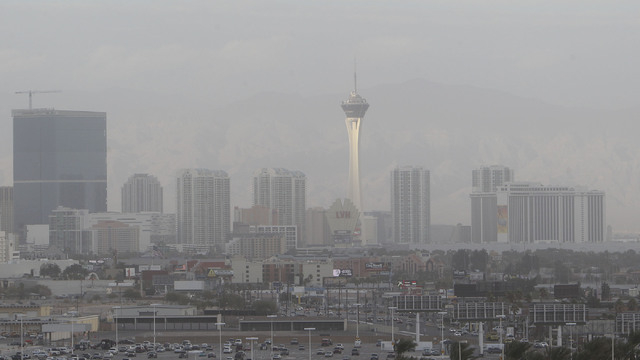 We were warned that winter is coming, and this week it has arrived.
A cold front swept over the Las Vegas Valley on Tuesday night, bringing below-freezing temperatures today that will last throughout the weekend, National Weather Service meteorologist Chris Stachelski said.
"It's really going to be the first taste of winter," he said.
The rest of the week, high temperatures are expected to be in the mid-40s with lows in the low-to mid-20s.
A hard freeze watch is in effect from tonight to Friday night, and that might be extended through the weekend, Stachelski said.
A hard freeze watch is issued when temperatures drop below freezing for eight to 12 hours at a time.
Heavy snowfall and slippery road conditions prompted Gov. Brian Sandoval to send many Northern Nevada state workers home early Tuesday afternoon.
"Due to the significant snowfall and the potential for hazardous traveling conditions, nonessential state employees have been sent home early and state offices will be closing this afternoon," Sandoval said in email sent Tuesday afternoon. "Affected employees will be granted administrative leave."
Administrative leave is paid. The leave was not expected to carry over today, when single-digit temperatures are expected in Northern Nevada.
Las Vegas isn't setting any records with the cold, but that doesn't mean that people shouldn't prepare by winterizing their homes, pipes, pools and outdoor plants.
Paul Noe has been a horticulturist for more than 50 years, and he had a simple answer on how to protect your backyard cactuses: burlap.
Most non-native cactuses and succulents, as well as Saguaro cactuses, will need help staying warm in freezing temperatures.
"They're a little frost-tender," he said. If you drape burlap, a towel or a blanket over your cactus and secure it by tying or staking it down, you should be good to go.
"It keeps frost from dropping directly on the plant tissue," Noe said.
Drivers should exercise higher caution because roads can freeze with only a little moisture, causing slippery surfaces, especially on bridges and underpasses.
Nevada Highway Patrol trooper Loy Hixson said there have been multiple car accidents because of the snow near Carson City and Reno. Cars slid off the roads or became stuck and were abandoned by their drivers.
None of Tuesday evening's accidents was serious, Hixson said, but there were definitely traffic delays.
Las Vegas Fire Department spokesman Tim Szymanski warned people to keep flammable items, such as clothing, furniture, mattresses and paper, away from furnaces, space heaters, fireplaces, stoves and water heaters.
Furnaces that have not been used in months might generate a slight burning smell and white smoke, which is common and not harmful, Szymanski said.
If the smoke is dark gray or black and the furnace makes rumbling sounds, call 911 and exit the building.
Fireplaces should have open dampers and clean chimney flues to allow smoke and gases to escape safely, and only one log should burn at a time.
Ashes should be discarded into water pails and soaked for several hours before discarding.
Frozen pipes should not be thawed with any type of flame because the ice might explode. Also, space heaters should not be plugged into extension cords and should be unplugged when not in use or when nobody is home, Szymanski said.
Barbecues emit lethal amounts of carbon monoxide gas and should not be used as heaters. Cars should not be left running in the garage to heat up, even with the garage door open. Electric generators also produce the deadly gas and should not be used in the home or garage, he said.
Contact reporter Rochel Leah Goldblatt at rgoldblatt@reviewjournal.com or 383-0381.Las Vegas Review Journal reporter Annalise Porter and capital reporter Sean Whaley contributed to this report.