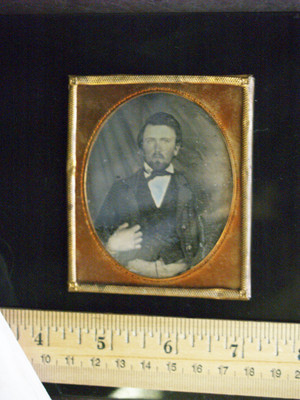 A Las Vegas collector believes he has found a hitherto undiscovered early photograph of Ulysses S. Grant, the general most responsible for winning the Civil War who later served as president from 1869 to 1877.
A UNLV archivist says the daguerreotype appears to be an authentic photo of Grant, as other experts have surmised. Collector Randall Spencer would prefer to sell the photo to some historical institution for public display, but would consider selling it to a private collector to finance his quest for vanishing images of American history.
Spencer, 56, is an alternative rock 'n' roll guitar man who plays under the name Eric London, but in the 1970s his day job was managing the early American division for a large antique dealership. Later he started his own shop in California's Bay Area.
"There was at that time still an abundance of early American photography that had not been examined, especially in San Francisco, because when people went West in the mid-19th century, that's where they ended up. … And what really launched me into photography was discovering a picture of Mrs. Thomas Lincoln, Sarah Bush Lincoln, the stepmother who raised Abraham Lincoln."
He thinks it was 1991, but remembers the date clearly: Lincoln's birthday.
"It had been discarded out of a sterling silver photo album" that was put up for sale in the same store. He captured the photo but wasn't able to get the album.
That was the point when interest became obsession, Spencer said. Although Mrs. Lincoln became well known with her son's rise to fame, authentic photos of her were rare or nonexistent, yet one had turned up in an ordinary shop.
Spencer began poring over books and memorizing every known image he could find, captured in the 19th century dawn of photography, of any American historical figure.
The Frenchman Louis Daguerre discovered a practical means of developing a photographic image on a metal plate and demonstrated it to the French Academy of Sciences in 1839. The following year an American, Robert Corneilus, found a way to reduce exposure times from several minutes to seconds, and ushered in the age of the studio daguerreotype "likeness."
Each daguerreotype was the original plate upon which the image was captured, so it was unique; there was no negative from which to make copies. The process flourished less than two decades before "ambrotype," the next of many successively faster and cheaper processes, began to replace it.
Spencer found his Grant photo for sale at the San Jose Photographic Exposition in about 1992.
"I was told that the man who had these had bought stacks of daguerreotypes, and they were obviously from a collection because they were all the finest quality I have ever seen," Spencer said. "He had a doctor's (house-call satchel) full of sixth plates. (A sixth plate is a specific common size of daguerreotype, about 23/4 by 31/4 inches, as is Spencer's photo of Grant.) He still had hundreds, but he had torn the cases off many of them and sold the cases.
"He treated me like a fool because I tried to stop him."
So Spencer bought the photos he could afford, but was unable to obtain the original frames and leather cases in which the images were probably packaged.
(Other photo collectors confirmed that the antique dealer's unfortunate decision to separate photos from their original cases, in an attempt to maximize profits, was not especially unusual less than 20 years ago.)
Spencer continued, "I believe he really did get them at a garage sale, and I learned it fairly reliably that some of the Grant family had moved to San Jose and sold some family artifacts at a garage sale."
So that's a possible explanation of the photo's return to the Bay Area, but it can never be proven, Spencer concedes.
Grant had at least one daguerreotype taken while he was a lieutenant in the Mexican War (1846-1848). Spencer's daguerreotype was probably taken a few years later, when Grant was about 30.
"The only time I could figure out that he could have had this image taken was when he was in San Francisco," Spencer said. "He elaborated in his memoirs on his adventures at Fisherman's Wharf. It was 1852, the height of the Gold Rush. He was stationed at Benicia Barracks and went over there to participate."
Already a booming, rich city, San Francisco had several daguerreotype studios. Whoever shot this daguerreotype, however, did not sign it.
Spencer said Dr. Lloyd Osterndorf, a now-deceased expert in the field of photos purported to be of Abraham Lincoln, applied a forensic method of measuring facial features, and could find no significant differences between Spencer's photo and known Grant photos.
Still, Spencer has been discouraged in previous efforts to have this, and other photos he believes historically important, accepted as the real thing, because institutions desire an unbroken chain of custody before acknowledging that an artifact is what it appears to be.
"They didn't like it that I wasn't bringing them Grant's photo signed by him and stapled to his underwear," Spencer said. "That is an institutional attitude I detest because it is causing artifacts of the utmost importance to get lost forever. They need a system that acknowledges probability."
But archivist Peter Michel, director of special collections at the University of Nevada, Las Vegas did not ask whether the photo came with 19th century long johns. Comparing to the known Mexican War photo, he's also pretty certain the Spencer photo is of Grant.
"The noses strike me as exactly the same in the two pictures, and everything about the picture is correct for the period in which it would have been taken," Michel said.
Joe Thomson, a photo historian currently organizing the Review-Journal's archives of historic photos, was similarly persuaded.
A rare photo of a person widely admired, Spencer said, has a stronger market than an even rarer photo of some historic scoundrel. And while Grant's presidency was considered a poor one, most Americans greatly appreciate his winning the Civil War.
"All I really know is it's the most valuable photo that's been found in years," Spencer said.
He added, "I don't plan to keep it any longer than I can to find a corporation or individual willing to pay my price. And it's not the highest price I think it could bring; I would set the price at $2.5 million because I think there are people who can afford that to get the only one."
And what would he do with all that money?
"Fund further research. Because our historic heritage, unacknowledged, is slipping away every day," he said. "I'm looking to fund a historical recovery foundation, based on the philosophy that the proof is in the pudding."
Contact A.D. Hopkins at adhopkins @reviewjournal.com or 702-383-0270.