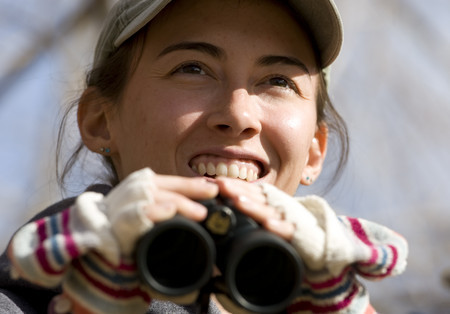 Jack Ruckdeschel got what he wanted for Christmas, and it was much more than a partridge in a pear tree.
His early present consisted of many kinds of birds wintering in the Mojave Desert, and enough time to soak in all their grandeur.
Ruckdeschel, a busy physician who is an avid bird watcher and hunter, would rather be in the great outdoors the week before Christmas than caught up in the hustle of the holiday season.
That's why he couldn't wait to get out his viewing scope and bird species book Dec. 19 to join the annual Christmas Bird Count, 30 miles northwest of Las Vegas in and around the Desert National Wildlife Refuge.
"That's what birders do. They love Christmas Counts. I get out for the whole day. I don't have to pack. I don't have to shop. I don't have to cook," said Ruckdeschel, who took over the reins this year of the Nevada Cancer Institute.
With him, he brought his love for birds and the long hours he has spent observing them in forests of Michigan, Maryland and Florida.
The vast Southern Nevada landscape accented with artificial golf course ponds at the nearby Paiute reservation added a new dimension to that experience.
As a surprise, in addition to resident desert birds scurrying and flitting from plants, bushes and Joshua trees, there were flocks of ducks and a few geese that decades ago wouldn't have bothered to stop on their southward migration since there were few ponds to attract them.
As a Northern harrier stood guard on a grassy knoll looking for a wayward duck or coot to pounce on, the pond below the predator was teeming with waterfowl.
"There's 82 wigeon and four coot," Ruckdeschel reported as observers with notebooks compiled the tally.
Just a few yards away in the other direction, the golf course terrain abruptly turned into the natural desert that is home to a variety of brushy field birds such as larks and a loggerhead shrike.
"That one is a meadowlark. It's coming right at me," an excited Ruckdeschel said, peering through the scope's eyepiece. "It has beautiful markings."
With perfect conditions on a warm and windless morning, the day was in every sense a bluebird day for the count. It produced a kaleidoscope of colorful birds from Western bluebirds to a red-naped sapsucker, to yellow-chested larks, white-fronted geese, and ruby-crowned kinglets.
This year, some Western bluebirds wandered inside the count area but not their cousin, the mountain bluebird, Nevada's state bird.
Snow and colder conditions of the 1995 count drove mountain bluebirds to lower elevations. Seventeen were counted from Corn Creek to Tule Springs that year.
The tradition, going back some 70 years at the refuge's Corn Creek station, has been expanded to include locations around Henderson, the Muddy River and Ash Meadows.
John Hiatt, who led this leg of the count for local Red Rock Audubon Society chapter, said overall the bird types and numbers are indicative of dry conditions the area has experienced during the past several years.
Other than the Northern harrier, a great horned owl, a prairie falcon and a kestrel, there weren't a lot of birds of prey recorded — such as hawks and eagles — in the Corn Creek count. That's probably because the dry conditions reduced rodent numbers, which are important to their diets.
Coupled with the golf course ponds that were filled eight years ago, the habitat and food sources dictated the makeup of the bird population.
"Because of the golf courses, there are a whole lot more waterfowl," Hiatt said. "But you've got to take into context that we're in the desert."
For example, American wigeon are grazers that relish golf course lawns.
The wigeon flock was joined by a pair of greater white-fronted geese, probably visiting from their far-away summer haunts of Alaska's tundra.
"Their numbers seem to be expanding," Hiatt said about the white-fronts. "They're rather uncommon here. Four or five years ago I saw my first one here. Now I see them every year."
Near a marshy oasis at Corn Creek, Ruckdeschel was impressed with what he described as "a very productive tree," a towering Siberian elm that harbored a red-naped sapsucker and other species that scoured the trunk's bark for bugs and sap.
Hiding in the shadows of a fork in the tree stood a stoic, great horned owl with pointed ears protruding from its blunt head and stunning, penny-size gold eyes peering from its rusty face.
Las Vegan Jennifer Mercadante, out on her first Christmas Count, spotted the owl.
"I saw the long ears and the feathered tuff," she said. "It's so exciting. I'm so glad I found the owl. It makes such a fine hobby to last a lifetime."
Contact reporter Keith Rogers at krogers@reviewjournal.com or 702-383-0308.
View the slide show