Fire risks get carried away
October 29, 2008 - 9:00 pm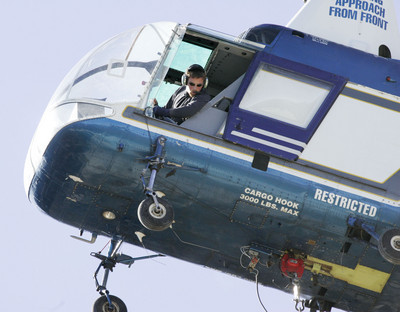 Amid the vast landscape and majestic peaks of the Spring Mountains, the helicopter toting dead trees looks like a toy carrying twigs.
Or maybe playing a continuous game of Pick-up Sticks, with the tall pinyon pine trunks piled up by professional tree cutters on the ground and then carried away to a place that's safe for cutting up into firewood.
But it's no game for officials with the U.S. Forest Service and the Spring Mountains National Recreation Area. It's a necessary undertaking to make the landscape and about 900 structures around Kyle and Lee canyons safer from forest fires.
"This will work. It will work," Robert Emley said Tuesday as he surveyed one of six locations being thinned of densely populated trees and brush Tuesday.
Emley is one of a handful of Forest Service officials overseeing the $7 million project that aims to create buffers between foliage and structures, while also making the area seem "untouched to the untrained eye."
"To me, this is exciting," he said. "I love every little bit of it. I could show you all of it."
If Emley held true to his word, that would take a while.
The project launched this month will eventually treat 2,300 acres of forest around homes, access roads and other points of interest in the Spring Mountains so firefighters can get to blazes easier, and so the fires don't spread quickly.
The helicopter logging project is the first of its kind in Southern Nevada.
Dubbed a "fuel treatment," the plan to thin dry, fire feeding material mirrors a successful project completed in mountains west of Carson City.
Large and older trees are left intact, while smaller trees are trimmed or removed to leave at least 10 to 30 feet between them. Buffers of 300 to 600 feet are created around structures and steep terrain.
It takes some skill to achieve the look.
Some of the project is done with chain saws and hard physical work, while other parts require skyline lifts or helicopters.
Gary Jorgenson, owner of Horizon Helicopters, described what his team does as if it were an intricate dance.
Four men wait near piles of cut trees and debris and help attach a line dangling from the helicopter. The pilot then takes the load to a landing for another crew to cut up and distribute. This happens several times an hour, stirring up a lot of dust in the process.
Jorgenson, who has been doing this kind of work about 30 years, said while it can be dangerous, this is one of the smaller projects he has handled. And it has run smoothly.
Officials have been working since 2004 to plan the project, which included 18 months of environmental survey to ensure it wouldn't cause more harm than good, said Stephanie Phillips, deputy forest supervisor for the Humboldt-Toiyabe National Forest.
She encouraged naysayers to take a look at how much wooded material is being treated versus what could be lost in a wildfire.
Crews are starting in smaller, outlying areas before nearing residential areas in the spring. The project is expected to be completed in about three years.
To resident Lynda Fleming, the future commotion is welcome.
"It's really important up here," Fleming said of her home near Kyle Canyon. "We've dodged a couple of close bullets; and it's not if, but when, the big fire comes through.
This project "will give us a lot more peace of mind."
Contact reporter Maggie Lillis at mlillis@ reviewjournal.com or 702-383-0279.
Video