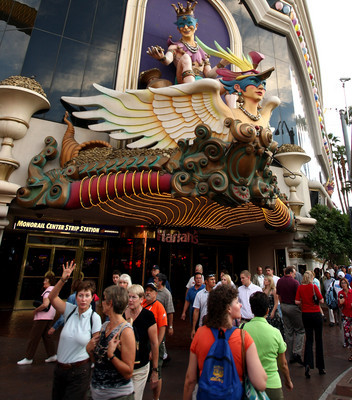 The Clark County Fire Department has ordered round-the-clock "fire watch" foot patrols on unoccupied floors at Harrah's Las Vegas to compensate for the possibility of code violations in the hotel's fire alarm system.
But explanations of this step, from the county and Harrah's Entertainment, evolved for several days before achieving consistency.
"When our inspectors went over there, they found out the alarm system was not up to code," Scott Allison, a fire department spokesman, said Monday night. In some locations, "sirens and horns" that provide audible warning appeared not to be hooked up.
"In their fire alarm system, there were things missing," Allison said Monday. "The proper plans (for the alarm system) had not been filed, nor did they request any inspections" after changes were made, likely during renovation.
Midafternoon Tuesday, Allison repeated, "In some areas, they were lacking fire alarms and horns and strobes."
But later Tuesday afternoon, county Fire Chief Steven Smith telephoned the newspaper in a conference call with four other fire officials to explain that the fire watches at Harrah's Las Vegas were called "to err on the side of safety." Smith said that until Harrah's supplies the department with plans for its fire safety system, the department cannot definitively say what code violations exist.
By early Tuesday evening — after a twice-yearly fire inspection of Harrah's Las Vegas had been completed that same day — Harrah's Entertainment executives Marybel Batjer and Jan Jones telephoned the Review-Journal to say the Strip property had passed its inspection.
"The sirens and horns are all connected, and they were inspected today," Jones said. "There are no areas where they are not connected. But until (the Fire Department receives) plans to review, they have to show it as a violation."
Allison said county fire inspectors were at the hotel for several days starting Friday, when it first ordered fire watches. But Harrah's Las Vegas has been conducting voluntary fire watches since Oct. 8, when the hotel voluntarily closed 537 guest rooms and suites, Batjer said. She emphasized the hotel itself closed the rooms after an internal corporate investigation, which is ongoing, suggested the spaces had been remodeled without permits or safety inspections.
The areas of the hotel now on fire watch all lie outside areas that guests can frequent since the room closures. One area on fire watch that is still occupied is administrative space on the second and third floors, which is in use by human-resource and accounting employees as the patrols go through.
Batjer is vice president of public policy and communications for Harrah's Entertainment, which she joined in 2005. Jones, her superior, is senior vice president of communications and government relations.
Jones is a former mayor of Las Vegas. Batjer has a Nevada personal history, too; her father, Cameron, was once a Nevada Supreme Court justice.
But much of Batjer's work history lies in high government circles. She served in the Reagan White House as a special assistant for National Security Affairs and as an assistant to Secretary of Defense Caspar Weinberger. In the George H.W. Bush administration, she was a special assistant to the Secretary of the Navy. Before going corporate, she was a policy advisor to California Gov. Arnold Schwarzenegger. And before that, she was chief of staff to then-Gov. Kenny Guinn.
Because of conflicting accounts, the Review-Journal held this report on the fire watches for a day, to allow officials in the Fire Department and the county's building division to exchange information.
The fire alarm system at any commercial high-rise property is an extensive program that, beyond the audible alarms, encompasses strobe lights to alert the hearing-impaired and a component to trace whichever smoke detectors go off, and when. As needed during a fire, the alarm system also recalls elevators, and orders defensive changes in the ventilation system. For example, an alarm system will increase air pressure in exit corridors and stairwells so smoke cannot infiltrate them as easily; it will also close dampers to withhold oxygen from the site where a fire has originated.
Allison said that in the Carnival guest tower at Harrah's on the Strip, floors two through 19, and 30 through 35 are being patrolled. In the Mardi Gras tower, floors 19 through 23 are patrolled.
Apart from the Fire Department's recent action, the county's building division also issued several violation notices last week to Harrah's Las Vegas for floors four through 18 in the property's Carnival tower, north. Workers have said remodeling took place there in summer 2006.
"Hotel room renovation done without approved plans, permits or inspection," county building inspector Douglas Buelow wrote on the notices.
In addition, Buelow also issued a correction notice — which is less severe than a notice of violation — for the same floors. It orders Harrah's to properly seal walls between guest rooms; holes in walls through which sprinkler lines pass; and "slab penetrations," which are holes drilled through the concrete separating one floor from the next.
County public information officer Stacey Welling on Monday provided the newspaper with copies of the notices, which the county issued Thursday and Friday.
"They do expect to issue some more notices of violation," Welling said, as exploratory work by county and corporate representatives continues.
According to Welling, the architecture firm Marnell Corrao has signed on as general contractor to remediate the faulty remodeling at Harrah's Las Vegas. She said the county issued the contractor a demolition permit, which is the first step in bringing remodeling there up to code. After demolition of inappropriate work, plans must be submitted to the county and approved, before any new construction work can be done or inspected.
Marnell Corrao has designed many high-rise hotels in Las Vegas including Wynn Las Vegas and Bellagio, as well as the Rio.
The Rio, another Harrah's Entertainment property, is undergoing remodeling woes of its own. County inspectors Monday sent a notice of violation for remodeling work done in the honeymoon suites of the Rio's Masquerade tower without permits or inspections. Before Monday, violation notices were confined to the Rio's older Ipanema tower.
On Oct. 5, the county had ordered the Rio to shut down two floors of rooms on the Ipanema tower, including one floor of high-roller suites. A fire watch is taking place on those two floors, also, Allison added.
A demolition permit also has been issued to access and remove inappropriate remodeling work at the Rio, Welling said Monday.
She pointed out that detailed descriptions of the exploratory and corrective work at both hotels will be contained in a final written report that county Development Services will make public when the buildings are in compliance.
Jones has said Harrah's Entertainment — which is the world' largest gaming enterprise — believes that defective remodeling is limited to the Harrah's Las Vegas and Rio properties, based on current information.
But a sister property, the Flamingo Las Vegas, also was the scene of a little controversy last week.
On Thursday, a county fire engine stood by for more than six hours while a leak in a "standpipe" that provides fire-fighting water in one Flamingo tower was repaired. Such leaks occur in the course of ordinary maintenance. But the Review-Journal noticed that the engine — which is supposed to serve as a bypass, in case firefighters need to get water to that tower's upper floors — was not hooked in to the hotel's firefighting water supply.
Allison minimized the fact, observing that hooking up an engine is "almost as fast as hooking up a garden hose." Worry about laying out hoses in an area of pedestrian traffic was another issue. But he said the fire department is looking at whether to make hooking in an automatic part of the department's protocol for providing engine backup during a significant repair.
Contact reporter Joan Whitely at jwhitely@reviewjournal.com or (702) 383-0268.