Firefighters battle imaginary inferno at closed Strip resort — PHOTOS
August 10, 2015 - 7:55 pm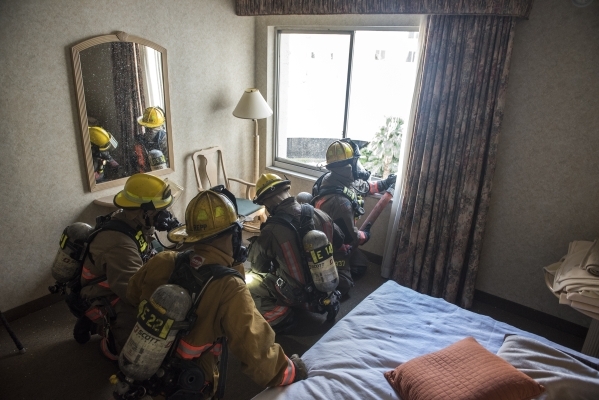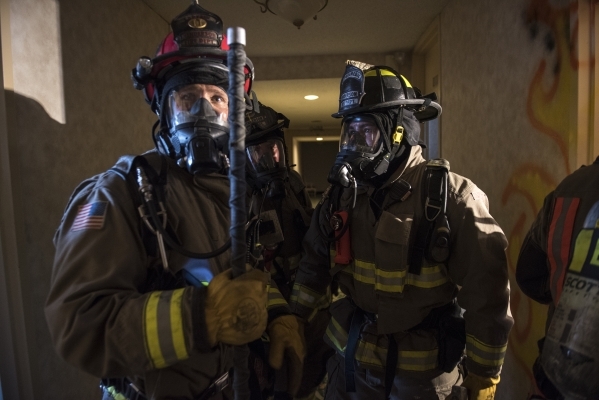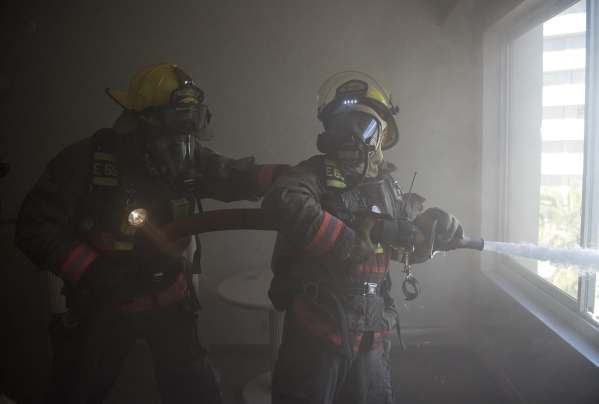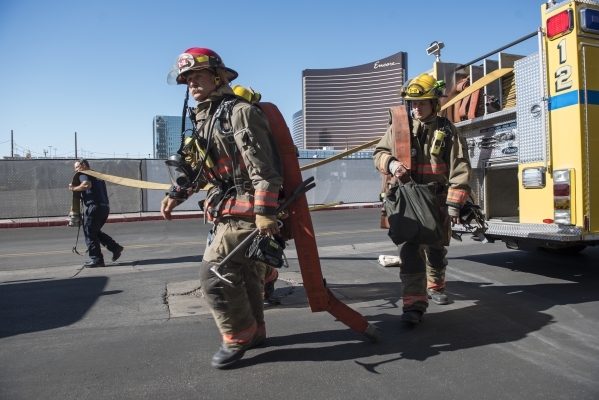 Dozens of firefighters rush up five flights of stairs to extinguish what is supposed to be a raging blaze at the Riviera.
Trying to sift their way through the pitch-black smoke-filled hallway on the fifth floor, they drag their fire hose toward the source.
At Room 3532, they see the flames — cartoonishly spray-painted along the outside of the door.
The firefighters burst through and unleash the high-powered deluge from the hose — straight through the open window and into the empty courtyard below, giving the dead grass near the empty pool a long-needed watering.
"We were trying just not to soak the inside of the hotel right now. Trying to keep it dry somewhat," Clark County Fire Chief Greg Cassell said after Monday's training exercise at the ruins of the shuttered resort.
As part of the training, crews from the Clark County and Henderson fire departments worked together to put out the imaginary inferno. The goal of the exercise, Cassell said, was to work on communication between supervisors and firefighters during a high-rise fire, where space is often limited and crews can be scattered on several levels.
Getting to train at an actual high-rise, complete with tight stairwells and narrow hotel hallways, helps to aid in the realism of the training.
"To train at a high-rise property is very rare, so it's good to get our skill sets down," Cassell said.
That realistic practice has proved especially useful for local firefighters lately.
Last month, a fire broke out on The Cosmopolitan's Bamboo Pool area on the 14th floor, sending out dark smoke that could be seen from throughout the valley. The blaze scorched much of the rooftop pool area, fueled mostly by decorative fake palm trees and cabanas, according to fire officials.
Crews were able to put the fire out within 30 minutes, and just one person was hospitalized for smoke inhalation.
Several of the crews that battled that blaze, Cassell said, went through similar training at the Riviera in June.
"Anytime you have the opportunity to practice before you go into an event like that is tremendous," Cassell said.
As for how Monday's training went, Cassell described it as just "OK."
"We've got some things to work on," he said. "We have some newer captains who are trying to adjust from being a firefighter to being a supervisor and managing large numbers of people coming into a situation."
And although the training could have gone better, being able to train jointly with another agency in a real-life scenario is invaluable, Cassell said.
"These opportunities to practice our craft with our brothers and sisters in the other agencies, it's actually priceless."
Contact reporter Colton Lochhead at clochhead@reviewjournal.com or 702-383-4638. Find him on Twitter: @ColtonLochhead.