Firefighters create Christmas for Henderson family who lost home in December fire
December 23, 2016 - 5:11 pm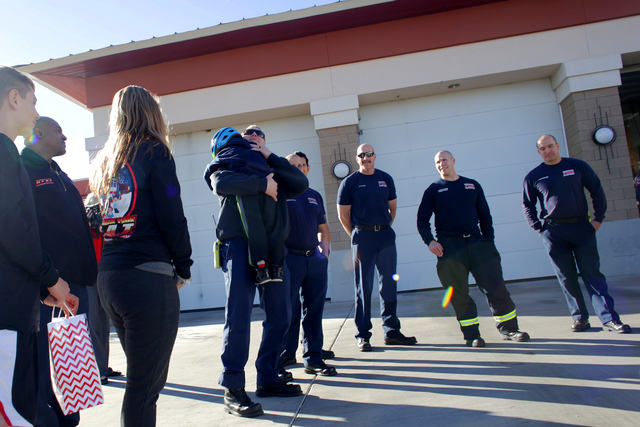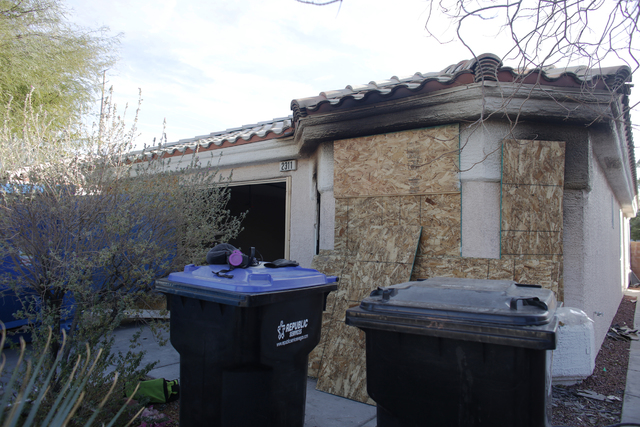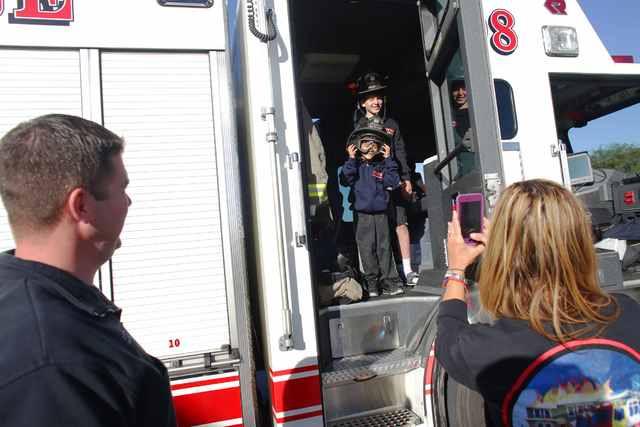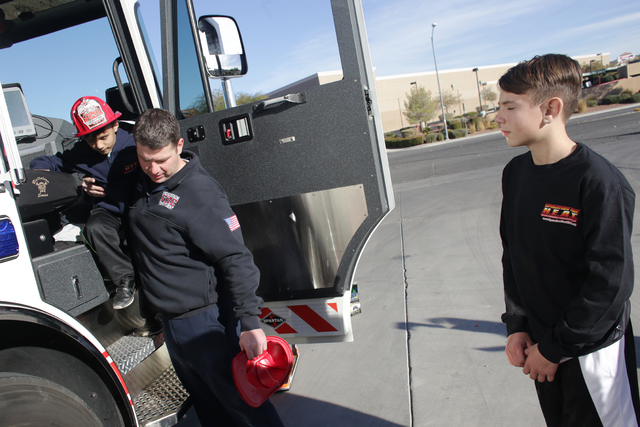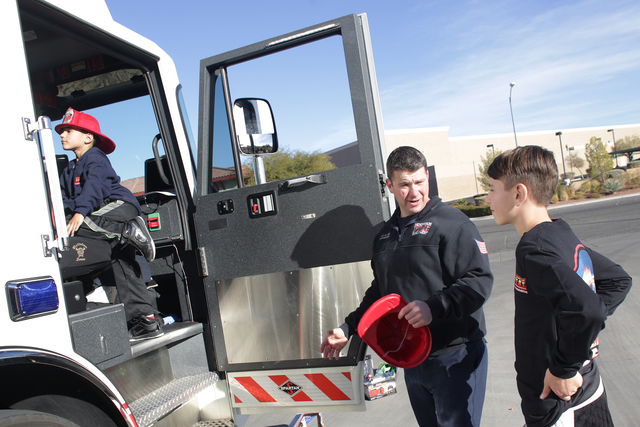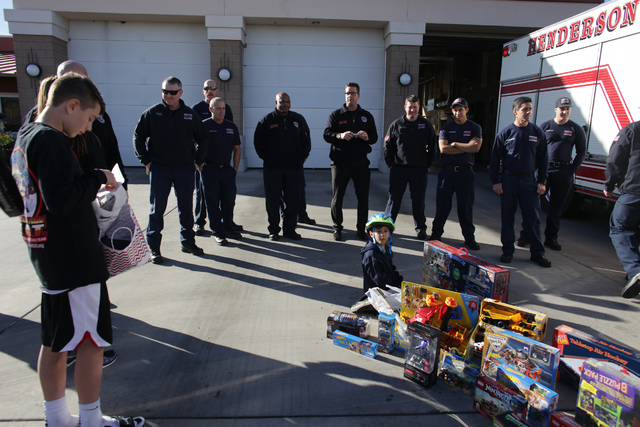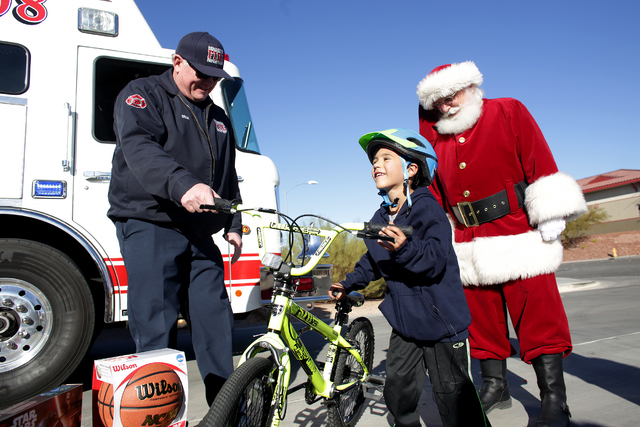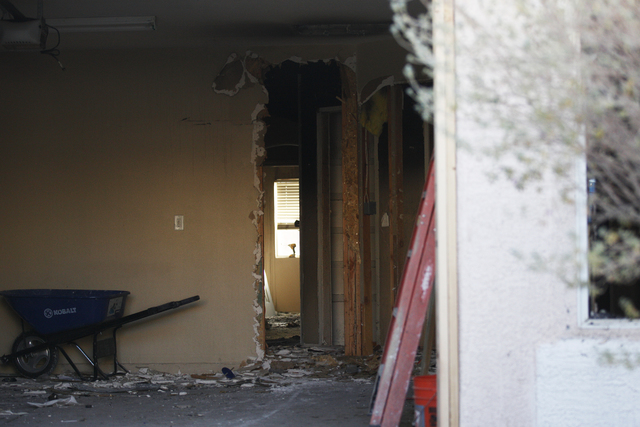 The family that had lost everything but the clothes on their backs and the things in their car waited patiently in the driveway of Henderson Fire Station No. 98, not knowing what to expect.
In the afternoon sun were Nicolette Harridge, 37, and her two boys, Chance, 12, and Edward, 6. And then, in a big, white engine that slowly pulled out of the station's shaded garage, there was Santa.
"Oh, my God!" the 6-year-old screamed in excitement.
Santa went all-out. He flipped on the engine's sirens and rang its bell, over and over. The boy's jaw dropped, then stayed there.
But that was only the beginning. As Nicolette and the boys watched one firefighter help Santa step down from the engine, a group of about 10 others casually walked out of the garage, the same firefighters who had fought the big blaze that swallowed the family's home and killed their two dogs the first Friday of December.
The crew couldn't save the house, but through organization Operation Fire HEAT, which stands for Holiday Emergency Assistance Team, on Tuesday the crew did its best to save Christmas.
"Thank you," Nicolette said, hugging one firefighter, then another, and another. "This is so nice. Thank you."
Meanwhile, Santa swung open a large engine door and pulled out a toy, then another, and another. A bike, video games and a Hot Wheels set soon sat among about 20 other gifts in front of the station.
"This is so much stuff!" Edward yelled. His scream turned into a high-pitched squeal when Santa pulled out the train set. "I love trains!"
Nicolette "never" anticipated a house fire. "Never," she repeated, especially not during the holidays.
The blaze began mid-morning Dec. 2, while the boys were at school, their dogs were at home and Nicolette was at Sunrise Hospital and Medical Center, where she works as a mother-and-baby nurse.
Fire investigators determined that an outlet in Nicolette's bedroom had ignited, and a small fire started burning behind the wall, then grew — climbing, spreading. Smoke filtered throughout the home, where Koda, their 9-year-old Belgian Malinois, and Tank, their 9-month-old Australian shepherd, waited for their owners to come home.
It wasn't until flames were visible outside the house that passers-by began reporting the fire to 911. Soon, neighbors and friends began contacting Nicolette.
"I was actually in a patient's room when my phone was blowing up, and I remember thinking, 'Who's calling me?'" she said. "When I stepped out, I had like five different messages from people saying, 'Your house is on fire,' 'It's an emergency,' 'Respond,' 'This is urgent.'"
The shock hit her like a truck.
"I called my mom. That was, I guess, my first reaction," she said. Her mother lived close to the 2311 Silver Creek Pass home Nicolette had been renting for nearly two years, and Nicolette asked her to swing by and see if the messages were true.
"Then I called 911, and it was confirmed," she said. "And of course they wanted to know if anybody was inside, and I just said my dogs, which I knew couldn't get out."
Nicolette rushed home. But when she got there, her dogs were dead and the house was already gutted.
Flames had filled her bedroom, where she was hiding the Christmas presents she had already purchased. Then the flames jumped, twisting and turning throughout the home, destroying all the family's belongings, including their Christmas tree, which they had decorated with handmade, sentimental ornaments just two nights earlier.
"It's all boarded up now," she said. "We actually drove by it. They've emptied it all out. Anything that was inside, they just threw everything out."
The three have stayed in a hotel ever since.
Operation Fire HEAT was started and is managed by a group of local firefighters, and since 2007, the group has worked around the clock each December, organizing and scheduling dozens of present dropoffs for families devastated by fires.
Sometimes dropoffs happen at the family's home. If the home is condemned, like Nicolette's, the gifts are typically presented at the station that responded to the fire.
"It all came from going to those calls, seeing those burned Christmas trees and presents," said Jayson Calhoun, the nonprofit organization's president.
Since its founding, Operation Fire HEAT has expanded from serving specific families, and now, each December, the firefighters also drop off toys at each pediatric hospital and each long-term pediatric rehabilitation facility in the county.
"There's no other organization like it in the country," Calhoun said.
Sometimes, families don't want the help or can't accept it because of their beliefs. Sometimes, if the fires were fatal, gifts can feel insufficient in the face of fresh grief. That's why, through Operation Fire HEAT, a fire station in North Las Vegas is hosting a Christmas Eve dinner for the relatives of the three people who died in a Dec. 1 fire on St. George Street.
"Nobody should go without during the holidays," Calhoun said to Nicolette as her boys reveled in their new toys. The firefighters gave her some gift cards, too, to replace essentials and perhaps purchase a few things for herself. "We wanted to make sure you guys had a good Christmas."
As Edward tested out his new bike in the station's driveway, the crew that had responded to Nicolette's house fire was called to another scene. Nicolette and her boys stepped off the driveway, and Santa moved the boys' presents aside.
"Please don't hit my train set!" Edward pleaded as the firefighters pulled away, sirens blaring. "I really like that!"
Nicolette laughed, and soon the boys were rifling through their new items again.
"It does help, absolutely," she said, adding that she was grateful Operation Fire HEAT had reached out to her. Not that material things replace the dogs, she clarified, "but it's one less worry."
"Thank you for everything," she said softly to Calhoun.
Contact Rachel Crosby at rcrosby@reviewjournal.com or 702-387-5290. Follow @rachelacrosby on Twitter.