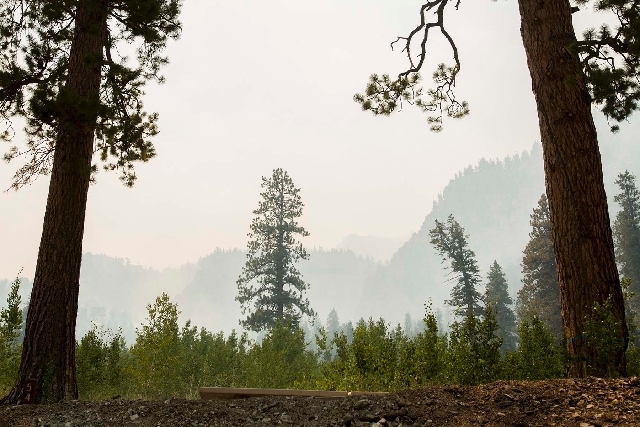 The Spring Mountains are a spiritual home for the Paiute people, but you don't have to be a Native American to feel the soul-soothing sense of the place.
Most need only spend a little time in the aspen and pine and drink in the cooling breeze to know they are special. Now that an army of wildland firefighters has helped save upper Kyle Canyon, it's fitting to reflect on that beautiful place. Reflect, and wonder about its future.
Although I've lived in Kyle since 1991, Billy Wade has me beat by a couple of decades. He was little more than a kid in 1970 when he moved up to the Rainbow subdivision. It was a "hippie community" back then, he recalls.
"I grew up in Las Vegas," Wade says. After he married, "My wife said, 'There's too many people in Las Vegas.' I knew there was a place to go that's a little more peaceful. I think, to sum it up, it would be just to get out of Vegas — even though there were only about 200,000 people living there back then."
The fire crept close to Wade's back door . Although he is grateful for all the help in putting out the fire, he is one of many locals who wonder aloud whether officials responded as quickly as they could have to the lightning strike that would become known as the Carpenter 1 Fire.
"I know some guy was afraid to make a phone call to somebody," Wade says. "I'm not placing any blame. I just want to get it fixed. … I think somebody was afraid to cry wolf. I'd rather go to court right now as the guy who cried wolf than the guy who didn't."
That protective streak Wade displays is common among mountain residents, who revel in its beauty and embrace the challenges of a long commute and snowy winters.
Former contractor Jeff Anderson cherishes the mountain, too. Not only because of the abundant wildlife, but also because it's a place he has met so many good friends in the 25 years he has spent quality time there.
"I sit on my porch and watch the deer play on the hill. … It's the people and the unity of everybody together as far as looking out for each other, making everybody feel welcome. I've never hugged so many people in my life."
Not all those who love the mountain live there, of course. But even frequent visitors to Mount Charleston are likely to catch only a fleeting glimpse of hiker and author Branch Whitney. On more than one occasion while chugging up a trail, I've seen him lead a small group of outdoor enthusiasts at a pace that would exhaust a mountain goat.
Although he lives in Las Vegas, the power hiker estimates he is on the mountain's most challenging trails 40 times a year. His love of the area is reflected in his writing: Four of his five outdoor books feature Mount Charleston.
He uses words such as "freedom" and "beauty" to describe the feeling of walking the high trail far from the casual crowd.
"I've seen 2,000- and 3,000-year-old bristlecone pines that you're not really going to see almost anywhere else in the country," Whitney says. "There's solitude, especially on the routes we take. I can count probably on both hands the number of times I've been to the peak, except for Charleston and Griffith, up in Mount Charleston that there's been another group. We literally have the mountain to ourselves, which is nice. That's something special that you don't have necessarily in Yosemite or Zion."
After knee surgeries, Anderson doesn't hike much, but he can hardly wait to get back to his porch.
After learning the firefighters and favorable weather were beating the Carpenter 1 Fire, Anderson pauses and says, "We're privileged to be able to share the mountain."
The spirit is strong up there, you know.
John L. Smith's column appears Sunday, Tuesday, Wednesday and Friday. Email him at jsmith@reviewjournal.com or call 702-383-0295. Follow him on Twitter @jlnevadasmith.