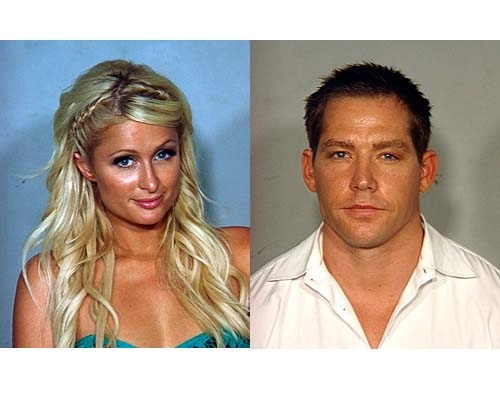 Reports that nightclub operator Cy Waits has been fired by Steve Wynn were met with a "no comment" Sunday.
Waits, who was not responding to media queries, was jailed Friday on DUI charges just days after the biggest promotion of his career.
Waits and his girlfriend, socialite Paris Hilton, were arrested shortly after leaving Wynn Las Vegas when a motorcycle cop stopped them to investigate the smell of marijuana coming out of Waits' SUV.
Hilton was booked on charges of felony possession of cocaine and was later released without having to post bail.
Vegas Confidential reported on Twitter on Sunday that Waits was not on property Saturday at the Wynn. He and his identical twin brother, Jesse, were promoted to nightclub operations chiefs late last week after Wynn bought out managing partner Victor Drai.
Quoting an anonymous source, E! News reported that Waits was dismissed because "Wynn has a zero-tolerance policy with their club execs when it comes to brushes with the law."
A Wynn source told Vegas Confidential the report was "unsubstantiated" and added "Wynn has nothing new to report or share on the situation."
A text message to Waits seeking comment was not returned by deadline. His brother, Jesse, who was working at Wynn on Sunday, could not be reached for comment either.
KSNV-TV, Channel 3, entertainment reporter Alicia Jacobs in a post on her Twitter feed Sunday, said Cy Waits has "100 percent … absolutely" been fired.
The Waits brothers had served as Drai's top lieutenants since Wynn turned to Drai to redesign La Bete, which was closed shortly after the resort opened in April 2005.
Drai, reached Sunday in Los Angeles, characterized Cy Waits' situation as "very sad … bad timing more than anything."
Drai said his involvement with Harrah's makeover of Bill's Gamblin' Hall & Saloon, formerly the Barbary Coast, was the reason he initiated the buyout conversations with Wynn.
"I wanted to get out in a graceful way, with no tension. We've had huge success together. He's been good to me and I've been good to them. They were very, very gracious."
The buyout means the Waits twins are no longer in any of Drai's ventures, including Drai's Afterhours at Bill's and the new Drai's in the W Hotel in Beverly Hills.
Drai's deal with the W provided both Waits brothers with a suite in the hotel. But that was more of a courtesy, not an actual deal, he said.
Drai also designed XS, the megaclub in Encore, and Botero, the Encore restaurant next door to XS. Drai was a part owner of Botero.
The terms of his buyout prevents him from poaching any personnel from Wynn's nightclubs for two years, which is when his new project with Harrah's will open.
LIMO REGRETS
Cy Waits and Hilton could have avoided their mess had they taken a limo.
But they declined, according to KSNV-TV's Jacobs, who interviewed Hilton at Color Salon at Caesars Palace about 8 p.m. Friday.
Jacobs told E! when a Caesars Palace rep asked Hilton if she would like to keep her limo for the night, Hilton responded, "No, my boyfriend will be driving us tonight."
During that interview with Jacobs, Hilton said last week's incident with a knife-wielding intruder at her home was so "scary" that she planned to take lessons this week on how to shoot a handgun. Waits, who has a license to carry a weapon, ended the threat when he held the intruder at gunpoint.
THE PUNCH LINE
"Proposed ground zero mosque being converted to a ground zero Terminix." — From David Letterman's Top Ten Signs New York City Has A Bedbug Problem
Norm Clarke can be reached at 702-383-0244 or norm@reviewjournal.com. Find additional sightings and more online at www.normclarke.com.